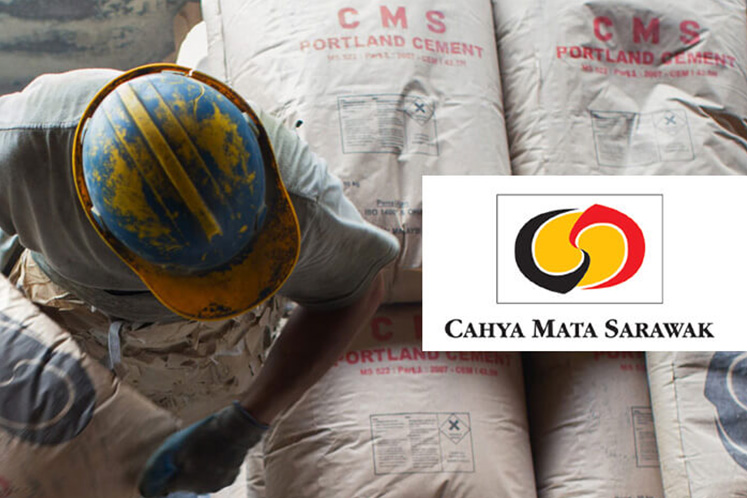 KUALA LUMPUR (Aug 27): Cahya Mata Sarawak Bhd's net profit more than halved to RM41.33 million or 3.85 sen per share in its second quarter ended June 30, 2019 , from RM91.63 million or 8.53 sen per share a year ago.
This was despite higher revenue of RM399.17 million versus RM395.28 million in the year-ago second quarter.
Cumulative six-month net profit came in at RM82.1 million down 37% from RM130.6 million in the previous corresponding period, while revenue rose 8.9% on year to RM817.35 million from RM750.27 million.
CMS said in its exchange filing today the lower earnings during the period was due to higher imported clinker cost and coal cost at its cement division, besides the arrears received for works at its construction and road maintenance division.
Its other segments, construction materials and trading as well as property development, reported stronger profits during the period due to higher sales volume besides a recognition of profit from a land sale.
However, CMS recorded share of loss of RM1.3 million, compared to a share of profit of RM2.53 million in the year-ago period, mainly due to unrealised loss on investments.
In a separate statement, CMS group chief executive officer Datuk Isaac Lugun said the group's results the first half of 2019 were mostly impacted by the performance of its associate company OM Materials (Sarawak).
However, the group remains confident on its longer-term prospects due to its position in the first quartile of the global production cost curve, coming mostly from the competitive power price offered in Sarawak, and its strong global presence.
On its traditional core business, he said the group expects growth to continue and be driven by the ongoing Pan Borneo Highway project and the State Government's increased spending on infrastructure.
However, the cement division's profit before tax is expected to remain lower than last year in view of higher costs.
"The premix sector which had suffered higher production cost and depressed margin, is expected to face more new players on top of those already set up by the Pan Borneo Highway project works contractors.
"The construction and road maintenance division is continuously focusing on positioning itself to increase its order book through new infrastructure projects announced by the State Government."
Its second major focus is on the long-term renewal of the State Road Maintenance Contract before its expiry date on Dec 31, 2019. The management is also lobbying for additional road length and securing instructed works, the group added.
Shares in CMS were 10 sen or 4.39% higher at RM2.38 at market close today, valuing the group at RM2.55 billion.