This article first appeared in The Edge Financial Daily, on January 7, 2019.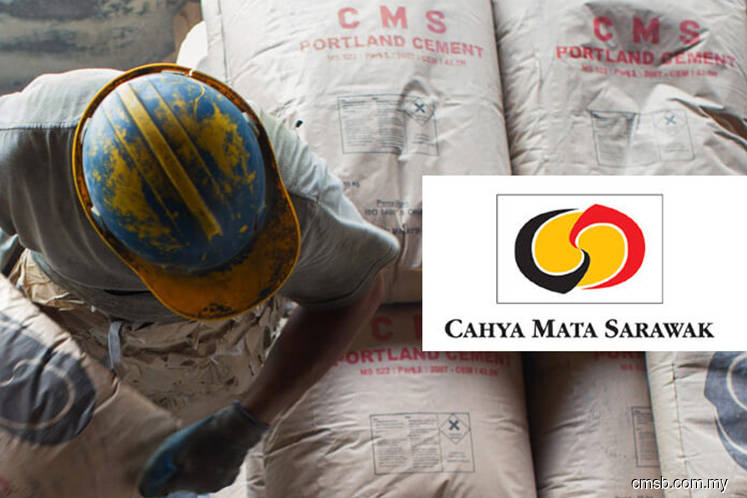 Cahya Mata Sarawak Bhd
(Dec 4, RM2.83)
Maintain buy with a target price of RM4: We believe Cahya Mata Sarawak Bhd (CMS)' earnings will continue to be on the uptrend moving into 2019, predominantly from full utilisation at OM Sarawak's plants.
 
We also expect more vibrant construction activities from various mega and infrastructure projects which in turn will accelerate demand for cement and construction materials as well as road construction in the state.
Assuming sales volume remained the same, we think OM Sarawak's earnings could potentially continue to be decent quarter-on-quarter (q-o-q) in fourth quarter of financial year 2018 (4QFY18).
This is largely due to lower coal prices (-11.5% q-o-q) which are expected to mitigate the softer average selling prices (ASPs) for ferrosilicon and manganese alloy (-5.0% and - 1.2% q-o-q respectively).
However, we remain cautious on the global trade friction which may affect OM Sarawak's performance.
Despite softer ASPs for ferrosilicon and manganese alloy reported in 4QFY18 (-5% and -1.2% q-o-q respectively), we think that OM Sarawak could potentially report a strong set of earnings in 4QFY18 as input cost declined at a much larger pace, particularly coal price which declined by 11.5% q-o-q in 4QFY18.
This is likely to be the case assuming sales production and volume in 4QFY18 remained unchanged from third quarter of financial year 2018 (3QFY18).
To recap, associate contribution in 3QFY18 declined by 31.1% q-o-q, predominantly due to lower contribution from OM Sarawak.
Despite the strong improvement in sales in 3QFY18 (ferrosilicon +37% q-o-q, manganese +6% q-o-q); OM Sarawak was impacted by a 12.1% rise in coal prices during the quarter.
Nonetheless, we remain vigilant as the commodity sector is more sensitive to global trade tension relative to other sectors.
We believe the cement division in 2019 will deliver a modest improvement y-o-y, largely fuelled by construction of Pan Borneo Highway (PBH) which has reached 25% completion as at end-2018.
Earnings before interest and tax margin for cement division have eased to 17.2% in cumulative nine months of financial year 2018 (9MFY18) compared with 21.9% in cumulative nine months of financial year 2019 (9MFY19) due to the plant shutdown (for maintenance) and higher clinker prices.
CMS highlighted that the plant shut down was planned in anticipation of PBH.
Other key infrastructure projects in Sarawak which could stimulate cement demand include the construction of coastal road, second trunk road and expressway as well as the Baleh hydroelectric dam.
CMS' concession to maintain approximately 6,000km of state road in Sarawak is due to expire in June 19.  — UOB Kay Hian Securities, Jan 4