This article first appeared in The Edge Financial Daily, on July 9, 2018.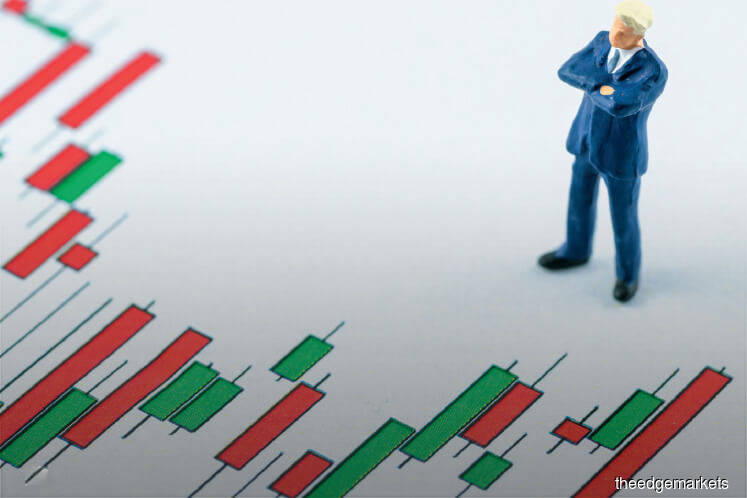 KUALA LUMPUR: Most analysts that cover Malaysian equities view the selldown seen in the last two months on the FBM KLCI, as buying opportunities for long-term investors amid the uncertainties triggered by US tariffs on China that kicked in last Friday, as well as the new direction under the Pakatan Harapan government.
The average KLCI year-end target by research houses of 1,827.50 points indicates a 9.8% potential gain from last Friday's close of 1,663.86 points.
Last Friday, the benchmark index slipped 1.58% or 26.79 points to close at its one-year low of 1,663.86, with about two billion shares worth RM2 billion changing hands.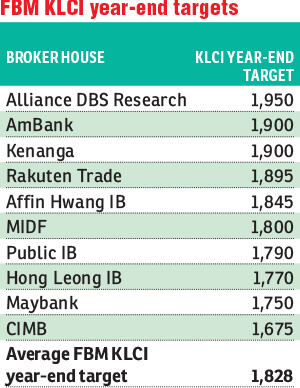 One of the key drivers for the optimism is the defensive nature of the Malaysian stock market compared with the region due to the ample liquidity provided by local institutions.
Affin Hwang Investment Bank's strategy report highlighted the defensiveness of the KLCI during meltdowns, normally aided by Malaysia's ample domestic liquidity.
"Based on our estimates, private and quasi government funds combined accounts for more than RM1.6 trillion, and accounts for 52% of the Malaysian capital market," it added.
Another reason is due to the attractive dividend yield of certain stocks following the heavy selldown seen in the last two months.
A favourite among analysts is Malayan Banking Bhd (Maybank). Affin Hwang analyst Tan Ei Leen has a "buy" call for Maybank, with a target price (TP) of RM12 as she views the recent share price correction representing a buying opportunity.
Maybank's recent decline has seen its market capitalisation fall below RM100 billion. But at current level, its dividend yield stands at an attractive level of 6.13%. Based on Bloomberg data and Bursa Malaysia filings, the Employees Provident Fund (EPF) and Permodalan Nasional Bhd (PNB) have been accumulating Maybank shares.
EPF's interest in Maybank has increased by 5.2% to 1.37 billion shares or a 12.57% stake compared with its holdings during the first quarter this year. Similarly, PNB has increased its stake to 3.74 billion shares or a 34.2% stake in Maybank recently.
Rakuten Trade Sdn Bhd also expects banks such as Maybank to benefit from the return of foreign funds when some of the global uncertainties are resolved.
Telekom Malaysia Bhd (TM) is also expected to see a near-term rebound amid the sharp selldown following the announcement by Communications and Multimedia Minister Gobind Singh Deo that fixed line broadband prices will be reduced by 25% by end of the year.
The dividend yield for TM has increased to 6.32% from 3.5% in December last year, assuming that the telecommunications company maintains its dividend payout.
Nonetheless, not everyone is on the same page when it comes to the telecom sector amid a competitive operating environment.
Affin Hwang Capital analyst Isaac Chow said the telecom sector's lacklustre earnings outlook remains and the risks are still tilted towards downside. The research firm has a "neutral" call on TM, noting that it has the capacity to maintain its minimum dividend payout of 18.6 sen per share, or a yield of 5.5% based on its closing price of RM3.40 last Friday.
Another stock that has fallen sharply is Tenaga Nasional Bhd (TNB), which has lost 11.2% of its value since the 14th general election.
MIDF Research said in its strategy report that the perceived risk on TNB's ability to attain a tariff hike and its reasonably high foreign shareholding among index stocks have led to a substantial decline in its share price.
"Given substantial price depreciation in the past month, we see value emerging. Our TP remains unchanged at RM16.30, and our 'buy' call is reaffirmed. Dividend yields are now attractive at 5.3% (positive spread against 10-year MGS [Malaysian government securities] of 4.26%) while valuations are cheap at 11 times FY18 [forecast] earnings, a substantial discount to the market's 16 times to 17 times," it said.
While it is too early to expect a recovery in the stock market, analysts view the selldown as overdone. While market volatility is expected to continue, they are recommending to long-term investors to buy shares in companies with strong track records and good fundamentals at bargain values.