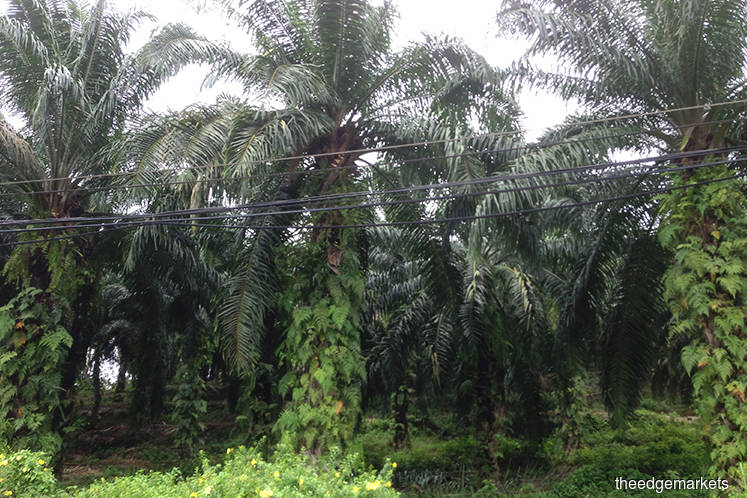 KUALA LUMPUR (Jan 29): The recent share price correction of plantation stocks on the back of the sharp selldown in crude palm oil (CPO) futures, represent a buying opportunity, according to analysts. 
This is on the back of persistent concerns over supply shortage, although the view is mixed in terms of CPO price recovery, as the Wuhan coronavirus outbreak brought uncertainties over demand.
Bursa Malaysia's Plantation Index fell to its seven-week low on Tueday, as CPO futures hit limit down on concerns over demand due to increasing cases from the coronavirus outbreak.
Today, CPO futures contract staged a rebound from its 10% decline on Tuesday. At 2.06pm, the futures contract rose 6.65% to RM2,746/MT.
In a note today, UOB Kay Hian maintained overweight on the regional plantation sector, with "Buy" calls on IOI Corp Bhd, Kuala Lumpur Kepong Bhd, First Resources Ltd, Bumitama Agri Ltd, Astra Agro Lestari, PT Perusahaan Perkebunan London Sumatra Indonesia and PT Tunas Baru Lampung Tbk.
"Buy on recent selldown to ride on the good results reporting over the next 4- to 6 quarters," it said. 
The research house expects CPO inventory to continue downtrend at least for the next 4- to 5 months, due to the weak production. 
"Palm oil production in Malaysia and Indonesia is not going to be good, due to the impact of dry weather in 2019 and cut back on fertilizer application in 2H18 and 2019. 
"Hence, we conclude that the selldown yesterday was overreacted and price should recover to reflect the supply tightness, especially in 1H20," it added.
Furthermore, UOB Kay Hian foresees better opportunity for palm oil coming from the lack of soybean oil supplies, as a result of lower soybean crushing.  
"The fear of consuming meat in China now may lead to slower demand for pork and poultry, which could ultimately reduce the demand for soybean meal. 
"With low soybean oil inventory in China now and not expecting any pick up of soybean crushing volume soon, this may translate into better opportunity for palm oil in China," the research house said. 
UOB Kay Hian recalls the severe acute respiratory syndrome (SARS) outbreak between December 2002 to June 2003, when prices weakened by 18.5% — and then recovered on the back of inventory drawdown.
The Wuhan Noval Coronavirus dubbed 2019-nCoV and SARS are from the same coronavirus family, and both outbreaks begun in China. 
Separately, CGS-CIMB Research took an alternative view, as it opined CPO prices will be kept in check, due to the outbreak concerns and its impact on CPO demand.
During the SARS outbreak, it concurred that demand — particularly in China — was largely unaffected, as seen in the growth in China's palm oil imports at the time. 
However, CGS-CIMB Research pointed to several differences such as how palm oil prices is now more closely linked to crude oil price, as biodiesel accounted for 20% of palm oil usage in 2018, compared with 4% in 2003. 
"Also, palm oil stocks at Chinese ports of 842,700 tonnes as at December 2019 are high, relative to 500,700 tonnes as at December 2018," it said in a report. 
"In 2019, Malaysian palm oil exports to China grew 34% and accounted for 13.5% of its total palm exports. India, the largest buyer of Malaysian palm oil in 2019, has been buying less palm oil from Malaysia, following the recent restriction issued on refined palm oil imports. 
"As such, palm oil exports may weaken in Feb, on the back of the above factors, unless the spread of the virus can be successfully contained soon," it said.
The 2019-nCoV outbreak has now spread to 18 countries, with 132 deaths and over 6,000 confirmed cases. SARS was contained by July 2013, after over 8,000 confirmed cases and over 770 deaths.
On companies' earnings prospects, the research house pointed out that upstream planters will be more sensitive to the CPO price volatility, compared with integrated CPO producers like IOI and KLK.
"We maintain our average CPO price of RM2,300/RM2,400 per tonne for 2020/2021, 'Neutral' rating and view the recent correction as an opportunity to accumulate Wilmar International Ltd, First Resources and Genting Plantations Bhd," the report added.