This article first appeared in The Edge Malaysia Weekly, on September 3, 2018 - September 09, 2018.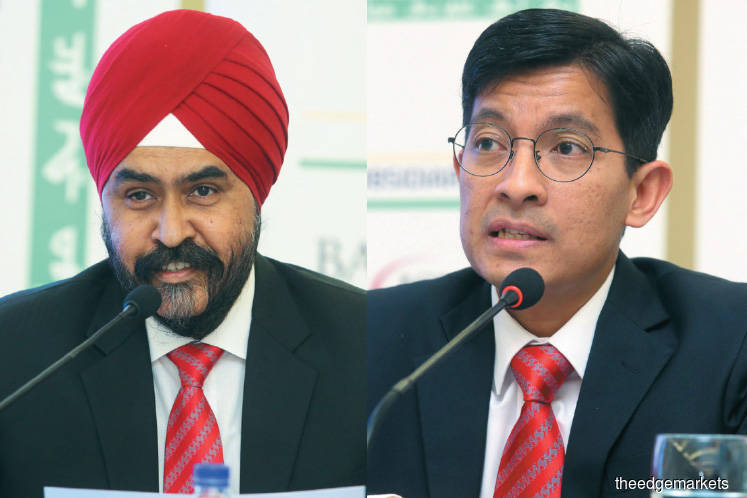 THREE key positions — those of CEO and heads of consumer and commercial banking — have fallen vacant at Bank Islam Malaysia Bhd since late July, an issue of concern to some in the investment community, who worry that it could disrupt the bank's strong growth thus far.
On July 20, CEO Khairul Kamarudin resigned and the board immediately appointed chief financial officer (CFO) Mohd Muazzam Mohamed as acting CEO. Industry sources say Muazzam is likely to be confirmed as the new CEO.
What was unexpected, though, was the death of the bank's head of commercial banking, Abdul Rashid Abdul Hamid, shortly after and the resignation of its head of consumer banking, Mujibburahman Abd Rashid. It is understood that the latter left to take up a bigger role at another bank.
"We think that business growth could somewhat slow down for these two divisions until the group hires new heads," CIMB Research said in report after the group released its 1HFY2018 results last Tuesday.
However, Bank Islam's parent company, BIMB Holdings Bhd — which derives about 80% of its earnings from the bank — maintains its stance  that it has been business as usual.
"The timing was such that all three [departures] happened in July. But, the bank has succession planning in place, so those who were next in line immediately took on the acting positions. We don't really expect disruption as the bank runs on a business plan that was approved by the board late last year. It remains focused on executing that plan," BIMB group CFO Malkit Singh tells The Edge.
Over at BIMB, there is no acting CEO. Day-to-day operations are overseen by a board executive committee following Khairul's simultaneous resignation as group CEO on July 20.
"We are on track, so far, in terms of our business plan and targets," Bank Islam's Muazzam adds.
The bank sees no need for any changes to be made to its business plan following the recent change of government, despite the uncertainties around certain policies and projects.
"We remain cautious, but we do not see [anything] that will impact our business plan so far. That is why we think we can still see 8% financing growth this year. And we are not involved in large government-related construction projects ... we do not have any exposure to the projects [that have been cancelled or deferred by the government]. We are a mid-sized bank and we behave as such. As far as we are concerned, we are more of a consumer-focused bank," Malkit says.
Bank Islam's strategy remains the same — growing the consumer banking business, which accounts for about 76% of its financing portfolio, and its new SME banking division, for which seven dedicated SME centres have been set up. Consumer financing grew 10.5% year on year in 1H2018.
"We saw good growth in consumer banking in the first half of the year and we aim to continue that momentum in the second half. As for SME banking, there is now RM1.8 billion in that portfolio. We do not have an aggressive growth target for it ... we want to grow it responsibly and cautiously," Muazzam says.
He says the bank will also pursue digital banking initiatives, for which RM300 million has been set aside for investment under a three-year (2018 to 2020) digital roadmap.
BIMB, which also draws earnings from its takaful subsidiary Syarikat Takaful Malaysia Keluarga Bhd (STMKB) and stockbroking firm BIMB Securities Sdn Bhd, reported a 10.5% rise in second quarter net profit to RM149.91 million, on higher contribution from the Islamic banking and takaful business. Revenue grew 5.2% to RM992.17 million.
This led to its net profit growing 12.3% to RM322.05 million in 1H2018, which came in slightly above analysts' expectations.
Bank Islam itself saw its net profit grow 7.9% to RM285.9 million in 1H2018. The bank's return on equity, based on pre-tax profit, stood at 15.8% as at June this year — higher than the industry average of 13%.
Its gross impaired financing (GIF) ratio, at 0.97%, deteriorated by four basis points from end-2017 due to a construction account that had defaulted. The ratio nevertheless remains one of the best in the industry. Malkit says there could be a slight uptick in the bank's GIF ratio later this year, in line with the industry, given pressures from the slower-than-expected economic growth this year. Bank Negara Malaysia last month revised its full-year economic growth target to 5% from 5.5% to 6% earlier in the year.
"We expect GIF to hover around 1% to 1.1%," he says.
Notably, Bank Islam's net income margin grew five basis points over this year to 2.65%, a level it expects to maintain for the full year as it rebalances its portfolio to focus on higher-yielding personal financing (PF). PF accounted for 39.1% of its consumer financing as at end-June, while home financing made up 53%.
The bank managed to bring down its cost-to-income ratio (CIR) — once among the highest in the industry — to 51.6% from 57% six months earlier. "We think [the downward trend] is sustainable. This year, we are aiming to keep the ratio below 52% and, for the medium term, under 50%," Muazzam says.
One of the issues that hangs over the bank is a possible restructuring of the BIMB group, which analysts say is likely to involve the transfer of its listing status to Bank Islam, and a possible rights issue to repay a shareholder debt of RM1.3 billion.
"We are evaluating various options at the moment. This is for the board and also the shareholders to look at, so we do not want to pre-empt any announcements," Malkit says.
BIMB's largest shareholder, Lembaga Tabung Haji (LTH), recently underwent a board shake-up following the general election. Former BIMB group CEO Datuk Seri Zukri Samat, who had been with the group for over a decade, was appointed as LTH CEO in July. The pilgrim fund holds 53.47% of BIMB while the Employees Provident Fund holds 12.75%.
Of at least nine analysts that track BIMB, seven have a "buy" call on it, while two have a "hold". Their 12-month target price for the stock is RM4.82, which suggests further upside from its closing price of RM3.96 on Aug 29.
Save by subscribing to us for your print and/or digital copy.
P/S: The Edge is also available on Apple's AppStore and Androids' Google Play.