This article first appeared in The Edge Financial Daily, on August 5, 2019.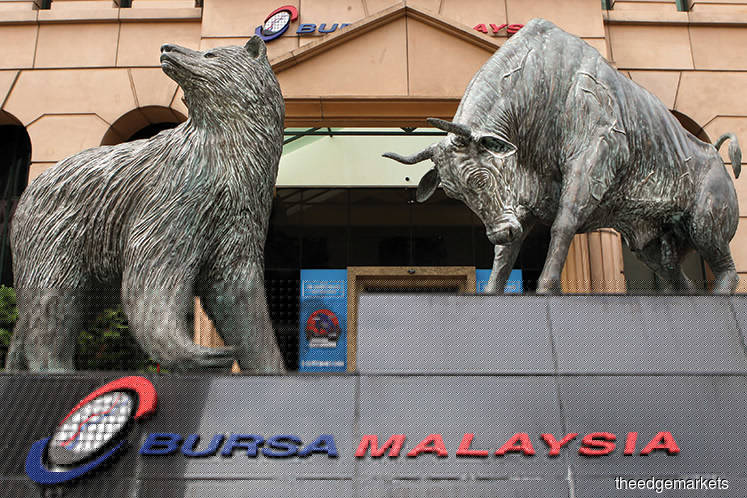 Bursa Malaysia Bhd
(Aug 2, RM6.50)
Maintain hold with a lower target price (TP) of RM6.35: Bursa Malaysia Bhd's first half ended June 30, 2019 (1HFY19) net profit was below expectations, accounting for only 40% of our and 43% of Bloomberg consensus full-year forecasts.
The miss was due to weaker-than-expected revenue which slid by 14% year-on-year (y-o-y) in 1HFY19 versus our previous revenue growth forecast of 6.9% for FY19.
Interim dividend per share (DPS) of 10.4 sen was also below our previously projected DPS of 27 sen for FY19. Its 2QFY19 net profit slid by 20.4% y-o-y, impacted by a revenue drop of 11.8% y-o-y.
Meanwhile, 2QFY19 net profit fell by 1.3% quarter-on-quarter (q-o-q) due to a 2% q-o-q decline in revenue.
Equity trading income fell by 19.6% y-o-y in 1HFY19, in tandem with a 24.9% drop in the average daily trading value (ADTV) of the equity market to RM2 billion in 1HFY19.
1HFY19's ADTV was brought down by a slide in market velocity from 36% in 1HFY18 to 29% in 1HFY19 and a 1% y-o-y drop in market capitalisation to RM1.75 trillion at end-June.
Bursa's derivative income also fell by 14.1% y-o-y in 1HFY19, impacted by a 9.9% y-o-y decline in the average daily contracts (ADC) to 49,400; the ADC for crude palm oil futures slid by 11.6% and the ADC for FBM KLCI futures declined by 15.6% y-o-y.
We lower our FY19 to FY21 earnings per share (EPS) forecasts by about 4.8% as we cut our projection for its equity income by 5.8% in view of the weaker trend in 1HFY19.
The reduction in our equity income forecast was because we widened the assumed decline in ADTV for equity market from 3% previously to 9% in FY19.
Bursa remains a "hold" given its unexciting earnings prospects. We are projecting a 1.4% drop in Bursa's FY19 net profit due to a 6.2% decline in its equity income. — CGSCIMB Research, Aug 1