This article first appeared in The Edge Financial Daily, on February 7, 2018.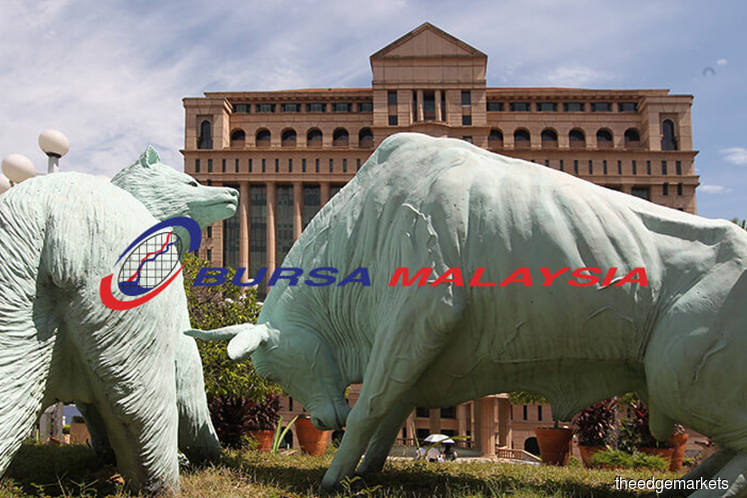 Bursa Malaysia Bhd
(Feb 6, RM10.76)
Maintain buy with a higher target price (TP) of RM11.80: Bursa Malaysia Bhd posted stronger sequential results, reversing quarter-on-quarter contraction in the third quarter of financial year 2017 (3QFY17). FY17 net profit strengthened to RM223 million, improving 15.2% from a year ago to represent 103% and 100% of our and consensus estimates.
The board is recommending a final dividend of 18.5 sen per share. In addition to interim and special dividends of 20 sen and 15 sen declared earlier, total dividends for FY17 will add up to 53.5 sen (FY16: 34 sen). Excluding the special dividend, FY17 dividend per share translates into a payout ratio of 93%.
FY17 profit before tax advanced 13% year-on-year (y-o-y), largely underpinned by higher trading activities in the securities market. Total operating revenue broadened by 10.4% y-o-y, spurred by a 21.9% y-o-y increase in securities trading revenue thanks to an uplift in retail trades and increase in local participation. Derivatives trading revenue, however, decreased 9.2% y-o-y following the revision of guarantee fee rate to 0.3% per annum imposed on margin on contracts' open positions (FY16: 0.5% per annum) along with an overall decline in the number of FBM KLCI Futures (FKLI) contracts traded.
Average daily value (ADV) of Bursa Suq Al-Sila' (BSAS) broadened to RM19.6 billion compared with RM16.3 billion in FY16 due to the introduction of volume based pricing scheme. Nevertheless, the segment's trading revenue contracted due to volume discount incentives given. Elsewhere, all other revenue streams reported mixed results. Of note, listing and issuer service fees jumped 15.4% y-o-y on the back of an increase in listing of larger initial public offering's (IPO), a higher number of structured warrants listed, and an increase in corporate exercises.
By segment, the securities market benefited from higher trading activities. Securities trading revenue made up 50% of total operating revenue in FY17. Foreign ADV traded climbed to RM506 million in FY17 versus RM491 million a year ago. Total foreign inflows in 2017 stood at RM10.8 billion, versus an outflow of RM3.2 billion in FY16.
Nevertheless, by trading mix, trading participation by foreign institutions narrowed to a decade low of 22% (FY16: 27%) as local funds shored up the market. Comparing trading participation by retailers and institutions, retail investors made up a wider 23% of total trading participation versus 21% in FY16. The ADV accelerated to RM2.31 million versus RM1.81 million in FY16. Along with that, market capitalisation advanced to RM1.91 billion from RM1.67 billion a year ago while trading velocity increased to 32% (FY16: 27%).
Trading of the crude palm oil futures (FCPO) was higher while the number of average daily contracts (ADC) for FBM KLCI futures contracted. ADC for FCPO stood at 49,051 from 46,406 in FY16 while ADC for the FKLI dipped to 8,371 versus 11,183 a year ago. Trading velocity for FCPO softened to 19% (from 22% in FY16) while the trading velocity for FKLI fell to 6% (FY16: 9%). Combined, ADC traded was of little changed at 57,677 contracts compared with 57,829 a year ago. Of this, 85% of total trades were in FCPO and 15% in FKLI. By participation, foreign institutions traded 68% and 33% of the FKLI and FCPO.
On the Islamic market trading activity front, the BSAS trading revenue accounted for some 3% of total operating revenue. BSAS trading revenue contracted by 3.7% y-o-y  despite ADV rising by some 20.2% y-o-y and the market capitalisation of syariah-compliant stocks improved to RM1.154 million (FY16: RM1.031 million). The number of trading participants broadened to 135 (FY16: 124) while the number of sukuk listed stood unchanged at 25 (FY16: 23).
Incorporating reported FY17 results, we tweak our FY18 and FY19 net profit forecasts higher to RM235.7 million and RM241.9 million from RM209.5 million and RM222.9 million respectively. We forecast modest profit growth of 3.3% to RM249.9 million in FY20. Raising our trading velocity assumption to 30% from 27%, we predict trading volume to improve by some 9% y-o-y in FY18 on the back of the heightened 14th general election (GE14) sentiments, increase in IPO listings and corporate exercises — before softening to growth of about 3% for FY19 and FY20.
Trading activities for the securities market strengthened in 4QFY17, boosted by an inflow of foreign funds amounting to RM713 million during the quarter. We foresee market activities to remain buoyant in 1QFY18, supported by the impending GE14. Gathering data from various industry sources, IPO listing and corporate exercises are expected to strengthen in FY18. In the meantime, management expects volatility in commodity prices and the underlying equity market to continue to affect hedging and trading activities of the FCPO and FKLI contracts.
We raise Bursa's TP to RM11.80 from RM11.10 on the back of the upward revision to our earnings estimates. The TP is based on an implied FY18 price-earnings ratio of around 25 times. Our assumption is based on the group's three-year average payout in excess of 90% and a decent dividend yield of around 3.3% (excluding special dividends). — TA Securities Research, Feb 6