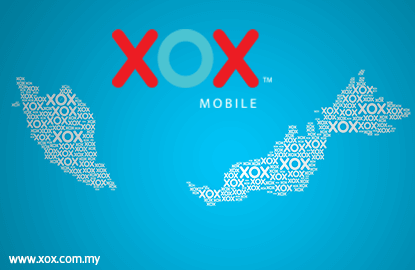 This article first appeared in The Edge Financial Daily, on November 3, 2015.
KUALA LUMPUR: Following the sharp rise in the share price of XOX Bhd, Bursa Malaysia has advised investors to exercise caution when trading in the shares of the local mobile operator, which has received two unusual market activity (UMA) queries within a month. 
"Bursa Malaysia Securities wishes to draw investors' attention to the recent sharp rise in the price of XOX shares and to the company's responses to the UMA queries issued by Bursa Malaysia Securities on Oct 5 and 26, 2015.
"The company in its responses confirmed that it was not aware of any corporate development or explanation that could give rise to the unusual trading activities in its securities," the announcement read on Bursa's website yesterday.
Bursa advised investors to exercise caution and to make informed decisions on the trading of XOX shares.
"Bursa Malaysia Securities will not hesitate to take appropriate regulatory action to ensure fair and orderly trading of XOX shares," it added.
Note that XOX (fundamental: 1.4; valuation: 0.2) also completed its par value and share premium reduction yesterday.
XOX shares hit an intraday high of 34.5 sen yesterday after rising as much as 11.29%, before paring gains following Bursa's warning. 
At 5pm yesterday, XOX pared gains to close 2.5 sen or 8.07% lower at 28.5 sen, after some 145.95 million shares changed hands, making it the most actively traded counter on the local bourse.
A spokesman from XOX said that from the company's point of view, everything is normal and there is nothing special, despite the recent sharp rise in the share price.
"Everything is according to the law and according to Bursa's guidelines," he told The Edge Financial Daily via telephone. 
On whether the company would take action in response to Bursa's advice to investors yesterday, he said that he could not give any answer yet, as the company would need the directive or advice from the chief executive officer (CEO) and the board of directors. 
As at press time, XOX CEO Ng Kok Heng could not be reached for comment. 
XOX's counter has been on an upward trend for almost two months. The stock, which was at only seven sen on Sept 4, has since more than quadrupled to its current price, bringing its market value to RM94.62 million. 
XOX was slapped with UMA twice last month because of the sharp rise in its share price and volume.
On Oct 5, XOX was asked to disclose whether there was any corporate development relating to the group's business and affairs not previously announced that might account for the trading activity including those in negotiation and discussion stages. 
Bursa asked the same questions again on Oct 26, including if XOX was aware of any other possible explanation to account for the UMA, and if it was in compliance with the listing requirements on immediate disclosure. 
Year to date, XOX shares have skyrocketed about 470%. 
In a separate filing, XOX said an office copy of the sealed order of the High Court of Malaya confirming the par value reduction and share premium reduction had been lodged with the Companies Commission of Malaysia yesterday, "upon which the par value reduction and share premium reduction shall take effect and hence deemed completed".
"All shares held in the securities account of the shareholders of the company shall be unaffected, except for the reduction in their par value from 10 sen to five sen per share," it added.