This article first appeared in The Edge Financial Daily, on August 7, 2018.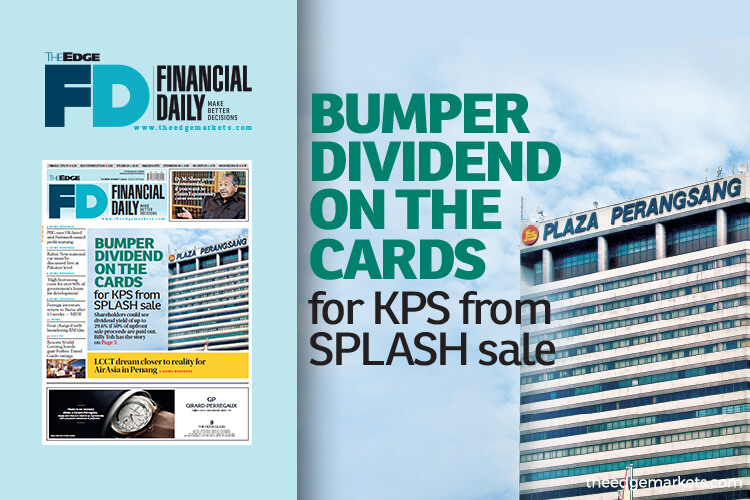 KUALA LUMPUR: While the Selangor government's offer to buy out Syarikat Pengeluar Air Sungai Selangor Sdn Bhd's (SPLASH) water treatment assets at RM2.55 billion is at a 28% discount to its net book value of RM3.54 billion as at June 30 this year, shareholders of Kumpulan Perangsang Selangor Bhd (KPS) on the other hand could see a bumper dividend payout.
According to CIMB Research analysts Sharizan Rosely and Kamarul Anwar, the impact on earnings excluding the 30% share of SPLASH's net profit and the potential impairment is significant but this is likely to be mitigated by a potential special dividend.
Based on the offer, Pengurusan Air Selangor Sdn Bhd (Air Selangor) will make an upfront payment of RM1.9 billion upon the signing of the definitive agreement with the remaining RM650 million being paid in instalments over a period of nine years.
KPS, which owns 30% of SPLASH, is expected to receive an upfront cash payment of RM570 million or about RM1.06 per share with the remaining RM195 million to be paid in instalments over a period of nine years. This would increase the cash and bank balances for KPS to RM651.6 million, an increase of 7.99 times from RM81.6 million as at March 31 this year.
In the event that 50% of the upfront sale proceeds received from the disposal of SPLASH is paid as a bumper special dividend, shareholders could see a dividend per share of 53 sen which works out to a whopping yield of about 29.6% based on KPS' closing price of RM1.79 yesterday.
A fund manager with a local asset management agreed with CIMB Research that a bumper dividend is likely to be given out to shareholders given the strong cash balance following the disposal of SPLASH.
"If you look at the announcement made by KPS, they have also indicated that the sale of SPLASH could help the group to focus on their core businesses," he said, pointing out that channel checks suggested that the management might allocate 50% of the cash proceeds as a one-time special dividend for shareholders, with the remaining being utilised for its business expansion.
He, however, cautioned that the group's borrowings had increased by the end of March with a net gearing at about 0.39 times compared with about 0.20 times as at Dec 31, 2017.
CIMB Research has also done a sensitivity analysis on a hypothetical special dividend payout, which shows that the dividend potentially yielding about 3% to 17% for KPS' shareholders if about 5% to 30% of the RM570 million upfront sale proceeds is paid as special dividends.
Nonetheless, the market appeared to have reacted negatively to the potential sale of SPLASH as KPS' share price fell by 5.79% or 11 sen to RM1.79 with about 15.5 million shares traded.
An analyst who requested anonymity due to the sensitivity of the matter, said that the decline is likely driven by traders who have bought into KPS prior to the 14th general election. KPS' last price on May 8 — a day before polling day — was RM1.26 and it has been on an uptrend since.
"If you look at the last one year, trading volume probably peaked at about six million but the volume was 15.5 million today, which is more than eight times its 30-day average volume of less than two million. It just shows that there is still a lot of interest in the stock as market participants are anticipating a potential bumper dividend," he said.
According to its website, KPS is the flagship public listed corporation of Selangor with an investment focus in six core sectors, namely manufacturing, trading, licensing, infrastructure and utility, oil and gas as well as telecommunications.
As at March 15, its largest shareholder was Selangor's investment arm Kumpulan Darul Ehsan Bhd with a 57.6% interest.