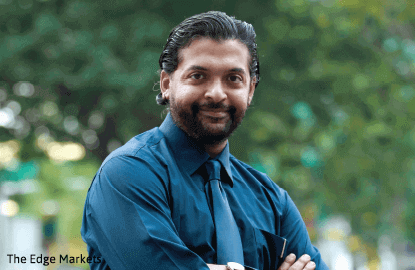 This article first appeared in haven, The Edge Malaysia, on Issue #77 February + March 2016.
Solar Design Services founder Vishal J Singh is passionate about building your dream home  
VISHAL J Singh, the man behind boutique design practice, Solar Design Services, is a great fan of simplicity and clarity in design. He likes flourishes but finds them in building materials, textures and structural elements. He does not subscribe to any particular style or period because he believes that "fashions come and go but geometry lasts forever". 
He says, "There was a documentary I watched a long time ago about the Chinese-American architect I M Pei who designed the glass-and-steel pyramid at the Musée du Louvre in Paris. In the documentary, he said, you can use all the isms you want but fashions come and go, geometry lasts forever … and that has resonated with me since."
The work Vishal has done since establishing Solar in 2003 is wide and varied. His portfolio reflects his evolving design language as well as the growing experience and confidence in his own creativity. 
Vishal's style is difficult to pin down at one glance. It can certainly be described as eclectic but each project is considered separate from the other and is a true collaboration with the homeowner. He sits with them and has intense discussions about what they want and what he can deliver within their budget. Even with young families, he will eventually come to the children and ask what they would like to see in their new home. Vishal's design language is founded on a Zen-centric philosophy. 
"The idea is to keep things as clean and simple as possible, and to highlight materials for their intrinsic beauty, like the pop of a brick wall. In Zen, it is very important to declutter your surroundings. According to Buddhist philosophy, clutter crushes your spirit but I'm sure you don't have to be Buddhist to appreciate what that means, right? At handover, the building is clean and simple in aesthetic with focus on texture and materiality and how light enters it. It's up to the homeowner after that to curate the space with artwork or other personal touches to make it homely," he says. 
"Sometimes, a client is set on a design seen in a magazine somewhere but the problem is that it's Western-centric. Not that that's a bad thing; of course, Western design is good but not everything translates well in our climate. Of course, the challenge here is to get the client to see my point of view, to understand that we'd still need to improvise on or 'Asianise' that particular idea so that it works better here. It's important as a designer to make them understand certain impacts of their decisions, of the end result and even the budget. 
"I always make sure my designs are tropical climate-friendly, borrowing certain principles from the kampung house, such as elevated structure, long overhangs, proper natural ventilation, sun-shading devices and things like that." 
Vishal fell in love with architecture at the age of 12. It had been an assignment in art class — to sketch a building, capture its details and paint them in. It was then that his interest stirred as he realised there was more to a structure than doors, windows and such. From then on, he took a deeper interest in buildings, finding himself more interested in the architecture than the occupants when he travelled to other cities. 
"After my final year in secondary school, I spent three months in North India. I loved the idea of going back to my roots and seeing what my ancestors built. I realised how rich and vast building was, from the aesthetic to the materials used. I really appreciated the experience. When I came home, I immediately enrolled for architecture," he says. 
The design consultant holds a Bachelor of Applied Science and Bachelor of Architecture, and is currently waiting to be registered with the Board of Architects in Malaysia as a graduate architect. In the 14 years between his first and second degrees, Vishal explored his creativity and tried to ascertain if architecture was what he really wanted to do. He was 24 when he obtained his Bachelor of Applied Science (architectural science), right at the start of the 1997/98 Asian financial crisis. 
"A lot of architecture students are encouraged to take a year or two off between parts one and two of training to gain work experience in the field and expand their horizons — not mandatory, just highly recommended. My break went on for over a decade," laughs the 39-year-old. "When I took my break, the industry didn't seem promising. Development was slow and the economy was bad, so I decided to venture into other fields, including advertising — as a copywriter — and even teaching. I'd take whatever I could and give it a try. No matter what I did, though, I was not happy. It wasn't about the money, it was job satisfaction. And I really missed drawing. 
"Then I got the opportunity to do a small landscape renovation job and took it on as a challenge. It went well and from then on, I started to get more and more jobs, which got bigger and better through the years." 
September 2009 was a turning point for Vishal — he won a competition that sent him to South Korea to represent Malaysia in a design Olympiad. That experience motivated him to go back to school to finish his architectural degree. "I saw the opportunities getting better and better and I realised that if I didn't finish, I would lose out a lot," he confesses. 
While Vishal does design for both residential and commercial properties, his favourite is designing a home. 
"The idea of designing a home for someone is very appealing, that you're actually helping someone build a sanctuary, a place they can come back to, leave their daily burdens at the door and enjoy a sense of calm. I've received emails even three years after completing a home telling me how much they appreciate the design — when you get a note like that, it's very gratifying," says the designer proudly. 
"What inspires me? The opportunity to do another design. Honestly, that's what excites me. Frank Lloyd Wright was once asked which of the many projects in his 40-year career was his favourite, and his answer was, 'The next one'. The possibility of the next one is thrilling." 
Portfolio: SOLAR DESIGN SERVICES
The Opera Mask — 2015 
The concept behind the transformation of this double-storey terraced house in Hartamas, Kuala Lumpur, was drawn from the architectural style called industrial aesthetics, where the rawness of building materials used for construction, namely brick and concrete, is left exposed as an effort to highlight their intrinsic beauty. The resulting modern chic feel is achieved by fusing the appealing rawness of the structure's past with contemporary elements. 
The house takes advantage of natural light via a skylight inserted into the new roof of the building, which, in turn, highlights the triple-volume atrium and exposed brick wall marking the stairwell space. On the façade is a geometric, louvred protective screen for privacy and as a sun-breaker, which adds to the home's striking visual identity, reminiscent of a Venetian mask.
The Moon Wall — 2012 
A typical Bangsar double-storey terraced house is given a modern industrial makeover with exposed bricks and beams, unfinished concrete and steel. Walls have been opened up to brighten the interior and make it a bit more spacious. A skylight was installed to introduce more natural light into the home, filtered through exposed timber rafters and bare-finish concrete walls. The name of the project, "Moon Wall", comes from the circular opening at the base of the staircase, which was designed to slowly illuminate the deeper interiors of the house according to the movement of the sun. The kitchen area features a courtyard of bamboo trees.  
The Tree House — 2010 
Desiring an urban resort, the homeowners decided to build their own contemporary tropical villa in their triple-storey bungalow in Petaling Jaya. The idea of creating a green space that flowed from the exterior into the interior was taken to the next level by bringing an actual tree into the house, specifically to the middle of the dining hall. This courtyard area is the key communal point when entertaining and is naturally illuminated via full-height glass within a double-volume atrium and a pyramidal skylight above the tree.    
The Lotus Box — 2009 
White and elegant, the renovation of this home was based on Vasthu Shastra principles — the ancient Indian study of geomancy similar to that of feng shui. The homeowners requested a contemporary aesthetic and feel at the same time. The interior of the house reflects a relatively open floor plan in alignment with both modern and Vasthu Shastra design strategies and principles. This inspires a calm and serene interior, allowing a lot of natural light into the home and achieving a sense of flow between the interior and exterior spaces. 
The lotus flower, a sacred symbol of divine birth, spiritual development and creation itself, was incorporated as an artistic element into the interior design of the house.
The Stone Arch —  2007 
The idea behind the renovation of this double-storey bungalow in Ampang was to create a fusion of the modern and traditional. The owners wanted a design that was clearly contemporary in appearance but infused with sculptural elements found in Balinese art and architecture. Warm earthy colours were used to convey a sense of homeliness in the tropics, the feel further enhanced by the open plan spaces within the abode. 
Located in a densely verdant location, the new design allowed a seamless integration of the indoors and outdoors, complete with a Balinese-style water pavilion.