This article first appeared in City & Country, The Edge Malaysia Weekly, on June 24, 2019 - June 30, 2019.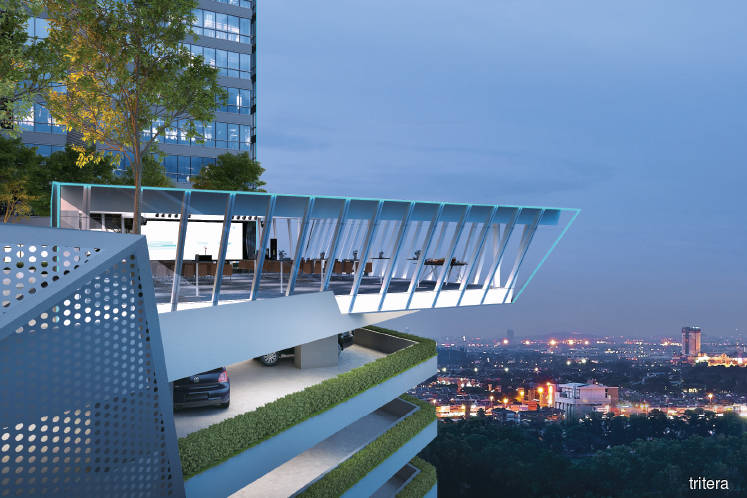 The cantilevered Glass Box that can accommodate 250 to 300 people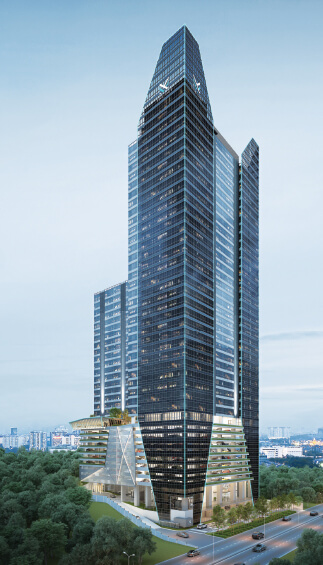 An artist's impression of The MET Corporate Towers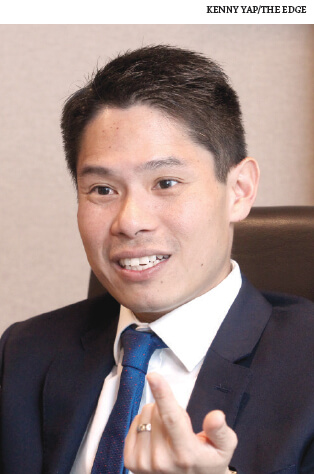 The 3rd Space is a catalyst to bring together diverse businesses, says Christopher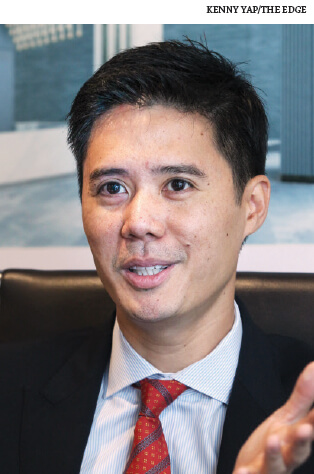 An in-house construction company was set up to help maintain built quality for The MET Corporate Towers, says Shaun
With youthful energy comes new ideas and innovation. That is the vibe one gets from Triterra Sdn Bhd CEO Christopher Lim and chief operating officer Shaun Mok. Their outgoing personalities and relaxed nature belie an unshakable confidence in the product they are developing — The MET Corporate Towers.
Located in Mont'Kiara within KL Metropolis, an integrated development covering 75.5 acres, Triterra's project has a gross development value of RM650 million. Its two towers sit on 2.47 acres, with the 42-storey Tower A housing 356 office suites and 30-storey Tower B offering 132 offices. There will be 1,200 parking bays and 300 motorcycle bays. Tower B has been sold en bloc to a statutory institution,  whose name is being kept under wraps for the moment. The entire project has seen a take-up rate of 80%.
"We introduced the Triterra brand in 2016, and we soft-launched The MET Corporate Towers in 2017," says Christopher. "At that time, it was the lead-up to the election, so, we decided to take a personalised approach rather than a market approach, which is where you go out to the market through agents and the like. The personalised approach is more focused on a specific target group and we directly approach them. That has paid off, for us to reach our 80% take-up rate."
Triterra is a collaboration between two business tycoons — Datuk Wira Lim Teong Kiat, founder of Kiat & Associates, one of the oldest chartered accountancy firms in the northern region, and Datuk Seri Michael Yam, former CEO of Sunrise Bhd (now UEM Sunrise) and immediate past president of the Real Estate and Housing Developers' Association Malaysia — who are joint chairmen. Christopher is working with his brothers, the older Daniel, who is deputy chairman, and Andrew, the middle brother, a director. James Yam, Michael's son and Shaun's brother-in-law, is the brand and marketing manager.
Offices in The MET Corporate Towers are priced at RM1,000 to RM1,050 psf. Tower A will have a total built-up of 450,000 sq ft and is divided into three business zones. In the Prime zone from level 10 to 25, individual offices range from 800 to 2,500 sq ft. Offices in the Premier zone, from level 26 to 31, range from 3,000 to 8,000 sq ft. In the Prestige zone on levels 32 to 39, companies can take up the whole floor plate of 16,000 sq ft. Purchasers can also buy several units and combine them.
Tower B will have a total built-up of 150,000 sq ft and the offices range in size from 900 to 2,300 sq ft.
The target market for the project is entrepreneurs and professionals, Christopher says. The purpose of dividing Tower A into different business zones is to cater for different types of businesses.
"The MET Corporate Towers was designed bearing in mind that 25% of the businesses we are targeting are looking to upgrade, another 25% are looking for 5,000 to 8,000 sq ft of space, another 25% is focused on the multinational corporations that are looking for a whole floor or double floors and for the last 25%, Tower B, which we sold en bloc, we targeted institutions," he says.
Christopher and Shaun reveal that the idea to provide varied office spaces and sizes came about because data showed that there was two million sq ft of purpose-built office space in Mont'Kiara and very few newer office buildings.
Christopher quips that Mont'Kiara is an "exporter" of companies, meaning that companies grow in the area only to leave when they cannot find space to expand within their current premises or in the vicinity. Anticipating that the occupants of the older buildings might want to expand into a larger space but remain in the area has proved correct and The MET Corporate Towers have been well received.
Building the business community
With diverse businesses and companies within The MET Corporate Towers, one of the challenges was creating spaces that cater to each unique company and business structure. To facilitate more integration and interaction, Christopher, Shaun and the team came up with the 3rd Space.
"The 3rd Space is the catalyst to bring together these diverse businesses," says Christopher. It features selected spaces on the lower ground floor, ground floor, 9th level (the podium), 10th floor and 41st floor. In total, 85,000 sq ft has been designated 3rd Space facilities.
"We have included social and casual spaces," says Shaun. These include food and beverage outlets and places to interact. The 3rd Space will offer a unique aesthetic.
The lower ground floor will feature an 8,000 sq ft food court, of which 3,000 sq ft will be al fresco. The ground floor will have 10,500 sq ft of space that includes a grand lobby with advanced visitor management and security systems and a drop-off area with a water feature. There will also be F&B outlets.
Level 9 offers the Glass Box, a 5,000 sq ft cantilevered event space with views of the KL skyline that can accommodate 250 to 300 people. There is also a 3,200 sq ft gym and recreation area with shower and sauna facilities.
The concierge managed business centre spans Levels 9 and 10 and features meeting rooms of various sizes and an auditorium that can seat 80 people for seminars and training sessions. Level 41 will have a 7,500 sq ft Sky Bar and lounge.
Christopher highlights that the Glass Box will be an ideal place for corporate launches or events that require a small space for networking in an environment that promotes such activities. Moreover, expos at the Malaysia International Trade and Exhibition Centre could spill over for private functions at the Glass Box, he says.
In addition, with the growing trend of co-working spaces, the design of the podium would allow a co-working company to operate there. But Christopher says most co-working companies are waiting to see after the development is completed before committing to anything.
One concern that might arise is whether the growth and popularity of co-working companies could impede sales of the office space, but Christopher and Shaun do not think so.
"The growth of co-working spaces is actually a welcome phenomenon for The MET Corporate Towers as it validates its the design and concept, which was conceptualised in 2015," says Christopher. "The MET was designed as an A-grade office building with efficient structural systems allowing for flexible office spaces along with the incorporation of our signature and supplementary 3rd Spaces."
Shaun adds, "Global trends also indicate that co-working operators are among the biggest tenants of commercial office buildings in London and New York and, in this vein, The MET is co-working-ready while appealing to diverse business communities ranging from SMEs to MNCs."
To facilitate the booking and management of the shared spaces, an app is being designed. Christopher and Shaun highlight that the 3rd Space will be managed and owned by the developer.
Project update
The MET Corporate Towers is 30% completed and will be finished in 2021. To ensure quality, Triterra recently set up a construction subsidiary.
"One way to uphold quality, as suggested by Datuk Seri Michael Yam, Triterra's joint chairman, was to set up an in-house construction team so we can actually see the quality of the superstructure," says Shaun.
He adds that when Michael was at Sunrise Bhd, this was what the developer did and, as such, was able to control the quality of construction.
"It was a 1½-year exercise — deliberating, looking at the numbers and, most importantly, looking at the human resources. The construction subsidiary was established early this year," says Shaun.
One of the challenges when it comes to bringing in new blood is to ensure a cohesive and unified team with one corporate culture. To accomplish that, activities and engagement events are organised.
With construction moving along nicely, some might ask if the soft office market might interfere with the sale of the remaining units. Christopher and Shaun point out that while the office market may be soft within the city centre, offices outside the city centre and on the fringes are doing well.
As for the future, the developer is looking to expand its project portfolio.
"We have studied three proposals with sizes that we are comfortable with, with a GDV of RM200 million to RM800 million. We are also being prudent and making sure the concepts are relevant. All these projects are in the Klang Valley," concludes Christopher.