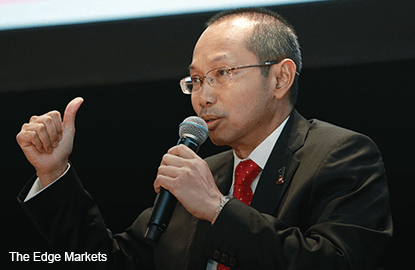 KUALA LUMPUR (Jan 19): Minister in Prime Ministers Department Datuk Seri Abdul Wahid Omar said the upcoming revision in Budget 2016 is not by any means "austerity measures", as in cutting expenses for the sake of cutting, because doing so would impede growth.
"In an era of low oil prices, we need to come up with proactive measures. With lower expected oil revenue, we have to optimise our spending," said Abdul Wahid in his keynote speech at Standard Chartered Bank Malaysia Bhd's Global Research Briefing 2016 "Retreat, Regroup, Rebound".
"We can't simply use the term 'austerity measures', because that is not the case. We are not cutting spending simply for the cut of cutting spending. What this means now is [that] we just have to optimise our spending and be more efficient."
Abdul Wahid said that Malaysian government's budget this year is composed of only 14% of oil-related revenue. However, he said the percentage might be smaller with the revision, as crude oil prices have fallen further than the government's original oil price assumption of US$48 a barrel.
Budget 2016 revision will be unveiled on Jan 28.