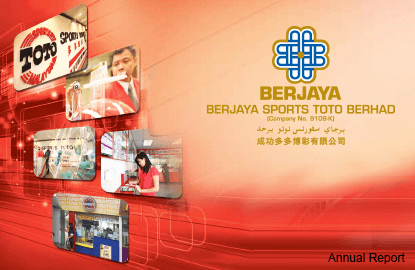 KUALA LUMPUR (March 18): Berjaya Sports Toto Bhd (BToto)'s net profit shrunk 44.22% to RM58.35 million for the third quarter ended Jan 31, 2016 (3QFY16), from RM104.62 million a year ago, mainly due to lower results of Sports Toto Sdn Bhd (Sports Toto), which was dragged down by goods and services tax (GST) and higher prize payout.
According to the group's filing today, the lower profit was also attributed to lower contributions from the Philippines Gaming Management Corp (PGMC) and H.R. Owen Plc (HR Owen).
BToTo's 3QFY15 had also seen an RM18 million stamp duty refund pursuant to the rescission of the share purchase agreement that resulted from the aborted listing of Sports Toto Malaysia Trust on the Singapore Exchange.
Its revenue for the quarter under review, meanwhile, slipped to RM1.32 billion from RM1.33 billion a year ago, mainly because of lower revenue contribution from its principal subsidiary, Sports Toto, though that was mitigated by higher revenue from PGMC and HR Owen due to favourable foreign exchange rates.
The board has declared a third interim single tier dividend of four sen per share in respect of the financial year ending FY16, payable on April 28, bringing its total dividend thus far for FY16 to 14 sen.
Sports Toto, said BToTo, saw a 35.3% year-on-year (y-o-y) drop in pre-tax profit due to the higher prize payout and the GST impact in the quarter under review.
PGMC also saw a y-o-y fall in revenue and earnings, mainly due to lower lease rental income earned from the Philippine Charity Sweepstakes Office, and higher operating expenses. However, it reported an increase in revenue of 12.7% and a lower percentage decrease in pre-tax profit of 12.2% upon translation to ringgit.
Meanwhile, HR Owen reported lower revenue and a pre-tax loss y-o-y, mainly due to a drop in new cars sales volume as a result of the soft market, and lower supply of new model cars by certain manufacturers. But upon translation to ringgit, HR Owen saw an increase in revenue to RM456.1 million from RM451.1 million last year, though it still slipped into a pre-tax loss of RM6.3 million, compared to a pre-tax profit of RM5.1 million in 3QFY15.
For the nine months ended Jan 31 (9MFY16), BToTo's net profit declined 28.72% to RM201.47 million from RM282.64 million, though cumulative revenue grew to RM4.08 billion from RM3.83 billion a year ago.
Moving forward, BToto said its directors expect the number forecast operator (NFO) business to be challenging for the remaining quarter of FY16 with rising costs resulting from the challenging economic conditions, which continue to dampen consumer spending, coupled with the impact of GST.
"In spite of the above, the directors expect the group to maintain its market share in the NFO business," it added.
BToto shares closed four sen or 1.18% higher at RM3.43 for a market capitalisation of RM4.66 billion.