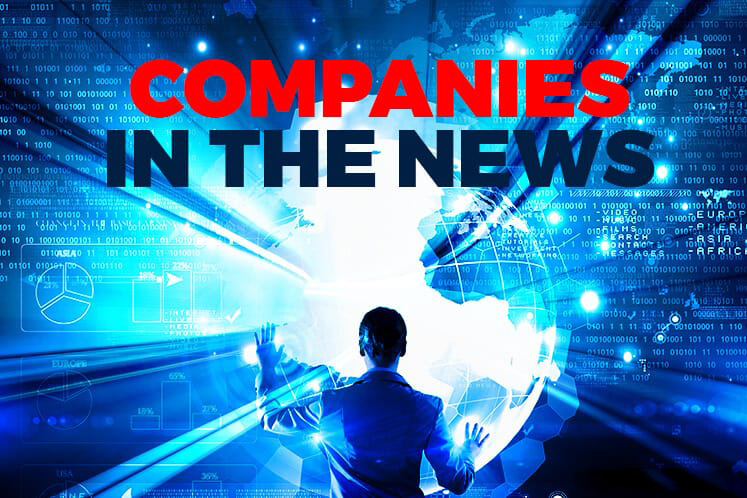 KUALA LUMPUR (April 8): Based on corporate newsflows and announcements today, stocks that are expected to be in focus on Tuesday (April 9) may be the following: BTM Resouces Bhd, DWL Resources Bhd, Inta Bina Group Bhd, Sedania Innovator Bhd, Sunway REIT Bhd, Utusan Melayu (Malaysia) Bhd, Ancom Bhd and Nylex (Malaysia) Bhd,.
BTM Resources Bhd signed a Memorandum of Understanding (MoU) with MC Bio Sdn Bhd and Korea South-east Power Co Ltd (KOEN) and MOKPO City Gas Co Ltd on April 1 to set up a wood pallet manufacturing plant in Terengganu, Malaysia. The MoU is a means for the group to expand its wood pallet business, help diversify its income stream and contribute to the group's profitability in the future.
DWL Resources Bhd major shareholder and executive director Wan Khalik Wan Muhammad, 46, has been re-designated as executive chairman effective immediately, replacing Ahmad Ruslan Zahari Zakaria, 58, who has been re-designated as independent and non-executive director. Ahmad Ruslan was made board member on May 19, 2014, and was re-designated as chairman on Aug 28, 2014. Wan Khalik  is the second largest shareholder after acquiring 19.86 million shares or a 10% stake in the group via his private investment vehicle Total Sejati Sdn Bhd on Jan 11.
Inta Bina Group Bhd unit Inta Bina Sdn Bhd bagged a 32-month contract worth RM108.49 million to build a 40-storey affordable housing complex in Mont'Kiara, Kuala Lumpur from Lembah Suria Sdn Bhd. The contract starts on April 15 upon the group's possession of the project's land. The development will comprise one 40-storey block with 719 units of affordable housing, eight floors of podium car parks, one floor of basement-level car parks, and one facility floor at level eight — being located on Lot 57500, Mukim Batu, Jalan Sungai Teba, Segambut, Mont' Kiara, Kuala Lumpur.
Sedania Innovator Bhd's unit Sedania As Salam Capital Sdn Bhd (SASC) inked a joint venture (JV) and shareholders' agreement on April 5 with Elzar Shariah Solutions Sdn Bhd to form the partnership under a new JV company. SASC will hold a 70% stake while Elzar will hold the balance of 30%. The JV is to carry out certain conceptualisation, development and commercialisation activities in relation to fintech and other solutions in Islamic finance. Elzar will provide new product concepts and technology implementation, while SASC will take over funding sourcing, business model establishment and cost management as well as putting in a capital contribution of RM70,000 which is internally financed within the group
Sunway REIT's shareholders approved the acquisition of three tracts of land that house Sunway College and Sunway University for RM550 million — achieving  99.995% of shareholder approval.
This will increase the REIT's portfolio size to RM7.8 billion, from RM7.3 billion as of June 30, 2018 — and was funded by its REIT's existing debt programmes, inclusive of a 35-year RM10 billion unrated bond programme and a seven-year RM3 billion commercial paper programme, with a combined amount available for use standing at approximately RM300 million at the end of February
Utusan Melayu (M) Bhd settled its legal disputes with two subsidiaries of Ancom Bhd. The PN17 media group is to settle the RM10 million owed to Nylex (M) Bhd, by transferring The Trax, a mixed development worth RM6.7 million located near Utusan's headquarters at the Jalan Chow Sow Lin area to Nylex with Utusan paying for any stamp duty incurred upon the transfer of the property by March 31, 2021. The balance RM2.98 million is to be paid in monthly instalments, with the first instalment due Jan 31, 2020
Its legal dispute with Ancom unit Redberry Sdn Bhd was settled  with Utusan's wholly-owned unit Utusan Airtime Sdn Bhd transferring  its 20% stake worth RM6 million in Titanium Compass Sdn Bhd to Redberry, who will bear the agreed position of a RM2.02 million loss suffered by Utusan related to the supply of the tablets agreement, with the loss being set off against the judgement sum with all parties to withdraw any claims or counterclaims within five days to execute the agreement, with no option to file afresh.