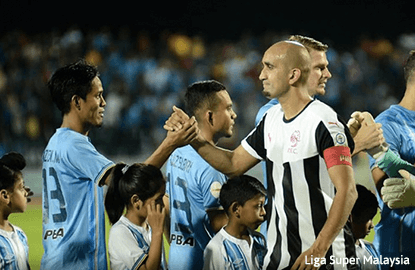 KUALA LUMPUR (Feb 17): A goal scored through a free kick that defied physics during the Penang-Pahang Malaysian Super League match last night has caught the eye of Britain's The Independent, who went on to say it deserves the FIFA Puskas award.
"Faiz Subri is the man who will be in contention for the gong that recognises the best goal of the year thanks to his truly incredible free-kick," the paper said of the 28-year-old Penang player.
Penang won the match 4-1.
The Puskas Award, named after 1950s Real Madrid stiker Ferenc Puskás, was established in 2009 by FIFA to recognise players who scored the beautiful goals of the year.
Portugal's Cristiano Ronaldo was its first recipient.
"Such swerve has arguably not been seen since Roberto Carlos's famous strike for Brazil against France in the Tournoi de France in 1997," he said, referring to the Brazilian footballer's kick famously known as the banana free kick.