This article first appeared in Enterprise, The Edge Malaysia Weekly, on March 12, 2018 - March 18, 2018.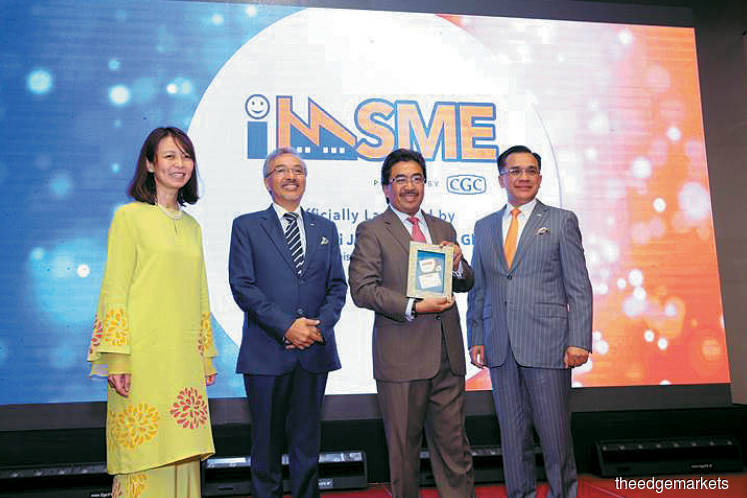 Despite Malaysia's vibrant micro, small and medium enterprise (SME) landscape, poor access to capital and financing has hindered these businesses' ability to flourish and reach greater heights. The newly launched financing reference platform imSME by Credit Guarantee Corporation Malaysia Bhd (CGC) is aimed at tackling this problem, particularly by making the paperwork less time-consuming.
CGC chairman Datuk Agil Natt says SMEs have a significant role in the country's economy as they contributed 36% to the gross domestic product (GDP) in 2016. "By 2020, their contribution to GDP is expected to increase to 41%. However, access to capital and financing has always been the main challenge for SMEs as it constrains their ability to grow and be more productive," he pointed out during the launch of imSME last month.
Citing a research paper by Harvard University, Agil says entrepreneurs spend almost 25 hours on paperwork in looking for the best financing and approaching multiple banks. "Sadly, no definitive research has been done on how long Malaysian SMEs take to source financing and capital. What is evident is that there is a need to reduce the time taken."
To address this issue, a single platform that aggregates financial products for SMEs — the first of its kind in the country — will help them to reduce their search costs and time and improve their access to financing. The website, imsme.com.my, provides comprehensive information and financing application, serving as a one-stop centre for SME loans and financing products.
There are currently 14 financial institutions (FIs) and development financial institutions (DFIs) participating in the project — Affin Bank, AmBank, Agrobank, Bank Simpanan Nasional, Bank Rakyat, CIMB Bank, Hong Leong Bank, Maybank, OCBC Bank Malaysia, OCBC Al-Amin Bank, Public Bank, Public Islamic Bank, RHB Bank and SME Bank.
Agil says the concept was presented to the National SME Development Council last July while the first public announcement of the project was made by Bank Negara Malaysia governor Tan Sri Muhammad Ibrahim about a month later. "The launch of imSME will enable SMEs to broaden their access to an array of products and services offered by CGC and participating FIs and DFIs. In the event there is no suitable match, the SME will be referred to an imSME financial advisory team, which will liaise with agencies that have accelerator and capacity-building labs such as the Centre for Entrepreneur Development and Research, National Entrepreneurship Institute, Malaysian Institute of Accountants and SME Corp Malaysia," he adds.
CGC also partnered peer-to-peer financing platforms to provide capacity-building programmes. The Securities Commission Malaysia-licensed platforms are Fundaztic, operated by Peoplender Sdn Bhd; Funding Societies Malaysia, operated by Modalku Ventures Sdn Bhd; and QuicKash operated by ManagePay Systems Bhd.
Agil says imSME is not only about making the existing products and services available to SMEs but also to offer end-to-end financial services according to the enterprises' preferences. "It is available through devices connected via WiFi or mobile data to web browsers such as Chrome, Internet Explorer and Mozilla Firefox.
"Since the soft launch in November last year, 321 SMEs have submitted their applications and of these, 64 were matched with the available products on imSME. And five, valued at more than RM500,000, were approved.
"I believe this number will increase further after the launch of imSME. I am sure that it will redefine the SME loan/financing landscape in Malaysia."
The referral platform is being developed in three phases. It is currently in the first phase, which allows users to avail themselves to its search, referral and matching capabilities.
"Further enhancements in the next two phases will include a psychometric assessment, incorporate more products with additional banks and agencies to ensure more options in the ecosystem and data analytics," says Agil, adding that the enhancements are expected to take place over the next two years.
Better turnaround time
CGC president and CEO Mohd Zamree Mohd Ishak says 2,000 SMEs are expected to use the imSME platform this year. "As word gets around, we hope more will use it."
To ensure the platform's success, all the participants must be open and above board, says Zamree. "All businesses must be transparent in their operations. That is key so they can obtain the optimum or maximum financing from the banks. Similarly, FIs must convey their turnaround time (how long it takes for them to process documents) in a timely manner and make their decisions as soon as possible so that businesses can move on and not delay for too long."
Zamree says the platform matches the best-suited banks with the SMEs. The decision (whether or not to accept the match and take the loan) is up to the enterprises. "The banks will also provide these details to us as we want to capture all the data, including where they contacted the users and whether or not they approved the loans."
All the 14 FIs and DFIs that are on board have already signed a service-level agreement with CGC, making the commitment that their credit officers or those tasked to process the loans will contact the SMEs within two days, says Zamree. "These banks have a branch network of 2,450. In Malaysia, there are about 3,600 branches under 49 FIs and DFIs. Our partners make up 75% of the branches. This means even SMEs in rural areas have access to bank within a 10-to-15km radius."
Second Finance Minister Datuk Seri Johari Abdul Ghani, who launched imSME at Bank Negara's Sasana Kijang complex last month, urges SMEs to be truthful and transparent about their business transactions and performance, which must be reflected in proper record-keeping. Meanwhile, banks must be prompt and efficient in processing loan applications to ensure that SMEs — which accounted for 65% of the country's employment in 2016 — enjoy upward progress.
The online platform gives SMEs the opportunity to find working capital loans by listing products from participating banks that suit their needs, without having to go from bank to bank physically, says Johari. "After being given the list, the SMEs can go to these banks and provide the necessary documents. Within a few days, the banks will tell them how much they are qualified to borrow.
"To do this more efficiently, SMEs must ensure that they have proper records and properly audited accounts every year, as well as record-keeping of management accounts, profit and expenditure. This will make it easier for the banks to provide loans."
However, many SMEs often fail to reveal their profits as the numbers are not reflected in their records, says Johari. "When they receive massive orders or sizeable requests, they cannot secure loans because the banks need these records — which indicate their ability to pay off their loans — before they approve any loans. SMEs must come forward and be transparent about their operations."
He says the Inland Revenue Board has carried out investigations into SMEs and in certain cases, they are seen growing and developing substantially — four to five times their initial size within a five- or six-year period — all while paying the same amount of tax during the period. "In order for you to grow and become industry champions, and subsequently become public-listed companies, you must be truthful in your record-keeping so that everybody is able to support you. Sometimes you think you make money by not paying taxes, but you will lose in the long term because you won't be able to expand your company as banks are not able to provide you with financing due to poor or dishonest record-keeping."
As for financial institutions, Johari says their failure to deliver timely turnaround times to SMEs is commonplace. By the time the loans are approved, the companies have fallen into a state where their existing financing facilities have defaulted.
"When they have to wait for the banks to make a decision, six to seven months pass and their financial conditions have already changed. So, they would have to start the application process again. This poses a big problem for SMEs," he says.
"The key is keeping proper records because banks are very practical. They want to protect their risk, including safeguarding depositors' money. So, when they want to lend money, they have to be very careful. This entire culture has to change for us to grow SMEs."