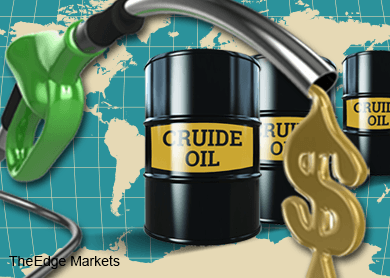 BEIJING (Dec 10): Brent crude dropped around $1 a barrel on Wednesday, resuming its fall caused by a glut of oil in the market after a short-lived reprieve the previous day when a weaker dollar had provided some support.
Worries about oversupply have pushed Brent down 40 percent since June.
"Notwithstanding day-to-day movements, the fundamental picture hasn't really changed, and that is one of supply outstripping demand growth for most of the year," said Phin Ziebell, a senior analyst at National Australia Bank.
"It's an incessant march downwards, and it would be interesting to see where it bottoms out, but there doesn't seem to be any sign of it so far."
On Wednesday, Brent's front-month futures contract traded down 86 cents at $65.98 a barrel by 0352 GMT after falling to $65.78, although it remained above a five-year low of $65.29 touched on Tuesday.
On Monday alone it fell $2.88, or 4.2 percent, its third-largest one-day loss this year.
U.S. crude futures fell $1 to $62.82 a barrel at one point before picking up slightly to $62.99, down 83 cents on the day. These futures also closed higher on Tuesday after a fall of $2.79, or 4.2 percent, on Monday.
U.S. inventories rose 4.4 million barrels in the past week to 377.4 million barrels, compared with analysts' expectations of a drop of 2.2 million, according to the American Petroleum Institute.
The U.S. Energy Information Administration (EIA) has trimmed its forecast for domestic oil production growth for 2015 by about 100,000 barrels per day, a sign of the potential impact of lower prices and weaker-than-expected global demand growth.
The Organization of the Petroleum Exporting Countries (OPEC) may still hold an emergency meeting before its June gathering to discuss how to tackle the global surplus, Algeria's energy minister said on Tuesday.
Top oil producer Saudi Arabia blocked production cuts at the last meeting in November and has taken steps to shore up its market share.