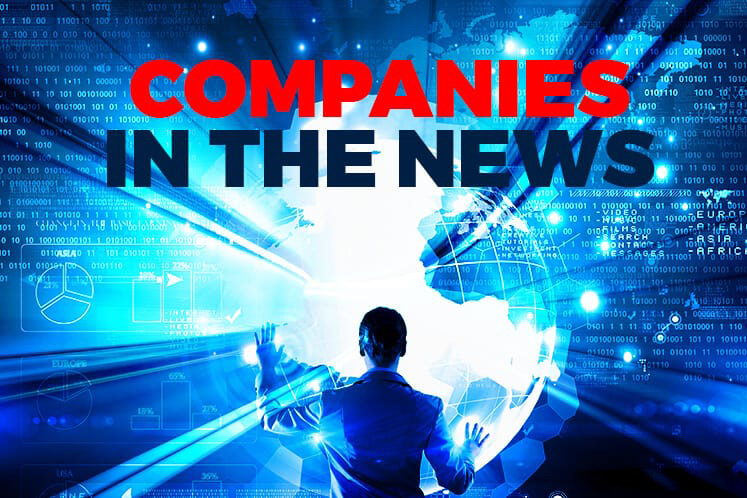 KUALA LUMPUR (Jan 4): Based on corporate announcements and news flow today, companies in focus on Friday (Jan 5) may include Brahim's, 7-Eleven, Fima, Comintel, Vivocom, Pacific & Orient, AmProp and Caely
Brahim's Holdings Bhd's plan to supply food to 7-Eleven Malaysia Holdings Bhd's convenience store chain outlets appears to have been shelved after a preliminary agreement inked between the two groups' subsidiaries lapsed after close to two years.
Brahim's 51%-owned subsidiary Brahim's SATS Food Services Sdn Bhd inked a Memorandum of Understanding with 7-Eleven's subsidiary 7-Eleven Malaysia Sdn Bhd on April 12, 2016, for the purpose of collaborating and cooperating in food chain supply.
But 7-Eleven said today that "the MoU has lapsed and accordingly ceased to have any effect".
Diversified group Fima Corp Bhd said the High Court of the State Administration of Jakarta (PTTUN) has partly allowed an appeal by its 80%-owned Indonesian subsidiary against the State Administrative Court's decision to revoke its land cultivation rights there, with costs.
Fima said the company received PTTUN's written decision dated Dec 11, 2017 on Tuesday.
The court also declared that Indonesia's Ministry of Agricultural and Spatial Planning's order to revoke PT Nunukan Jaya Lestari's (PTNJL) land title to be void, save for the areas overlapping with forestry areas/third party interests measuring 5,138ha.
"PTNJL will be seeking the advice of its Indonesian solicitors on its next course of action," said Fima.
Comintel Corp Bhd's proposed disposal of BCM Electronics Corp Sdn Bhd is fair and reasonable, and not detrimental to the interest of non-interested shareholders, said independent adviser KAF Investment Bank Bhd.
In a circular to shareholders, KAF recommended that they vote in favour of the proposal at the extraordinary general meeting soon.
Last October, Comintel announced plans to hive off its electronics manufacturing services unit BCM Electronics for RM123.8 million to a company partly-owned by its executive director Loh Hock Chiang.
BCM Electronics provides turnkey manufacturing services and Comintel had said the sale would give the group an opportunity to unlock and realise the value of its investment in the unit.
The proposed disposal to Aurelius Holdings Sdn Bhd is expected to realise a one-off gain of about RM76.3 million, said Comintel.
Vivocom Intl Holdings Bhd has bagged an RM143 million contract from Almaventures Development Sdn Bhd to build a 44-storey block housing 902 units of affordable housing, with seven floors of car park, in Jalan Gombak, Setapak.
Vivocom said its subsidiary Vivocom Enterprise Sdn Bhd (VESB) has accepted the letter of award from Almaventures for the project.
The project will be completed within 36 months from the date of commencement.
CB Industrial Product Holdings Bhd (CBIP) expects positive contribution to its earnings for the current financial year ending Dec 31, 2018 (FY18) and FY19, from a RM61.43 million contract it had entered into with Oriental Holdings Bhd to develop a palm oil mill in Indonesia.
CBIP said its wholly-owned subsidiary PalmitEco Engineering Sdn Bhd signed the contract with Oriental's unit PT Pratama Palm Abadi on Dec 20.
The contract entails the design, manufacture, supply, installation, testing, commissioning and performance guarantee of earth, civil, mechanical and electrical works for a continuous sterilisation palm oil mill in Lubuk Linggau, South Sumatera.
Pacific & Orient Bhd (P&O) has proposed to undertake a bonus issue on the basis of one bonus share for every six existing shares held, on an entitlement date to be fixed.
The proposal, intended to reward shareholders for their continuous support of the company, will involve 40.99 million new P&O shares.
The bonus shares will be capitalised at 50 sen each from the company's share premium account as at Jan 30, 2017 — a day before the Companies Act 2016 took effect — which stood at RM24.3 million.
Amcorp Properties Bhd (AmProp) has agreed to put an additional €15 million (RM72.45 million) as capital into its 50:50 real estate joint venture  in Spain with Grosvenor Group Ltd.
The initial JV agreement was inked in July last year by AmProp unit, Amcorp Horizon Sdn Bhd, with Grosvenor Group's indirect wholly-owned unit, Grosvenor Europe Investments Ltd. At the time, the capital commitment of each party in the JV was capped at €35 million (RM169.043 million).
Today, the parties inked a variation letter agreement to push up the cap by €15 million, each. This will bring the new cumulative capital commitment in the JV from €70 million to €100 million.
Caely Holdings Bhd, whose share price surged 30 sen or 38.46% today, has been slapped with an unusual market activity (UMA) query by Bursa Malaysia.
The regulator drew attention to the "sharp rise in price" of the company's shares recently.
Bursa requested the company to state whether there was any corporate development relating to its business and affairs that had not been previously announced, that may account for the trading activity, including those in the stage of negotiation or discussion.