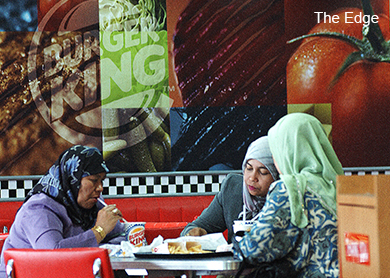 KUALA LUMPUR (Nov 26): Brahim's Holdings Bhd forms a joint venture to take over Burger King franchise from Ekuiti Nasional Bhd (Ekuinas) for RM95 million cash.
In an announcement to Bursa Malaysia, Brahim's announced its subsidary, Brahim's Trading Sdn Bhd (BTSB), together with Quantum Angel Sdn Bhd, has entered into a conditional share sale agreement (SSA) with Integrated Food Group Sdn Bhd (IFG) and E-Cap (Internal) Two Sdn Bhd (E-CAP), for the acquisition of the entire equity interest in Rancak Selera Sdn Bhd.
BTSB and Quantum Angel will hold 80% and 20% equity interest in a special purpose vehicle (SPV), respectively.
"Brahim as the main driver of the proposed acquisition, together with Quantum Angel, intend to incorporate a special purpose vehicle (SPV), whereby BTSB or its nominee would hold up to 80% equity interest in the SPV, and will seek to have management and board control of the SPV, while Quantum Angel will hold the remaining 20%," said Brahim's.
IFG is a wholly-owned subsidiary of E-Cap, which in turn is a subsidiary of Ekuinas Capital Sdn Bhd. Meanwhile, Rancak Selera is the holding company which holds 95% equity interest in Cosmo and 100% equity interest in BK Singapore, which are holders of license and/or franchising rights in respect of the Burger King franchise in Malaysia and Singapore.
Rancak Selera has been loss making for the past three financial years. For the financial year ended Dec 31, 2013, Rancak Selera posted a net loss of RM2.7 million, compared with net profit of RM1.58 million.
BTSB and Quantum Angel had also entered into a consent agreement with BK Asiapac Pte Ltd, a subsidiary of Burger King Corp (franchisor), to govern their obligations as the master franchisee in relation to the development of Burger King restaurants in Malaysia and Singapore.
Brahim's said the purchase consideration of RM95 million will be funded through capital injection by the shareholders of the SPV (RM10 million), and bank borrowings from financial institution(s) (RM85 million).
As at the latest practicable date, the directors of Quantum Angel are Datuk Ahmad Zaki Zahid and Ahmad Zubir Zahid. Quantum Angel is 50%-owned by Datuk Ahmad Zaki and 50%-owned by Brothers Investment Group LLC.
"The proposed acquisition is in line with the company's strategy of gradual expansion and rebalancing of its business configuration under food manufacturing, F&B business and halal in-flight catering, to diversify its revenue stream in order to mitigate the company and its dependence on its halal in-flight catering operations," said Brahim's.
It envisages the proposed acquisition to provide the enlarged Brahim's with alternate streams of revenue and earnings.
"Barring any unforeseen circumstances, the proposed acquisition is expected to enhance Brahim's long-term growth prospects and contribute to its future earnings," it said.
Brahim's closed at three sen or 2% lower at RM1.50 today, bringing it to a market capitalisation of RM354.43 million.