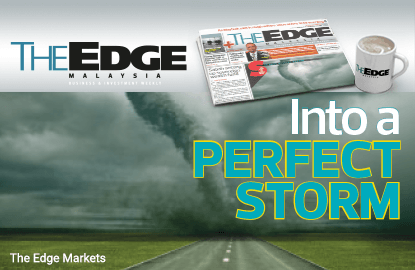 KUALA LUMPUR: The recently concluded year of the Wood Sheep, as the Lunar calendar names it, was one of the most tumultuous years in recent memory for Malaysia, with the collapse in oil prices, persistent capital outflows, rising inflation, and the dizzying fall of the ringgit in the face of the growing financial scandal surrounding 1Malaysia Development Bhd, and the subsequent political drama.
The start of the new Fire Monkey Year has not heralded any better tidings, as oil prices crashed to near US$26 per barrel, sparking fears across world markets, sending them tumbling into the red while the World Bank slashed its growth forecast for the global economy in 2016, citing "disappointing" growth in major emerging-market economies like China and Brazil.
Events that have been unfolding since the start of the year seems to be coming together to rile up the global economy and financial markets. In a special 72-page 'State of the Nation 2016' report titled 'Into a Perfect Storm' that comes with the latest copy of The Edge Malaysia (Feb 15-Feb 21), the weekly looks at how well the Malaysian economy and stock market can weather the turbulence ahead.
It has been coming up with an annual update on the state of the nation in a special report since 2014. This issue is the third instalment.
In the foreword, the weekly's managing/project editor Anna Taing said in the special report aims to provide readers with an insight into what lies ahead, and that despite the gloom and doom, the consensus view is that there are still pockets of opportunity for investors.
"In the first part of [this] report, InsiderAsia reviews 2015 and how accurate it was with its forecast last year. Thus far, InsiderAsia has been proven correct on the macro-economic front...What does this year hold? Insider Asia says the storm isn't over yet, so brace yourself for another rough ride ahead.
"In the second part of our report, we invite economists and heads of resesarch to pen their thoughts on 2016. The consensus view on global and domestic growth is downbeat, with most of them pointing to even more challenging times ahead. As a sign of the times, some heads of research couldn't even find 10 stock picks," she noted.
Also in the pages are an overview of the property mart, and why consultants think it is unlikely to hit bottom this year.
Pick up a copy of The Edge Malaysia today to find out more about what the year ahead will likely shape up to be, with experts' insights to help you make better business and investment decisions.
P/S: The Edge Malaysia can also be downloaded from Apple's Newsstand and Androids' Google Play.