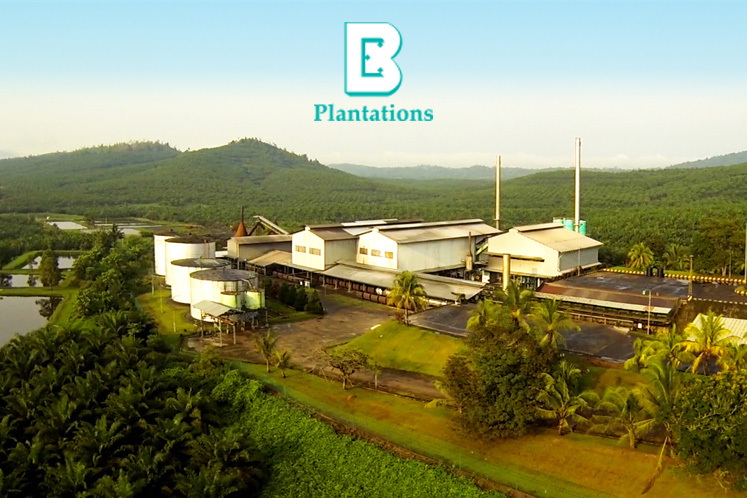 KUALA LUMPUR (Nov 22): Boustead Plantations Bhd slipped into the red for the third quarter of its financial period ended Sept 30, 2018 (3QFY18) with a net loss of RM21.9 million or 0.98 sen per share compared to a net profit of RM557.7 million or 24.9 sen per share during the corresponding period a year ago.
The group booked gain on disposal of plantation assets of RM554.9 million recognized in the previous corresponding quarter.
According to the filing with Bursa, the loss was attributed to the decline in palm product prices, lower crop production and increase in expenditure corresponding to a larger area under harvest.
The group's quarterly revenue fell by 28.5% to RM131.1 million from RM183.4 million recorded in 3QFY17.
In a separate filing, the directors have declared a third interim dividend of two sen per share in respect of the year ending Dec 31, 2018, which will be paid on Jan 4, 2019.
For the first nine months of its financial period ended Sept 30 (9MFY18), the group also recorded a net loss of RM38.9 million or 1.74 sen per share compared to a net profit of RM598 million or 26.7 sen per share recorded during the corresponding period a year ago.
"Besides the decline in crop production and selling prices, the start-up expenses for Pertama Estates had also impacted performance. Amortisation charge for bearer plants and revalued leasehold arising from the adoption of MFRS (Malaysian Financial Reporting Standards) amounted to RM59.5 million (2017: RM55.7 million)," the note filed with Bursa said.
In a press release, the group said that the adoption of new MFRS effective Jan 1 also had an impact on its profitability.
Similar to the group's decline in its bottom line, Boustead Plantations' revenue for 9MFY18 also fell by 21% to RM427.5 million from RM541.9 million recorded in the prior year's corresponding period.
For 9MFY18, the average CPO selling price was RM2,391 per metric ton (MT), marking a 17% decline from the same period last year. Average PK price dropped by 22% to RM1,924 per MT. Meanwhile, fresh fruit bunches (FFB) production was lower by 5%, amounting to 660,088 MT. Oil extraction rate for the group improved to 21% compared with 20.9% in the previous year, while average kernel extraction rate was also marginally higher at 4.4%.
"The industry continues to be impacted by declining palm product prices and weaker demand, as the purchasing power of India fell along with the depreciation of its currency against the US currency. The trade war between the United States and China also led to lower soybean oil prices, which further depressed CPO prices," a spokesperson for Boustead said in a press release.
The spokesperson added that the group remains steadfast in its commitment to enhancing value for shareholders.
"Moving forward, soft CPO prices are expected to persist for the remainder of the year, given the high palm oil inventories and slow export growth. The forecast of bumper soybean production in the 2018/19 growing season in Brazil is also expected to put further pressure on CPO prices.
"However, over the long-term, the Group is optimistic that we will be able to deliver sustained earnings as crop production improves, particularly with contributions from the recently acquired Pertama estates," the spokesperson said.
At closing, Boustead Plantations' share price was down by one sen or 1.07% to close at 92.5 sen with about 452,900 shares traded. At this level, the group is trading at a market capitalisation of RM2.1 billion and has seen a decline of about 16.4% over the last one-year period.