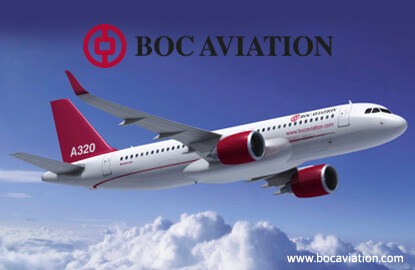 SINGAPORE (July 18): Aircraft manufacturers Boeing and Airbus Group expect even stronger demand for aircraft over the next 20 years as air travel continues to grow, particularly in Asia. A proxy for that growth could be newly listed aircraft lessor BOC Aviation as it offers investors an alternative to airlines and their typically whisper-thin profit margins.
In fact, analysts at DBS Group Research have highlighted Hong Kong-listed BOC Aviation as an "outstanding proxy" for investors to tap into the robust growth of air travel. Given that it is the region's largest lessor, "BOC Aviation offers investors a firm alternative to airlines [and] the continued growth of air travel globally and, in particular, in Asia," Paul Yong and Nicole Wu write in a recent initiation report.
BOC Aviation is a unit of Bank of China, which bought over Singapore Aircraft Leasing Enterprise for nearly US$965 million cash in 2006 and renamed the company. Its shareholders later included Temasek Holdings, and GIC. The company currently owns 230 aircraft, with 41 others under management. It has a further 232 jets on order.
So what makes a successful aircraft lessor? According to Yong and Yu, the mark of a successful aircraft lessor is its ablility to acquire popular aircraft, such as the latest narrow-body jets. Moreover, a successful lessor has access to low-cost and stable funding, as well as a diversified base of customers who operate in major air traffic-generating regions.
BOC Aviation's competitive advantage is its young; single-aisle dominated fleet of jets, as well as its stable of customers in the region. In addition, DBS also highlights that the lessor has a average remaining lease term of more than seven years, which is more than that of its peers. This gives it "more opportunity to take advantage of market circumstances by trading the aircraft with a lease attached, prior to the lease expiry".
More importantly, BOC Aviation compares favourably to its peers in terms of return on equity, and has the lowest cost of debt funding.
You are reading an abridged version of "Aircraft lessor proxy for Asia air travel growth offers alternative to weak airline economics". To find out why you should invest in BOC Aviation, pick up the latest copy of The Edge Singapore (week of 11 July, p28) at newsstands today.