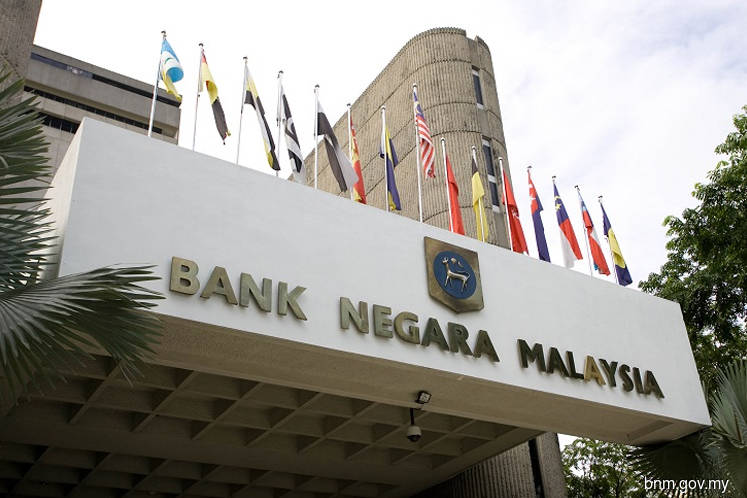 KUALA LUMPUR (Feb 27): Bank Negara Malaysia said today that the RM3.30 billion worth of financing facilities, which is part of the government's RM20 billion economic stimulus package announced today, is aimed at supporting small and medium enterprises in sustaining business operations, safeguarding jobs and encouraging local investments.
The financing is being allocated under the central bank's Fund for SMEs, it said in a statement today.
The funds will be distributed across three categories: a RM2 billion special relief facility (SRF) to alleviate short-term cash flow issues; a RM1 billion agro-food facility (AF) to increase food production for Malaysia and exports; and a RM300 million SME automation and digitalisation facility (ADF) to improve productivity and efficiency.
"Interested SMEs can apply directly to participating financial institutions which comprise commercial banks, Islamic banks and development financial institutions regulated by BNM.
"They may also apply online through the business financing referral platform at imsme.com.my," the statement said.
"Participating financial institutions can obtain guarantee coverage from the Credit Guarantee Corporation Malaysia (CGC) or Syarikat Jaminan Pembiayaan Perniagaan (SJPP) for these facilities," it added.
Meanwhile, BNM said financial institutions in Malaysia are expected to approve about RM200 billion of business and home financing to eligible SMEs and households in 2020.
"BNM welcomes efforts by financial institutions to proactively assist viable businesses and households that face temporary financial constraints to restructure and reschedule their financing facilities, including through repayment moratoriums.
"Insurance and takaful operators have also affirmed that policyholders will be covered for hospital admissions and treatment related to COVID-19 at both public and private hospitals," BNM added.
"Members of the public are advised to contact the customer service centres of financial institutions directly for enquiries or assistance. The public may also contact Bank Negara Malaysia's TELELINK at 1-300-88-5465 for additional information or assistance."
Features of BNM's Financing Facilities to Assist Malaysian SMEs
 
Special Relief Facility (SRF)
Agrofood Facility (AF)
SME Automation
Allocation
RM2 billion
RM1 billion
RM300 million
Objective
Alleviate short-term cash flow problems faced by SMEs affected by the COVID-19 outbreak
Increase food production for Malaysia and for export purposes
Incentivise SMEs to automate processes and digitalise operations to increase productivity and efficiency
Eligibility
Malaysian SMEs2 affected by COVID-19
Malaysian SMEs
Malaysian SMEs
Purpose
Working capital
• Capital expenditures
• Working capital
• Development of agriculture projects
Purchase of equipment, machinery, computer hardware and software, IT solutions and services, technology support services and other intangible assets to enhance productivity and efficiency
Financing rate
Up to 3.75% p.a. (inclusive of any guarantee fee)
Up to 3.75% p.a. (inclusive of any guarantee fee)
4% p.a. (inclusive of any guarantee fee)
Maximum financing amount
RM1 million per SME
RM5 million per SME
RM3 million per SME
Maximum tenure
5.5 years, including 6 months moratorium on repayments
8 years
10 years
Availability
6 Mar 2020 to
31 Dec 2020
From 6 Mar 2020 onwards
6 Mar 2020 to 31 Dec 2020
2 SME definition by SME Corp, with at least 51% shares held by Malaysians.