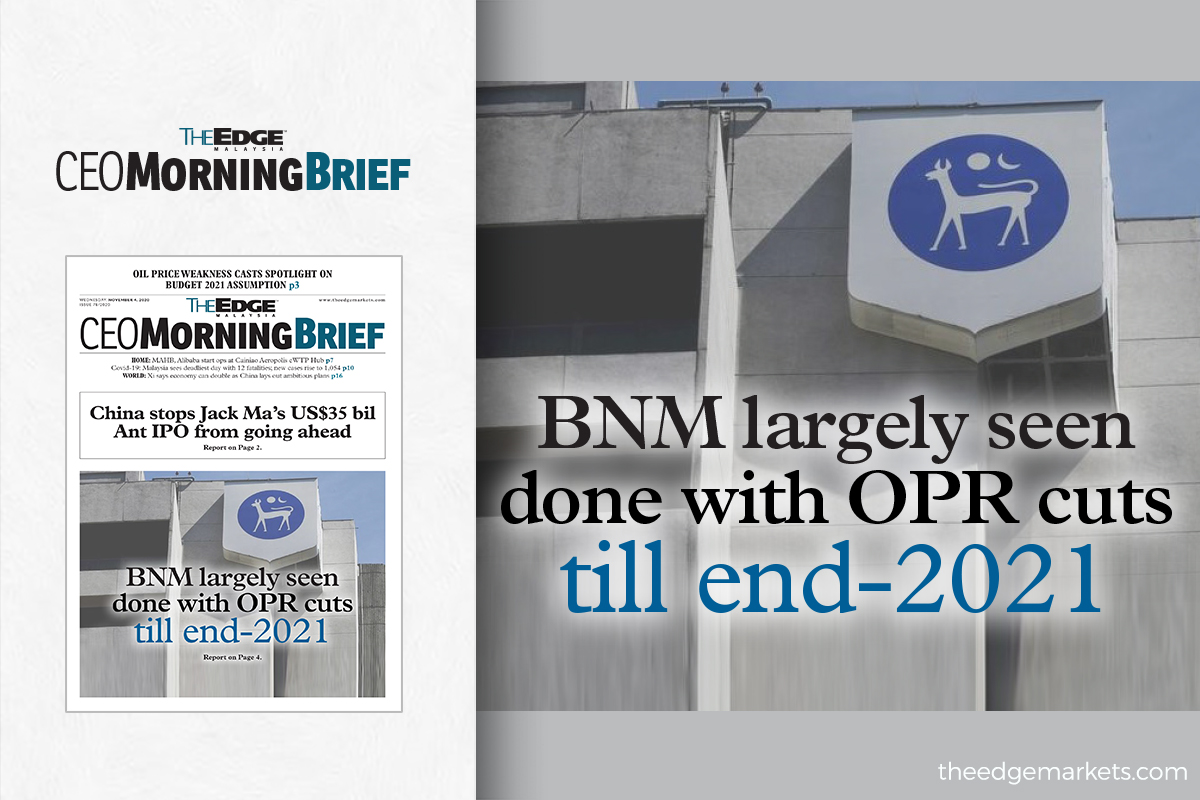 KUALA LUMPUR (Nov 4): Economists say it is likely that Bank Negara Malaysia (BNM) will not be cutting the overnight policy rate (OPR) throughout 2021, following the central bank's decision yesterday to keep the policy rate at 1.75%.
The decision came as no surprise, as economists had largely expected no cut in the November Monetary Policy Committee (MPC) meeting — its last for the year — since the key rate had been cut by 125 basis points (bps) already over the first four meetings this year.
CGS-CIMB economist Michelle Chia said BNM's statement that the current monetary settings were "appropriate and accommodative" can be read as a signal for an extended pause.
"Despite our view that BNM retains the policy space to be more accommodative given the significant output gap and weak inflation outlook, we think the central bank is taking the stance that monetary policy is sufficiently calibrated.
"Therefore, we expect the OPR to remain unchanged at 1.75% until end-2021," she wrote in a note, adding that the market is now turning to the tabling of Budget 2021 later this week.
Similarly, MIDF Research said there is no further need to cut the OPR, as the current rate is deemed to be accommodative.
The latest leading index also indicates that recovery will continue in the coming months and that improvement in economic activity is expected to sustain into 2021.
"On the other hand, BNM has enough room to reduce the OPR if the economic recovery faces any pitfalls and/or slows down in the future," MIDF said.
To UOB Malaysia economist Julia Goh, the cumulative 125bps reduction between January and July this year will continue to provide stimulus to the economy going into next year, and that further rate cuts would have a lower or diminishing positive impact on the economy.
Hence, she expects the OPR to be maintained until end-2021, barring any significant downside risks, and sees further fiscal support measures in Budget 2021, which could include the extension of cash aid, wage subsidies and assistance for small and medium enterprises (SMEs).
"BNM said there are other policy levers that can be used to support economic recovery. These include over RM18 billion of funds allocated for SME financing. We understand that BNM has the capacity to increase this allocation for guaranteed funds and upsizing of funds when the need arises," Goh added.
In its monetary policy statement yesterday, the central bank said the latest indicators point towards significant improvement in Malaysia's economic activity in the third quarter (3Q) and expects economic activity to improve further in 2021.
This, it said, would be underpinned by the recovery in global demand, turnaround in public and private sector expenditure amid continued support from policy measures, and higher production from existing and new facilities.
Nevertheless, it noted that downside risks remain, amid ongoing uncertainties surrounding the pandemic both globally and domestically.
"Overall, it looks to us to be a central bank that is seeking to strike a balance on multiple fronts. Even as it acknowledges the downside risks, it wants to note that the outlook remains brighter than what the headlines might suggest," said OCBC Bank economist Wellian Wiranto.
He also said BNM has "left the door open" for further cuts in the OPR if necessary, as it reiterates its commitment to using its policy levers as appropriate to create enabling conditions for a sustainable economic recovery.
Wiranto further opined that BNM would act swiftly if the economy is impacted in 4Q, either because of a slump in exports or an enforced shutdown in business activities.
"Even though the next MPC meeting will not take place until Jan 19-20, 2021, if push comes to shove, there might even be an inter-meeting decision to cut as well — if necessary," he said.