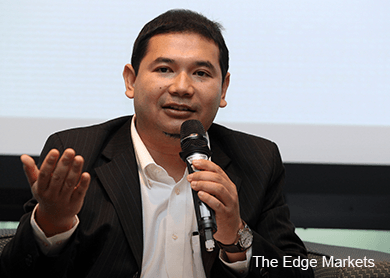 (Aug 5): Barisan Nasional (BN) would have broken election laws if it had spent RM2.6 billion in the 13th general election, said PKR's Rafizi Ramli, as critics continue to question the huge donation to the ruling coalition.
The PKR secretary-general also questioned how BN could still fail to capture Selangor, Penang and Kelantan in the last elections despite the huge resources.
"If RM2.6 billion was distributed to BN candidates for the election, they would have breached the spending limit of RM200,000 that is set under the law," Rafizi said in a statement today.
He said if only half the amount was spent on the parliamentary candidates, each would have spent RM5.8 million in the 13th general election.
This would mean they breached election regulations and as such would render their victories illegitimate, added Rafizi.
The Pandan MP was responding to BN's claims that it had to spend RM2.6 billion for its election campaign in the last general election.
The Malaysian Anti-Corruption Commission (MACC) on Monday said the amount funnelled to the personal bank accounts of Prime Minister Datuk Seri Najib Razak was a political donation, and not money from troubled state investor 1Malaysia Development Berhad (1MDB) as previously alleged.
BN strategic communications director Datuk Abdul Rahman Dahlan appeared on government broadcaster TV1 last night to say that the coalition needed such as a huge campaign fund as it no longer controlled key states such as Selangor and Penang.
BN has insisted that the RM2.6 billion in Najib's personal account was a personal donation and not from 1MDB.
In his statement, Rafizi also asked why Umno deputy president Tan Sri Muhyiddin Yassin did not know about the funds if it was really meant for the party.
Muhyiddin, who has also criticised Najib over those funds, was sacked as deputy prime minister on July 28.
"If it is true RM2.6 billion was spent on the 13th general election, why did BN lose so badly in Penang and Selangor?
"If RM2.6 billion was distributed to 1.7 million Selangor voters, each voter would have received RM1,500 and BN would have bought itself a victory in Selangor."
"These questions will continue to be asked because the explanation (on those funds) by Datuk Abdul Rahman Dahlan does not make sense." – The Malaysian Insider