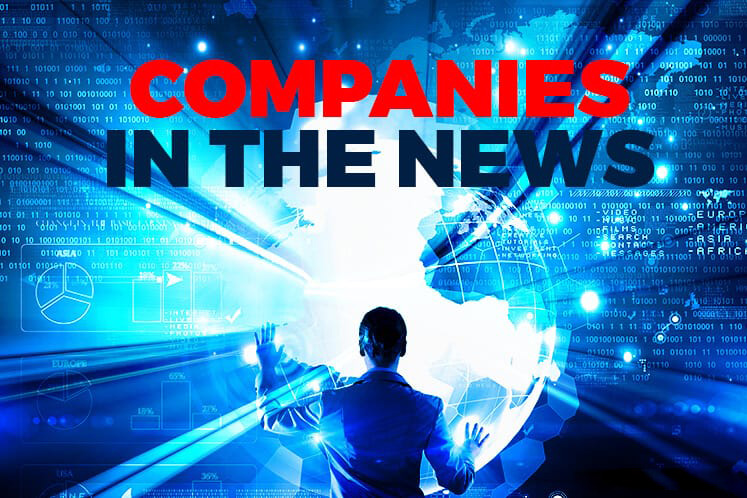 KUALA LUMPUR (Aug 21): Based on corporate news flow and announcements today, stocks that could be in focus on Monday (Aug 24) are: Berjaya Food Bhd, Bertam Alliance Bhd, Careplus Group Bhd, Dayang Enterprise Holdings Bhd, Fajarbaru Builder Group Bhd, Kumpulan Powernet Bhd, OCK Group Bhd, Panasonic Manufacturing (M) Bhd, TIME dotCom Bhd, WCE Holdings Bhd, Wegmans Holdings Bhd and Yinson Holdings Bhd.
Berjaya Food Bhd posted its largest quarterly net loss at RM30.16 million in the fourth quarter ended June 30, 2020 (4QFY20), after operations got hit by the Movement Control Order.
Compared with the immediate preceding quarter (3QFY20), BFood's net loss widened from RM1.39 million, as revenue sank 29.7% to RM111.57 million from RM158.6 million.
As a result, the group posted a net loss of RM18.93 million for the 12 months ended June 30 (FY20) on revenue of RM634.72 million. It was the group's first annual net loss since getting listed in 2011.
Bertam Alliance Bhd's indirect wholly-owned subsidiary MV Properties Sdn Bhd (MVSB) is being sued by the Inland Revenue Board (IRB) for RM17.67 million in outstanding tax payments,  inclusive of penalties for the assessment year 2017.
Case management on the matter has been fixed on Sept 4. Bertam said it is in active discussion with IRB for a settlement proposal on the outstanding tax payable.
Careplus Group Bhd has proposed to acquire a piece of industrial land in Rembau, Negeri Sembilan for RM23 million cash to expand its glove manufacturing facilities.
The land, located 20 minutes from its current factory, is three times the size of the combined facilities of the entire Careplus Group. It plans to commence construction early next year.
Dayang Enterprise Holdings Bhd suffered a net loss of RM985,000 or 0.09 sen per share for the second quarter ended June 30, 2020 (2QFY20), hit by lower activities and higher costs arising from the Movement Control Order and SOPs required during the COVID-19 pandemic.
For 1QFY20, Dayang posted a net profit of at RM9.33 million or 0.88 sen per share. Quarterly revenue slid 0.65% to RM170.95 million from RM172.06 million in 1QFY20.
For the six-month period ended June (6MFY20), Dayang's net profit fell 83.63% to RM8.34 million, from RM50.96 million. Revenue fell 15% to RM343 million from RM403.59 million. The group however expects business to pick up in 2H20.
Fajarbaru Builder Group Bhd's wholly-owned subsidiary Fajarbaru Trading Sdn Bhd has today obtained a two-year moneylender licence from the Housing and Local Government Ministry.
The license expires on Aug 12, 2022. Fajarbaru's core business includes rail construction, property development and timber operations.
Kumpulan Powernet Bhd reported a 216% year-on-year jump for its net profit in the fourth quarter ended June 30, 2020 (4QFY20) to RM7.31 million from RM2.31 million, boosted by contribution from its new construction-related activities segment.
Quarterly revenue more than tripled to RM39.36 million from RM11.95 million. For the full FY20, net profit rocketed 26 times to RM12.79 million from RM486,000 it made a year ago, as revenue surged seven times to RM95.84 million from RM13.22 million.
OCK Group Bhd has appointed UOB Kay Hian to underwrite between 70.65% to 76.99% of its one-for-10 rights issue of shares with free warrants, which is expected to raise up to RM24.45 million.
Back in July, OCK proposed to issue between 95.86 million and 122.26 million rights shares for the fund raising. It has already secured the undertaking for 28.13 million rights shares from its largest shareholder, Aliran Armada Sdn Bhd, and the persons acting in concert.
Panasonic Manufacturing (M) Bhd booked a net loss of RM2.56 million for its first quarter ended June 30, 2020 (1QFY21), as it had to cease operations during the COVID-19 lockdown period.
Its net profit in the immediate preceding quarter (4QFY20) and the corresponding quarter last year (1QFY20) were RM30.29 million and RM27.09 million respectively.
Quarterly revenue fell to RM154.08 million down 24.7% from RM204.65 million in 4QFY20 and down 47.1% from RM291.4 million in 1QFY20. Panasonic said it could not meet some of the sales orders for the period.
TIME dotCom Bhd posted a net profit of RM69.79 million for its second quarter (2Q) ended June 30, 2020, down 29% quarter-on-quarter (q-o-q) from RM97.96 million.
In a bourse filing today, it said revenue for the quarter came in at RM304.8 million, up 3.7% q-o-q from RM293.95 million.
For the first half (1H) ended June 30, 2020, TIME dotCom's cumulative net profit grew to RM167.75 million from RM155.63 million a year ago, on the back of higher revenue of RM598.75 million versus RM540.36 million previously.
WCE Holdings Bhd booked its fifth consecutive quarterly loss of RM30.89 million for the first quarter ended June 30, 2020 (1QFY21) as it recognised interest expense of RM40.3 million in respect of the financing costs for the West Coast Expressway.
The operator of the West Coast Expressway booked a net loss of RM11.99 million in 4QFY20, and RM9.23 million in 1QFY20. Quarterly revenue fell 63.34% on-quarter and 88.38% on-year to RM44.53 million, from RM121.47 million and RM383.19 million respectively.
Wegmans Holdings Bhd has proposed a bonus issue of warrants on the basis of one free warrant for every four shares held, with an exercise price of 23.5 sen per share.
Wegman shares last closed at 31.5 sen apiece. As at Aug 19, 2020, the company's issued share capital was RM51.95 million comprising 500 million shares and 125 million outstanding warrants expiring in 2022.
Yinson Holdings Bhd is upping its stake in India-based solar plant operator Rising Sun Energy Pvt Ltd (RSE) by another 57.5% to a total of 95%, for INR1.1 billion (RM61.39 million) cash.
RSE owns two operational solar power plants in Rajasthan. The acquisition will be financed through internally-generated funds, Yinson said.