This article first appeared in The Edge Financial Daily, on October 6, 2017.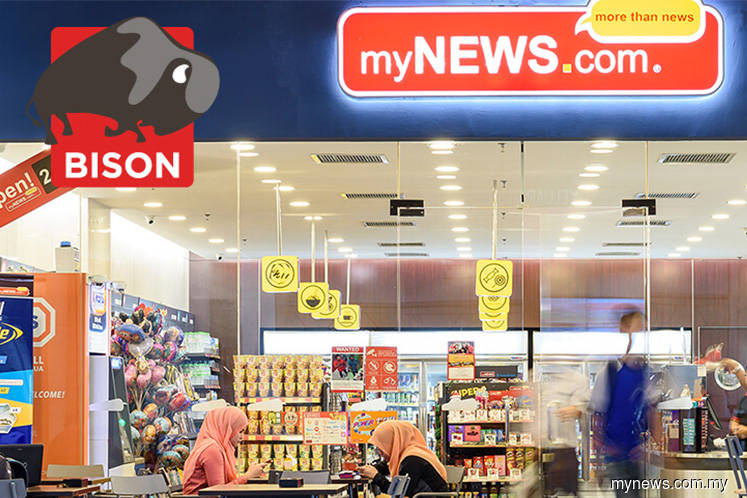 KUALA LUMPUR: Bison Consolidated Bhd, which runs myNEWS.com outlets in Malaysia, is diversifying into food production to grow its business.
Its unit Mynews Food Sdn Bhd inked two joint venture (JV) agreements yesterday with two Japan-based companies, Gourmet Kineya Co Ltd and MRA Bakery Sdn Bhd, to develop, supply and sell ready-to-eat food and baked goods.
Bison's food production venture, for which it will put in a total initial investment of RM35.7 million — to be funded using internal funds and proceeds from its private placement announced on Aug 30 — will be undertaken at a new food preparation and packaging facility in Rawang, Selangor.
Under the deals, Bison will have a controlling 51% stake in the two JV companies to be set up, namely Mynews Kineya Sdn Bhd and Mynews Ryoyupan Sdn Bhd, with an issued and paid-up share capital of RM50 million and RM20 million, respectively.
"There is increasing demand for convenient access to retail stores that offer a variety of quality products and services. Therefore, these JVs are in line with Bison's growth and expansion strategy," said the group's chief executive officer Dang Tai Luk at the signing of the agreements yesterday.
Dang said some RM50 million worth of investment will be going into building the five-level food processing factory in Rawang, which is targeted to start operations in the first quarter of 2019. "[A selection] of products will be available on a trial and research basis, but the full scale of [offerings] will be rolled out in the first quarter of 2019, which is when the food processing facility will be fully operational," Dang said.
He said the new venture should raise contributions from its ready-to-eat food segment to the group's overall revenue. "This [financial year ending Oct 31, 2017], we have grown our ready-to-eat food business from 8% to 11% of our revenue contribution. Upon the commencement of the first year of production, we expect it to grow to about 15% of our revenue," he added.
For the cumulative nine months ending July 31, 2017, its net profit jumped 35% year-on-year to RM18.7 million from RM13.8 million, as revenue improved 24% to RM237.2 million from RM191.1 million.
Dang said the group is on track with its target to open 70 new convenience stores in the country this year. To date, the company has opened 44 new stores, bringing its nationwide tally to 367 outlets. It plans to open another 90 new stores next year.