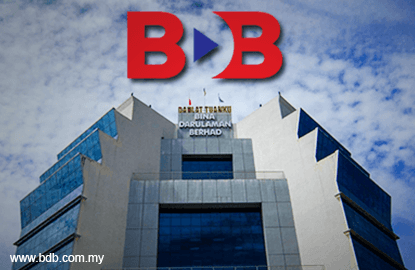 This article first appeared in The Edge Financial Daily, on February 19, 2016.
KUALA LUMPUR: Kedah-based property developer Bina Darulaman Bhd (BDB) is expecting the time taken to close a property sale this year to double, due to bank credit tightening.
"Previously, it would take about three months to close a sale. Now, it might take about six months or so," its group managing director Datuk Izham Yusoff told a press conference to announce its financial results for the fourth quarter ended Dec 31, 2015 (4QFY15) yesterday.
Nevertheless, the group remains bullish on its prospects in 2016, given that it has narrowed down the types of product offerings to focus on affordable housing. It is targeting new launches with a total gross development value of RM484 million in FY16 ending Dec 31, 2016.
"[The] market is tough [given the current economic conditions], but tough doesn't mean that we are not able to make money. If we can address the needs of the market, where the demand is for affordable housing, I think we can still grow," said Izham.
Net profit for 4QFY15 nearly doubled to RM14.16 million or 4.66 sen per share from RM7.71 million or 10.59 sen per share a year ago, mainly due to recovery of doubtful debt,  in which BDB was able to recover RM4.7 million debt from a related company.
In a filing with Bursa Malaysia yesterday, BDB said lower costs of sales in the property and construction divisions arising from finalisation of accounts for completed projects had also contributed to the higher profit.
Revenue for 4QFY15, however, fell 24.35% to RM105.84 million from RM139.9 million a year ago, due to a one-off transaction relating to an en bloc sale to Perbadanan PR1MA Malaysia in 4QFY14.
Izham said BDB managed to realise better margins for 4QFY15.
"[The] bulk of the costs that we thought we would incur earlier were not required," he added.
For the full FY15, the group saw its net profit slip 0.84% to RM23.97 million or 7.88 sen per share from RM24.17 million or 33.18 sen per share in FY14 on lower revenue.
Revenue dropped 26.02% to RM243.3 million, compared with RM328.88 million in FY14, hit by lower contributions from its property and construction divisions.
Izham said other than higher tax expenses incurred by the group, there were also more rejections of loan approvals for its residential buyers.
"We recognise revenue only when the S&P (sale and purchase agreement) is signed. And the slower recognition of sales is largely due to credit tightening. People want to buy, but they find it difficult to get a suitable loan from bank," he noted.
As such, Izham said the three-year RM209.9 million contract for a state road maintenance project in Kedah, which was awarded to BDB in the middle of last year, had given the group stable earnings for FY15.
"The project provided us with recurring income. But property will remain our mainstay; it will grow more in 2016. I think the property [division] would grow and match whatever contribution from the road and quarry division," he said.
For FY15, 45% of BDB's revenue came from its property division, 43% from the road and quarry division, 10% from the construction division and the remaining 2% from the hotel and golf division.
As for profit before tax, quarries and roads contributed 41% of the total amount, while property shared 30% of the pie, with the remaining attributed to construction, and hotel and golf.
Izham said Kedah's housing prices are still reasonable, with most of the properties put out by BDB taken up.
"Prices in Kedah are more reasonable. Ninety per cent of the buyers are owner-occupiers, unlike in the Klang Valley, where many of them buy the properties as investment," he noted.
On land bank expansion, Izham said the group is still keen on expanding its footprint beyond Kedah, particularly in Perak. The group last year acquired an 8.6-acre (3.48ha) piece of land in Kuala Kangsar there.
"If there is a decline [in land prices], it means an upside for BDB, as we have some cash [to buy more land]. But we see the housing market in the Klang Valley already saturated. We are not here to compete, but to make money," he said.
As at Dec 31, 2015, BDB had a cash pile of RM102.21 million, with a total land bank of over 2,000 acres.
Izham also said BDB is tendering construction contracts worth about RM300 million to add to its current order book of RM400 million.
BDB shares closed half a sen or 0.78% lower at 64 sen yesterday, with a market capitalisation of RM200.54 million.