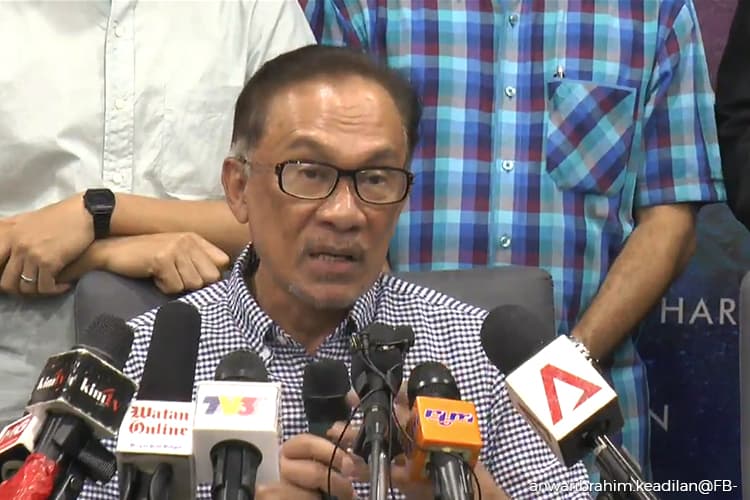 PORT DICKSON (Oct 13): Datuk Seri Anwar Ibrahim, newly-elected as the Port Dickson MP, said his big win in the by-election today was unexpected as he managed to enlarge his party's majority for the seat in the 14th general election (GE14).
"To me, the result was beyond our expectation because the vote majority was very convincing and the popular vote was over 70%, compared to the GE14 at about 48%," he told reporters at a press conference after the result was announced. 
"I would like to express my deepest appreciation to the Port Dickson voters who have entrusted me and Pakatan Harapan to represent them [in the parliament]," Anwar, the PKR president-elect, said. 
Anwar also pointed out that he managed to secure the mandate from the majority of the people of all races in Port Dickson. 
"We can now confidently say that we have captured the confidence of all ethnic groups, whereby all the majority Malay areas, majority Chinese areas, majority Indian areas and small groups of Orang Asli are in favour of Pakatan Harapan," said Anwar. 
"Even the two state assembly areas which we lost in the last GE14, we have managed to win with a convincing majority," he said. 
"I called Tun Dr Mahathir to tell him about the results. He was surprised by the overwhelming support that was shown in this by-election," Anwar said, referring to the prime minister and Pakatan Harapan chairman. 
Anwar appeared fatigued when he was giving his winning speech to the large crowd of supporters who had waited for him to address them since the polling station closed. 
Anwar added that Datuk Danyal Balagopal Abdullah, who had resigned as the PD member of parliament to pave the way for Anwar's return to the august house, would be his assistant in the parliamentary seat to work for the people of the constituency.  
Pakatan leaders, including Mahathir, have affirmed that the coalition's leaders had made an agreement that Anwar would succeed Mahathir as prime minister.
Polling 31,016 votes, Anwar clinched a runaway victory in by-election tonight with a majority of 23,560.
Anwar's majority well surpassed Danyal's 17,710-vote margin in GE14 despite a comparatively lower voter turnout. 
The Port Dickson by-election saw a seven-cornered fight among Anwar, his former aide Saiful Bukhari, former Negeri Sembilan Menteri Besar Tan Sri Isa Samad, PAS' Mohd Nazari Mokhtar, and three independent candidates.