This article first appeared in Digital Edge, The Edge Malaysia Weekly, on June 27, 2022 - July 03, 2022.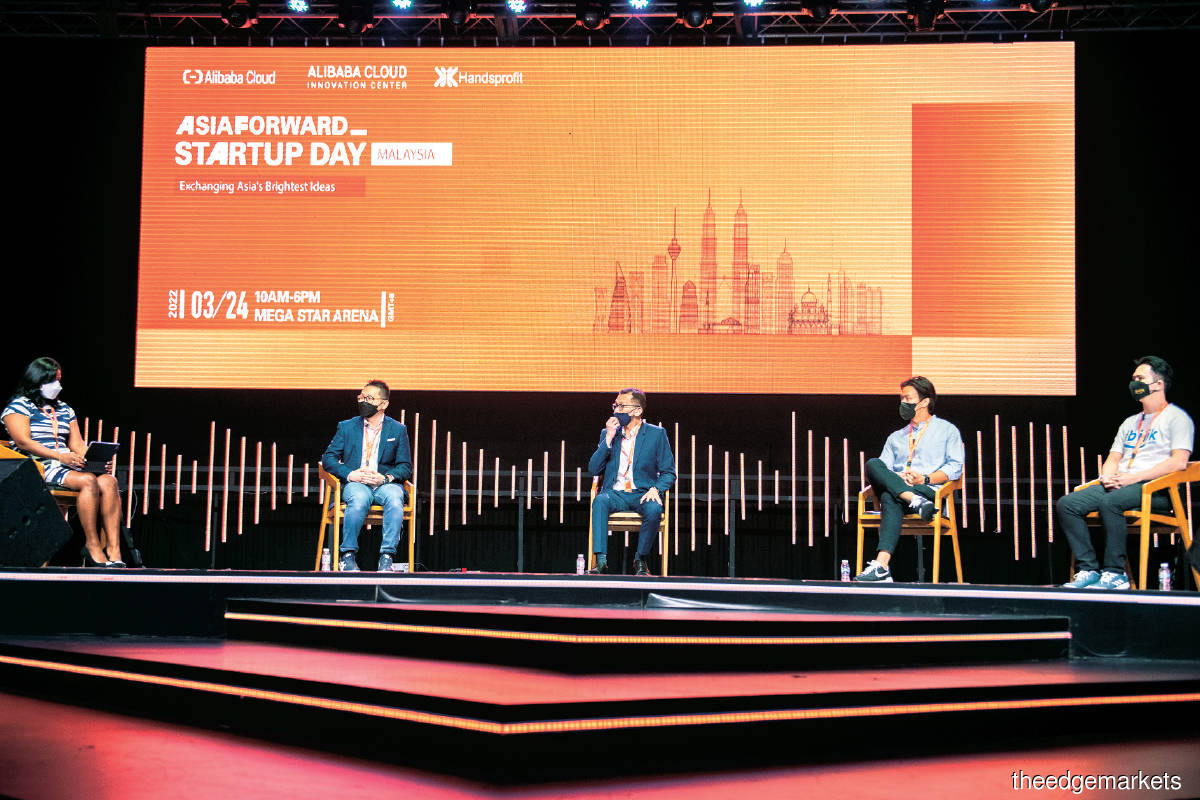 Micro, small and medium enterprises (MSMEs) have become the backbone of Malaysia's economy, especially after the Covid-19 pandemic.
According to the latest data from the Malaysia Statistical Business Register (MSBR) by the Department of Statistics Malaysia (DOSM), there were 1,226,494 MSMEs in 2021, which made up 97.4% of overall business establishments in the country.
However, these emerging businesses and entrepreneurs are in dire need of support to muscle their way through the highly competitive business environment. At present, the start-up failure rate ranges between 50% and 95% in developing countries such as Malaysia, states a research paper by Universiti Sains Malaysia's School of Management professors Daisy Mui Hung Kee, Yusmani Mohd Yusoff and Sabai Khin.
This is why the availability of start-up incubators by public and private entities, especially corporations locally, is important to nurture entrepreneurial talents.
According to Tham Lih Chung, executive director of HandsProfit Sdn Bhd — the partner of Alibaba Cloud that manages Alibaba Cloud Innovation Centre (ACICKL), start-up accelerator programmes such as that held by Alibaba Cloud x KrASIA Global Startup Accelerator help entrepreneurs sharpen their ideas through pitching sessions.
These entrepreneurs may not have first-hand experience in pitching ideas before, but events such as Demo Day have provided them with insights on what it takes to have a solid business idea and opened up opportunities for them to connect with experts who can help coach them with the soft skills needed.
"We have seen participants who have pitched on the previous Demo Day come back the second round with a different angle [of the pitch]. It's very satisfying to see that people are adapting; they realise what needs to be done and [are improving]," says Tham.
Apart from challenging entrepreneurs, he shares that the subsequent Demo Days have also trained panel judges to ask quality questions and nurture thinking skills among entrepreneurs as well. "That has given participants a lot of takeaway value because it allows them to start thinking about their business model." More female entrepreneurs are also entering the space, he adds.
The top prize of DemoDay x KrAsia is US$60,000 worth of Alibaba Cloud Credits that can be used to access more than 50 cloud products and services as well as various benefits, including being able to connect with venture capitalists (VCs) from Southeast Asia and China.
Although the DemoDay x KrAsia and ACICKL's first hybrid event, AsiaForward Startup Day, which was held in March, focused on tech areas such as fintech, robotics, artificial intelligence (AI) and e-commerce, they also garnered interest from start-ups in mainstream sectors such as convenience stores, agriculture and property development.
"Start-ups are not just focused on the tech sector, [but] every other business sector as well. The people who need technology are the [ones from] the traditional industries. They need to evolve and adapt, but they may not have the environment that allows them to learn, so peer-to-peer learning and sharing are very important to them."
"AsiaForward Startup Day has [set the stage] for them to get some ideas from the panel discussions [held]," says Tham.
AsiaForward Startup Day gathers Chinese start-ups to share their experiences with Southeast Asian entrepreneurs. Apart from that, VCs and Alibaba experts also deliver networking and tech training sessions.
He adds that Southeast Asian entrepreneurs should consider venturing into other sectors such as education and healthcare as these sectors have shown immense growth potential since the pandemic struck.
Avenue for entrepreneurs to shine
As the first Alibaba Cloud overseas incubator, ACICKL aims to groom start-ups and help them scale and thrive in the Malaysian market alongside accelerating start-ups with adequate training and support.
The innovation centre provides an avenue for entrepreneurs to grow themselves and their businesses through training courses as well as events such as the DemoDay x KrAsia and AsiaForward Startup Day. The innovation centre offers both technical and entrepreneurial courses that fit entrepreneurs' various needs.
All classes are currently conducted online due to social distancing and the absence of a physical premise to conduct classes physically as building development plans were halted during the pandemic.
Tham believes that apart from technical courses such as cloud computing, price management is also an important module to be taught and shared with entrepreneurs. "Eventually, it's all about teaching people how to run successful ventures [and] businesses, as well as how to make them sustainable."
More than 300 participants have completed courses under the Alibaba Cloud Innovation Centre since its launch in June last year. Besides budding entrepreneurs from tech and traditional sectors, some participants are top-tier managers who would like to build their entrepreneurship skills before deciding whether it is the path they want to pursue.
"2021 was the year for us to set the foundation right [by understanding] what the market needed so that we could communicate with our partners in China to come up with [programmes] that are more suitable for this country," says Tham.
The courses offered are backbreaking at times but he says that "is a part of entrepreneurship", which needs as much perseverance and courage, not just good ideas.
ACICKL is hoping to secure a premise by the second half of 2022 to conduct training courses. The innovation centre also hopes to further develop entrepreneurs by offering more networking opportunities and events and giving selected start-ups a chance to visit the Alibaba headquarters in China in the future.
A land of opportunities
Although it might sound bizarre for a regional company such as Alibaba Cloud to choose Malaysia as its first hub, Tham says this was a natural progression for the company.
Apart from the existing good bilateral relationship between China and Malaysia, the demographic similarities have compelling factors for the ease of operations and understanding of the local entrepreneurial needs.
According to Tham, Malaysia has the third-largest Chinese population outside of China after Indonesia and Thailand, and language is not a barrier as most Malaysians can converse in English, if not Chinese, in general. Besides that, Malaysia is also geographically strategic as the country is shielded from major disasters such as earthquakes and volcanic eruptions.
"Malaysia is a multiracial country. If [Alibaba Cloud] can set [ACICKL] up well in Malaysia, it definitely helps them to sell similar bases outside of Malaysia, such as in the Philippines, Thailand, Indonesia or even Vietnam.
"Those countries may be bigger in terms of their economy, compared with Malaysia, but for Alibaba to kick-start something fast, Malaysia is an easier entry point," adds Tham.
He clarifies that the aim of bringing Alibaba Cloud's resources into Southeast Asia is not to accelerate entrepreneurs to be at the same level as Chinese entrepreneurs, as their competitive environment has made them way too advanced.
Instead, the involvement of Chinese regional companies such as Alibaba Cloud will be able to help Southeast Asian entrepreneurs adopt digitalisation while the former can expand their business here, as Malaysia's economy is the fourth largest in Southeast Asia according to the International Monetary Fund 2020.
"There is a lot of room for us to catch up, but at the same time, I see an abundance of opportunities as well, especially when it comes to leveraging knowledge from Chinese start-ups."
"ACICKL will be the bridge for us to learn from them," says Tham.