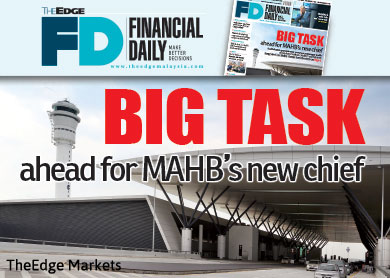 Badlisham is not expecting Malaysian airports to repeat the 18.4% passenger growth performance it saw last year.
Photo by Chu Juck Seng
KUALA LUMPUR: Malaysia Airports Holdings Bhd's (MAHB) new managing director Datuk Badlisham Ghazali has a major task in hand, taking the helm at a time when passenger traffic at the 39 airports MAHB manages is falling due to tragedies of flights MH370 and MH17.
It is also a time when airlines are cutting unprofitable routes and reducing capacity growth amid intense competition.
With a spanking new state-of-the-art terminal for budget airlines in Sepang, Badlisham, 51, faces new challenges to fill up klia2 that is built to accommodate up to 45 million passengers per year — four times the size of the old low-cost carrier terminal.
Badlisham acknowledged that 2014 has been a "difficult" year for the domestic aviation industry,  especially with the twin tragedies of Malaysia Airlines (MAS) flights MH370 and MH17.
"Without a doubt, it did affect passenger movements. [The] MH370 [tragedy] had affected the China [travel] market, while MH17 had affected the Europe sector," he told The Edge Financial Daily in his first interview with the media since his appointment on June 23, 2014.
Badlisham is not expecting Malaysian airports to repeat the 18.4% passenger growth performance it saw last year, handling a record 79.59 million passengers in 2013 from 67.2 million in 2012.
"No, obviously not. The 18.4% growth last year was a phenomenal one. We have never experienced that kind of growth in the history of this organisation, I think.
"It (2013) was an exceptional year. MAS added a lot of capacity and we ourselves had benefited from all the other works that we've done in bringing in new airlines and [several airlines] added flight frequencies," he said.
The airport operator has scaled back its passenger growth forecast for 2014 from its original projection of a 9.7% increase in passengers set in January to 4% now.
"Going forward, I would say we are cautiously optimistic of achieving a target volume of 83 million passengers [this year]. The first and fourth quarters of the year are traditionally the strongest periods for MAHB, so we do expect to see more movements towards the end of the year," said Badlisham.
Between January and September this year, MAHB saw 61.2 million passengers passing through its airports in the country, an increase of 6.8%, compared with 57.3 million passengers a year ago. This was despite a 2.1% decline in third-quarter (3Q) passenger traffic in 2014.
In 3Q, China, Macao and Hong Kong traffic declined in the double-digit range, said MAHB. There was also a decline of 8% to 10% in traffic from the Netherlands and the UK, while domestic traffic fell 3.3%.
Nevertheless, Badlisham is taking it all in his stride.
"This is part and parcel of being in the aviation industry. We had the outbreak of SARS in 2003 and the disruptions caused by volcanic ash in Europe in 2010 and Indonesia recently. The question is what do you do moving forward.
"It is not like where I come from. Just selling consumer products from HP (Hewlett-Packard), you can try to rebound very quickly. In the airline business, you just don't add new planes overnight," he said, referring to the time during which he worked in HP Malaysia for 18 years as director and country general manager of HP Technology Solutions Group.
On MAS' current restructuring exercise, in which the national carrier will cut 30% of its workforce and some long-haul routes, Badlisham said it is not expected to have a significant impact on MAHB's revenue in financial year 2014.
"It is a question I had asked my team who experienced in 2012 [the consequences of MAS cutting] capacity and frequencies. What we saw was because demand was already there in and out of Asia-Pacific, other carriers came in and filled those gaps," he said.
"So, we don't expect to see the severe decline when people say, 'Your national carrier is cutting and therefore, you will see a significant drop per say'. It may not be the case. It also depends on how we ourselves discuss with our other airline partners about the availability [of slots if MAS pulls out] and what we can do to facilitate that.
"We also work aggressively to get non-Malaysian airlines to fill in the gaps as well. We just don't wait and hope.
"No one knows yet what MAS' plans are, but we have factored in different scenarios into our projections," Badlisham said.
On the plan to build a second satellite building at the KL International Airport (KLIA), Badlisham said he wants to look at MAS' restructuring plan before proceeding as it is currently the principal tenant at the main terminal. This forms part of an original plan for KLIA to have four satellite buildings, each to cater for 25 million passengers, totalling 100 million passengers.
For the first six months ended June 30, 2014, MAHB posted a net profit of RM84.04 million, a 63% decline from RM227.81 million a year ago. Revenue fell a marginal 2% to RM1.96 billion from RM2 billion previously.
MAHB shares closed down 1.22% at RM6.50 yesterday, giving it a market capitalisation of RM8.93 billion.
This article first appeared in The Edge Financial Daily, on October 17, 2014.