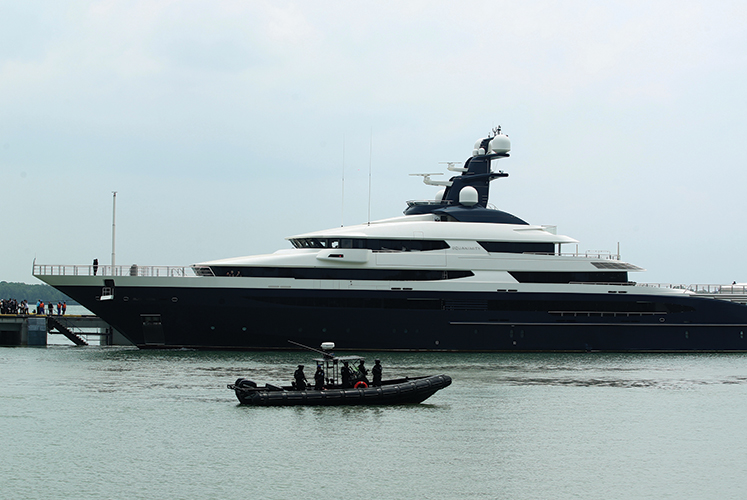 (Nov 29): Bids from potential buyers from all over the world were received for the Equanimity superyacht which was previously owned by fugitive financier Jho Low.
According to The Malaysian Insight, Equanimity had received worldwide interest after it went up for sale, drawing bids from Asia, Europe, the Middle East and the US. The auction ended yesterday.
Sheriff of the High Court of Malaya, Mohd Zamir Suhaimee, said in a statement that multiple offers had been received after the super yacht was put up for sale for a month.
However, the number of offers and the value of the offers cannot be revealed.
The appraised value for the yacht as well as the identity of the bidders will remain confidential until the sale is completed.
Mohd Zamir said: "As the next step, the sheriff will communicate with the bidders. The public, the Government of Malaysia and the bidders all want a successful completion of sale.
"So let us afford the confidentiality it deserves for this to happen," he said.
Mohd Zamir added that the unsealing of the bids this afternoon was attended by Burgess, the yacht broker appointed by the High Court as the central exclusive agent for the sale of the Equanimity.
"Through Burgess, the Malaysian Admiralty Court said to the world what it would do, and through Burgess the world has seen the Malaysian Admiralty Court do what it said it would do.
"The nature of the judicial sale process is to preserve the confidence of the bidders that their identities and offers will not be disclosed until the sale is completed.
"This also serves to preserve the confidence in the judicial process.
"A suitable balance between confidentiality and transparency is struck by having Burgess, a complete outsider to the court system and from the yachting market, to participate and observe the entire process," the statement added.
The superyacht is reportedly among more than US$1.7 billion in assets that the US Department of Justice claims were acquired by Jho Low and his accomplices with money they siphoned from 1MDB.