This article first appeared in Capital, The Edge Malaysia Weekly, on December 30, 2019 - January 05, 2020.
Click / Tap image to enlarge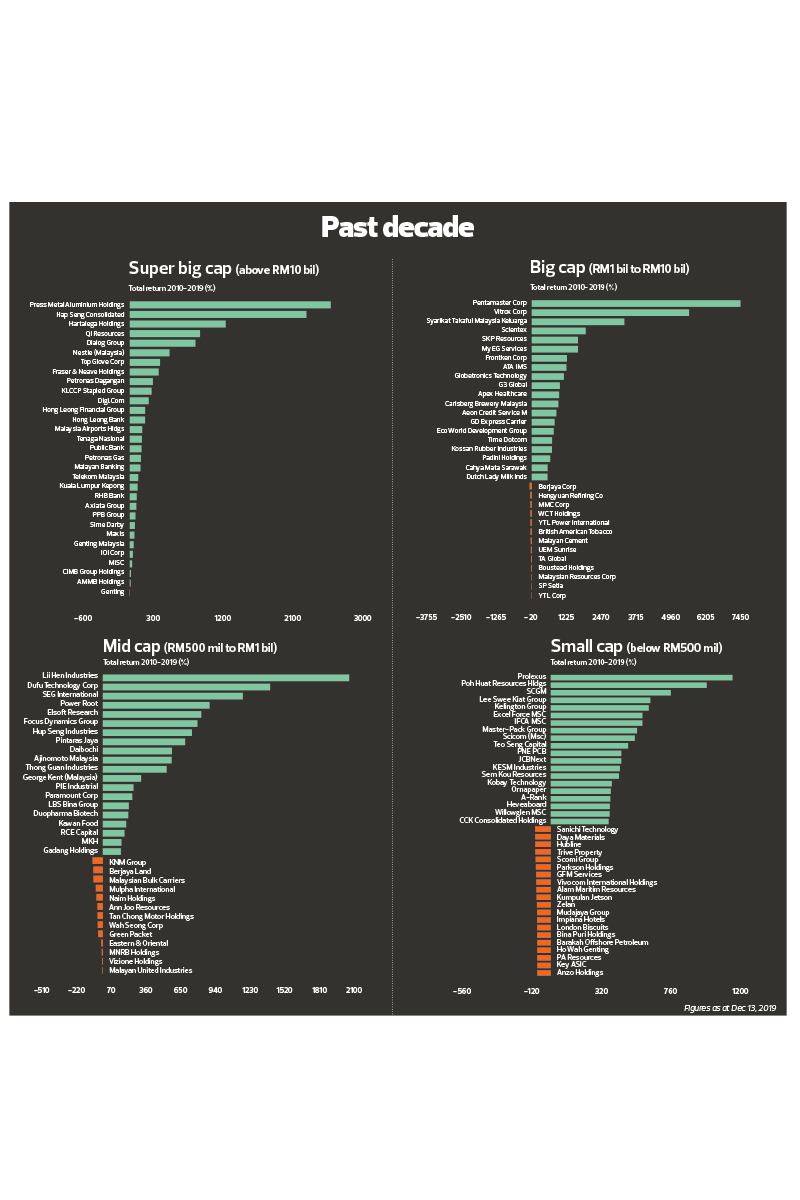 XXX
PRINCETON University professor Burton Malkiel's random walk theory says that a portfolio selected by a monkey — by throwing darts at the share price pages of a newspaper — would perform as well as one picked by an investment expert.
The theory, first coined in his 1973 book A Walk Down Wall Street, has been the subject of debate among the investing fraternity ever since.
In the case of Bursa Malaysia, for the 10 years between 2010 and 2019, if the darts thrown by the monkey had landed on companies whose names started with the letter P, chances of its portfolio outperforming an investment expert's would have been high.
It would have done well if its dart had landed on Pentamaster Corp Bhd. The technology stock's price has skyrocketed over 70 times, or 7,442% to be precise, since 2010. That makes Pentamaster the best-performing stock on Bursa Malaysia for the decade, in terms of share price (adjusted).
The Penang-based company specialises in factory automation equipment and technology solutions for industrial and commercial customers.
The monkey's portfolio would have performed well if its darts had landed on Press Metal Bhd, Prolexus Bhd, Poh Huat Resources Bhd, Power Root Bhd and Pintaras Jaya Bhd.
Press Metal is the top performing stock among the super-cap companies, whose market capitalisation is RM10 billion or above. It gained 2,589% during the period. The sharp gain does not take into account the regular dividend that the aluminium manufacturer has declared over the past 10 years. Furthermore, Press Metal rewarded its shareholders with two bonus issues, a one-for-one bonus issue in November 2014 and a two-for-five bonus issue in October 2016 after a one-to-two stock split.
Being the biggest aluminium producer in Asean, it is not surprising that Press Metal is on investors' radars. It is less likely for Prolexus to be investors' choice given the tough operating landscape in the apparel manufacturing industry, which has cut-throat competition and razor-thin margins.
Interestingly, Prolexus, which has a workforce of more than 3,000 at its three plants in Malaysia and China, is the champion in the small-cap category (market cap below RM500 million) in terms of share price performance.
Its stock price soared 1,150% in the past decade, followed by small-cap firms Poh Huat Resources, a furniture maker, with 986%, and plastic packaging company SCGM Bhd with 759%.
It is worth noting that Muar-based furniture maker Lii Hen Industries Bhd did even better. Its share price appreciated 2,058%, making it the best performing stock in the mid-cap category (market cap between RM500 million and RM1 billion).
Technology-related companies, including automation solution and precision engineering providers, performed better than expected given the astronomical gains. In addition to Pentamaster, techno­logy counters across all categories that are among the top 20 performers include Penang-based Vitrox Corp Bhd (share price up 5,608%), Dufu Technology Corp Bhd (1,397%), Frontken Corp Bhd (1,255%), Globetronics Technology Bhd (1,142%) and Elsoft Research Bhd (822%).
Small-cap technology-related companies whose share prices leaped more than four times are PNE PCB Bhd (446%), KESM Industries Bhd (437%) and Kobay Techno­logy Bhd (386%).
Apart from Press Metal, among the heavyweights with market cap above RM10 billion, diversified conglomerate Hap Seng Consolidated Bhd and nitrile glove maker Hartalega Holdings were way ahead of their peers.
Hap Seng has played catch-up over the last decade. The little known stock was ­underappreciated by the market and sometimes mistaken for a biscuit producer. Ten years later, it is now a super big-cap conglomerate. The company's share price surged 2,276%.
Actual biscuit producer Hup Seng Industries Bhd is also a top performer — but in the mid-cap category — with its share price increasing 744%. Over at Hartalega, the company's share price climbed 1,235%, outshining Top Glove Corp's 389% hike. Kossan Rubber Industries Bhd, which is in the big-cap category, also outperformed its bigger rival Top Glove; its share price rose nearly 720% over the decade.
Among the losers, the share price plunge experienced by small-cap firms was nerve-wracking, with some dropping more than 80%. Some of these are well-known names such as Scomi Group Bhd, Parkson Holdings Bhd and Mudajaya Group Bhd.
It has been a tough decade for the oil and gas (O&G) companies, such as Alam Maritim Resources Bhd and Barakah Offshore Petroleum Bhd, which have been in rough waters since 2015, after crude oil prices plunged from above US$100 per barrel to below US$40. Many are still struggling to stay afloat, as their fleets of offshore vessels or oil rigs sit idle while banks demand loan repayments.
In the mid-cap category, two O&G counters made the top losers' list. One is KNM Group Bhd, which fell 85.8%. The other is Wah Seong Corp Bhd, which once intended to carve out its O&G operations for a listing exercise. Its shares declined 42.4%.
Department store chain Parkson Holdings lost its shine during the decade, a far cry from its glory days when the retailer rode China's powerful consumer boom. It was the proxy to the country's breakneck economic growth pace at the start of the millennium. However, the stock tumbled 94.2% in the decade under review.
Robert Kuok-controlled Malaysian Bulk Carriers Bhd is another example that has yet to regain its shine. The shipping group's share price fell 78.8%. This is reflective of the industry's poor health — the Baltic Dry Index collapsed from the 4,000 level to around 1,000 in 2010 and has stayed at this level for most of the decade.