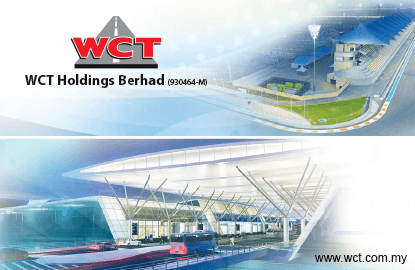 This article first appeared in
The Edge Malaysia Weekly
, on December 19 - 25, 2016.
IN November, corporate chieftain Tan Sri Desmond Lim Siew Choon took the reins at construction company WCT Holdings Bhd after buying a 19.66% stake or 245.72 million shares at RM2.50 apiece — a whopping 43% premium to WCT's trading price of RM1.75 — from Peter Taing Kim Hwa and Wong Sewe Wing.
For WCT minorities, the company has morphed into an exciting new animal with the entrance of the well-connected Lim and its prospects seem bright, with possible related-party transactions involving Lim's Pavilion Real Estate Investment Trust (Pavilion REIT) and Malton Bhd.
Newfields Advisors Sdn Bhd, which was acting for the sellers, was behind the deal. In its submission, Newfields said, "Many analysts viewed the entry of Lim positively given his successful Pavilion brand name, noted business acumen and reputation in deal making."
The low-profile Lim is said to be an astute and politically well-connected businessman with excellent connections in the Middle East, especially in Qatar.
With his flagship development, shopping mall Pavilion Kuala Lumpur, doing well, he is developing Pavilion Damansara Heights on a 16-acre plot in upmarket Damansara Heights. The mixed-use development, undertaken with the Canada Pension Plan Investment Board, has a gross development value of RM7 billion and is targeted for completion in 2021.
The development could be a boon for WCT, which already has an impressive order book of more than RM4.28 billion.
Nevertheless, WCT's share price has largely tapered off since the announcement of the deal, trading at levels prior to Lim's entry.
Although it might seem that Lim had paid a steep premium, the RM2.50 price tag is only a 16.28% premium to WCT's net asset value per share as at end-September.
For him to unlock value in WCT, he could be injecting the company's three malls — Paradigm Mall in Petaling Jaya, AEON Bukit Tinggi Shopping Centre in Klang and [email protected] in Sepang — and the upcoming Paradigm Mall in Johor into Pavilion REIT, in which Lim and his wife, Puan Sri Cindy Tan Kewi Yong, hold a combined 37.35% stake.
WCT's existing malls are valued at about RM1.2 billion, which considerably strengthens its balance sheet. The Johor mall is slated to open next April.
Another likely move for Lim would be the injection of Malton's construction business into WCT, which would leave Malton to handle property development, and consolidate WCT as the construction arm of the group. In a nutshell, WCT may see new order book opportunities through Pavilion REIT and Malton.
WCT also has a land bank of about 1,000 acres. A check of its latest annual report reveals that as at end-December last year, it had: a 57.43-acre parcel in Mukim Petaling, Daerah Kuala Lumpur, with a net book value of RM668.26 million; a 12.38-acre parcel in Tebrau, Johor, with a net book value of RM417.05 million; close to 14 acres in Section 40, Petaling Jaya, Selangor, with a net book value of RM308.82 million; and 53 acres in Klang, Selangor, with a net book value of RM167.37 million.