This article first appeared in The Edge Malaysia Weekly, on December 31, 2018 - January 06, 2019.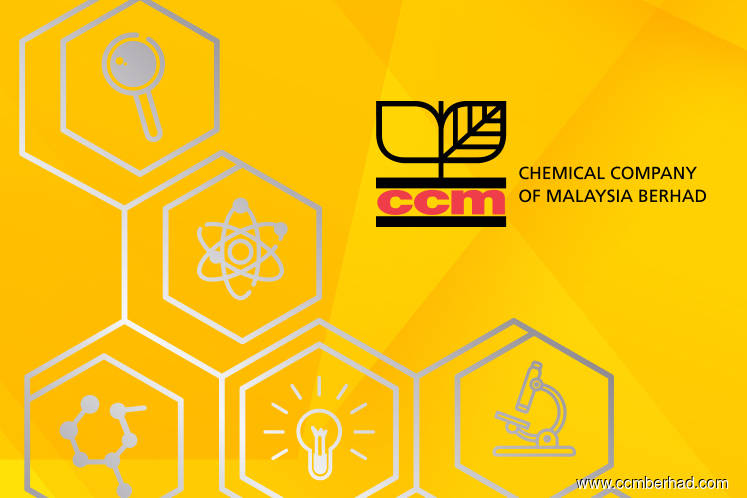 CHEMICAL Company of Malaysia Bhd (CCM) has emerged as a more nimble entity barely a year after its demerger with its former largest earnings contributor and 73.4%-owned subsidiary, CCM Duopharma Biotech Bhd (CCMD), which also continues to do well.
CCM's net profit for the nine months ended Sept 30 (9MFY2018), was 25% lower year on year, without the RM21.14 million contribution from CCMD.
Nonetheless, CCM's profit attributable to shareholders from its continuing operations for 9MFY2018 jumped tenfold to RM17.07 million. This was helped by improved sales and margins and a positive impact from operational efficiency initiatives, according to the notes accompanying its accounts. CCM, which is making strong efforts to expand the core businesses of its chemicals and polymers divisions, says it will "pursue new opportunities within its respective markets to ensure sustainable growth".
Similarly, CCMD — which split from CCM on Dec 28, 2017 — saw its net profit rise 9.7% year on year to RM33.3 million for 9MFY2018.
Maybank Investment Bank Bhd is the principal adviser behind the restructuring of CCM, this year's Best Corporate Restructuring Exercise, which freed CCM and CCMD to chart their own growth paths.
Those familiar with the companies would also know that the restructuring of CCM formed part of the wider portfolio restructuring of Permodalan Nasional Bhd's (PNB) strategic companies under Tan Sri Abdul Wahid Omar, who resigned as PNB chairman in June.
To recap, the restructuring entailed the demerger of its pharmaceutical unit by distributing CCMD shares to CCM shareholders; the sale of three parcels of land for RM190 million; and the placement of up to 10% of new CCM shares to raise more cash to pare down CCM's high gearing.
CCM's gearing rose to 1.5 times from 0.70 times after the proposed capital reduction, distribution and share consolidation, filings dated Aug 2 show. Gearing was set to fall to about 0.6 to 0.7 times by year end, helped by proceeds from the land sale and about RM60 million from its private placement.
With a stronger balance sheet, CCM is better placed to reactivate its Pasir Gudang Works 1 plant to increase production capacity, enabling the chemical division to seize the market opportunities for its chlor-alkali products. The polymer division will also continue to undertake research and development programmes to develop new and innovative products to enhance its competitiveness and market share.
As CCM group managing director Leonard Ariff Abdul Shatar puts it, CCM would have seen most of its resources channelled to its pharmaceutical unit had CCMD remained in the fold. CCMD, meanwhile, would have continued to be bogged down by CCM's high gearing.
The restructuring also gave CCM's major shareholder and minority shareholders greater flexibility in deciding their exposure to the chemicals and polymer business through CCM and the pharmaceutical business via CCMD.
Meanwhile, the corporate exercise involving Goldis Bhd, which is now known as IGB Bhd, receives a notable mention for the choices given to IGB Corp Bhd's minority shareholders in Goldis' RM1.06 billion buyout. The privatisation offer successfully closed the deal with regards to IGB Corp after two previous restructuring attempts by Goldis fell through.
It is worth noting that Goldis' offer price of RM3 per IGB Corp share represents a premium ranging from 20.5% to 23%.
IGB Corp shareholders were given three options: (i) all cash; (ii) a combination of 90 sen cash and the rest in Goldis shares; or (iii) 36 sen cash and the rest in Goldis' redeemable convertible cumulative preference shares (RCCPS). That gave shareholders the option to cash out, continue the investment in the business of IGB Corp and Goldis as well as an option to enjoy regular fixed returns before conversion to ordinary shares.
Save by subscribing to us for your print and/or digital copy.
P/S: The Edge is also available on Apple's AppStore and Androids' Google Play.