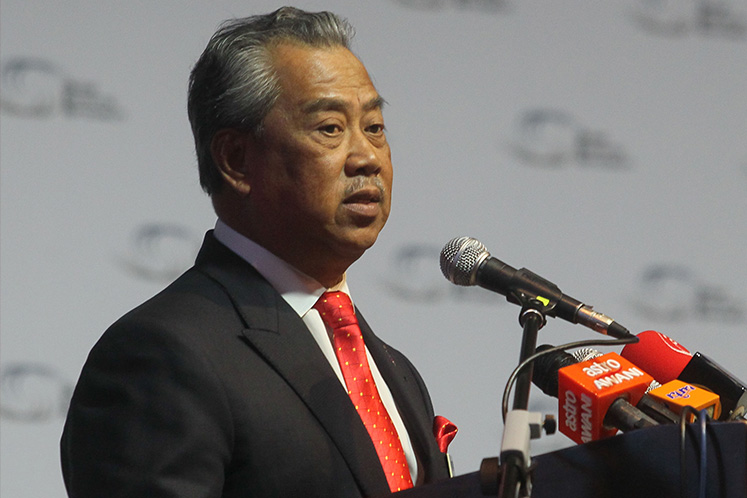 KUALA LUMPUR (Feb 27): A Parti Pribumi Bersatu Malaysia supreme council member Datuk Redzuan Yusoff says the party fully backs its president, Tan Sri Muhyiddin Yassin, as the Prime Minister candidate.
"Yes, we support the candidacy announced by Mahathir (for Muhyiddin) to be the eighth Prime Minister," Malaysiakini quoted Redzuan as telling reporters outside Muhyiddin's residence in Bukit Damansara.
Redzuan also reportedly said that if party chairman Tun Dr Mahathir Mohamad's support is included, this would mean that Bersatu has 37 MPs backing Muhyiddin.
Redzuan appeared to be referring to the 26 MPs from Bersatu (including Dr Mahathir and Muhyiddin) and 11 from the independent bloc led by former PKR deputy president Datuk Seri Azmin Ali.
Earlier at a press conference, Dr Mahathir said that he will accept Muhyiddin's candidacy if that is the will of the party.
The Interim Prime Minister said the Yang Di-Pertuan Agong has called for a special Parliament meeting on Monday to decide on which PM candidate has the majority support among the 222 Dewan Rakyat MPs.
Malaysia is currently without a Prime Minister following Dr Mahathir's resignation on Monday. That same day, Bersatu quit Pakatan Harapan, resulting in the ruling coalition no longer commanding a simple majority in Parliament, and subsequently the collapse of the Federal Government.