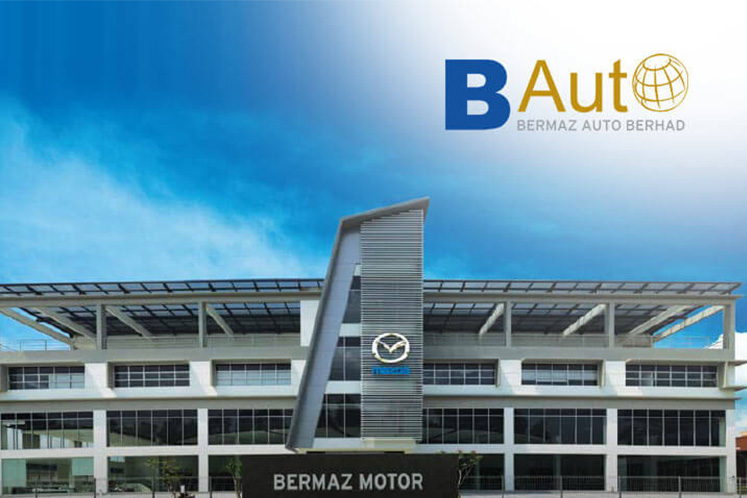 KUALA LUMPUR (Sept 13): Mazda marque distributor Bermaz Auto Bhd's net profit grew marginally higher by 0.47% to RM50.52 million in the first quarter ended July 31, 2019 (1QFY20), from RM50.28 million in the same period last year due to higher foreign currency translation.
Foreign currency translation stood at RM1.91 million in 1QFY20, versus RM1.14 million last year, according to a filing with Bursa Malaysia today.
Earnings per share were also up slightly to 4.35 sen, against 4.33 sen in 1QFY19.
Its quarterly revenue was up 10.23% to RM535.04 million versus RM485.4 million a year ago due to higher sales volume and better sales mix from the domestic operations.
Bermaz Auto added that the higher share of profit contribution from its associate company Mazda Malaysia Sdn Bhd (MMSB) was mainly due to the increase in Mazda CX-5 production volume for the local market.
However, it also reported a lower pre-tax profit in the current quarter due to lower gross profit margin following the Mazda CX-5 run-out promotion as more sales incentives were given to clear inventories of this model.
"The strengthening of the Japanese yen against Malaysian ringgit and Philippine peso has also affected the Group's gross profit margin," said Bermaz Auto.
Despite the marginal increase in net profit, the group declared a first interim dividend of 3.25 sen per share in respect of financial year ending April 30, 2020 (FY20), payable on Oct 25. The entitlement date has been fixed on Oct 10, 2019.
In comparison, the group had paid dividend of 2.5 sen per share in 1QFY19.
On its prospects, Bermaz Auto said the group is optimistic that the expected launch of the all new Mazda CX-8 and Mazda CX-30 models and the new facelift of the ever popular Mazda CX-5 model which includes the 2.5L Turbo variant in Malaysia in the second half of calendar year 2019 may overcome some of these challenges.
On the other hand, while Bermaz Auto Philippines Inc (BAP) has yet to take advantage of this as its existing Mazda BT-50 is an ageing model, the company said plans are in place to bring in a new Mazda BT-50 model in the next calendar year.
"BAP seeks to improve its revenue and profitability by further strengthening its brand equity in tandem with sustainable dealers support and the forthcoming launch of the new and facelift models."
Thus, Bermaz Auto's directors anticipate the group's performance for FY20 to remain satisfactory.
Shares of Bermaz Auto closed three sen or 1.27% higher at RM2.39 today, valuing the company at RM2.78 billion. Over the past year, the counter has risen some 26% from RM1.89.