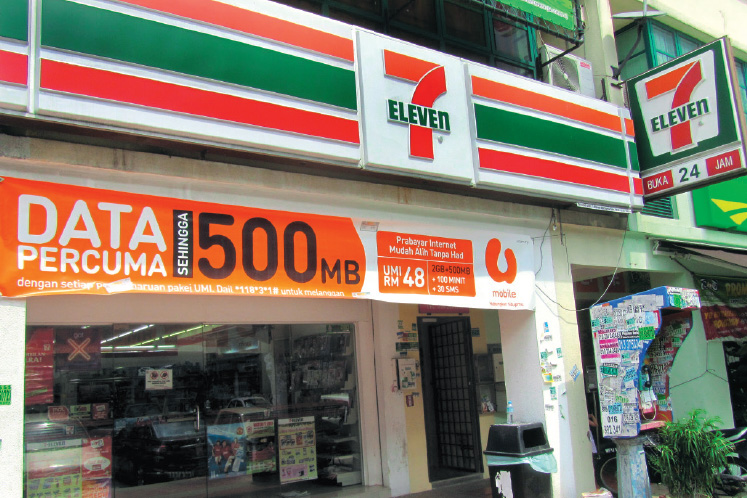 KUALA LUMPUR (April 24):  Berjaya Land Bhd (BLand), controlled by tycoon Tan Sri Vincent Tan, has been accumulating shares in convenience store chain operator 7-Eleven Malaysia Holdings Bhd lately.
According to Bursa filings, BLand has so far bought a total of seven million shares or a 0.61% stake in 7-Eleven Malaysia in April alone.
This translates into Tan indirectly increasing his stake in 7-Eleven Malaysia. As of the latest count, Tan owns a total 47.12% stake in the convenience store chain operator through direct and indirect interests amounting to a total of 542.04 million shares.
On the other hand, another notable filing shows that Johor's Sultan Ibrahim Sultan Iskandar ceased to be a substantial shareholder of 7-Eleven Malaysia's on Jan 20 after disposing of 7.2 million shares or a 0.63% stake in the company through a direct business transaction.
Based on filings in November 2018, Sultan Ibrahim previously held 57.24 million shares or a 5.07% interest in 7-Eleven Malaysia.
7-Eleven Malaysia is currently in the final stage of privatising Caring Pharmacy Group Bhd after launching a mandatory general offer to buy out the latter at RM2.60 per share.
However, the convenience store chain operator said it had no plans to merge the operations of its 7-Eleven convenience stores with Caring outlets as there had been no successful business model for such an operation in Asia.
Despite this, buying into 7-Eleven Malaysia could mean owning the convenient store chain plus the retail pharmacy chain at the same time.
As of the time of writing, shares in 7-Eleven Malaysia were unchanged at RM1.35, giving the stock a market capitalisation of RM1.66 billion.