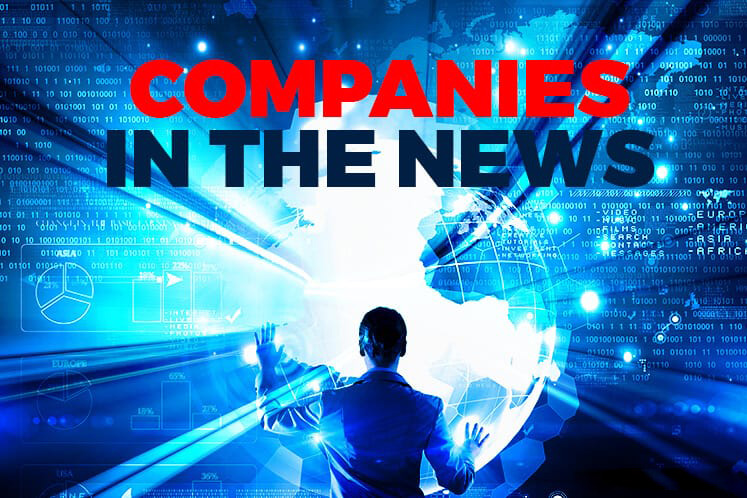 KUALA LUMPUR (March 6): Based on corporate announcements and news flow today, companies in focus tomorrow (March 7) may include: Berjaya Corp Bhd, JAKS Resources Bhd, Star Media Group Bhd, Eita Resources Bhd, TA Global Bhd, MMC Corp Bhd, MISC Bhd and Aeon Credit Service Bhd.
Berjaya Corp Bhd is selling off its entire 85% stake in DSG Holdings Ltd for RM265.99 million. The remaining shareholder of DSG, namely Earthlodge Investments Limited Elque Resources Sdn Bhd is also disposing of its stake.
A sale and purchase agreement was signed today between the parties and Besino Environment Limited for the proposed 100% disposal of shares amounting to a combined total of RMB508 million (about RM312.93mil).
Proceeds from the sale of its shares shall be used for working capital, said Berjaya Corp, adding that the proposed disposal provided an opportunity for the group to realize its investment in DSG.
JAKS Resources Bhd said its 51%-owned unit JAKS Island Circle Sdn Bhd (JIC) has issued a notice of arbitration to resolve its dispute with Star Media Group Bhd relating to the completion and delivery of Tower A of the Pacific Star project.
This follows the notice of demand it received on Feb 28, in which Star Media demanded the completion and delivery of Tower A by end-June 2018, giving JIC seven days from the date of the notice to respond.
Eita Resources Bhd has bagged three contracts totalling RM126.19 million for the supply of lifts and escalators for the Light Rail Transit Line 3 (LRT3) project. The contracts were awarded to its unit EITA Elevator (M) Sdn Bhd by Prasarana Malaysia Bhd.
TA Global Bhd said the group and its chief executive officer Tiah Joo Kim have not been questioned by the FBI. They also have no business dealings with US President Donald Trump's son-in-law Jared Kushner.
The statement was issued in response to a CNN report on Friday, quoting anonymous sources, which said FBI investigators were looking into Ivanka Trump's role in the development of the Trump International Hotel and Tower Vancouver in Canada.
MMC Corp Bhd, through its indirect wholly-owned subsidiary Northport (Malaysia) Bhd, has received a 30-year extension for its concession to operate Northport and Southpoint in Port Klang, Selangor.
Northport's lease on its port concession expired on Nov 30, 2013. On March 28, 2014, however, an interim privatisation agreement was signed between the government, Port Klang Authority (PKA) and Northport, which enabled Northport to continue to manage the port activities until a new privatisation agreement was approved.
Today, the official privatisation agreement for the extension of the concession was signed between Northport, the government and PKA.
MISC Bhd confirmed today that the shipping company had been giving its support and cooperation to the Malaysian Anti-Corruption Commission (MACC) in an alleged bribery investigation, and will continue to do so.
News reports, quoting sources, indicated that the MACC is investigating allegations of power abuse and corruption in MISC involving some RM109 million. It was reported that the allegations indicated MISC officers and third-party contractors were involved in false payment claims at jacked up fees and non-existent work contracts involving the maintenance of ships owned by MISC.
Aeon Credit Service (M) Bhd said it has filed an appeal to the Court of Appeal against the High Court's decision yesterday to dismiss its judicial review application for additional taxes and penalties amounting to RM96.82 million by the Inland Revenue Board (IRB).
On Dec 13 last year, the non-bank lender was served with notices of additional assessment for the years of assessment 2010 and 2016 with penalties by the IRB.
In response, Aeon Credit had on Jan 5 filed notices of appeal to the special commissioners of income tax with the Director-General of Inland Revenue (DGIR) to appeal against the notices of additional assessment.
Aeon Credit said it has also filed a formal application yesterday for a stay against the enforcement of the notices of additional assessment to the High Court pending the disposal of its appeal.