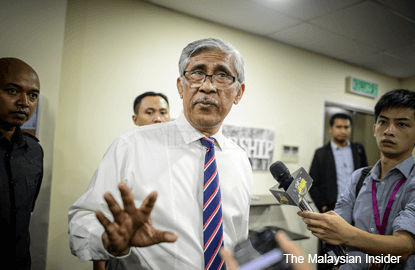 KUALA LUMPUR (Feb 3): Once accused of going after only the "small fish", the Malaysian Anti-Corruption Commission (MACC) is now receiving plaudits for taking on the "big fish", perhaps even the biggest of them all.
Stained by the deaths of two witnesses on its premises, the agency has also struggled against public scorn for failing to punish the officers responsible for those deaths.
Its image, however, has been on a slow turnaround since the middle of last year, when several of its investigators came into the spotlight over their probes into alleged financial scandals implicating Prime Minister Datuk Seri Najib Razak.
Last August, one of the MACC's staunch critics, DAP parliamentary leader Lim Kit Siang, expressed solidarity with the anti-graft body when its officers were questioned, two of them abruptly transferred, and its premises raided by police investigating information leak linked to the 1Malaysia Development Bhd (1MDB) probes.
Lim had long railed against MACC over the death of DAP political aide Teoh Beng Hock in 2009.
MACC still struggles with the perception that it lacks independence. It has no prosecutorial powers and it reports to the Prime Minister's Department.
This has caused it problems in its push to untangle the web of alleged financial scandals involving 1MDB – when it was part of the high-level task force that was eventually disbanded last year — and Finance Ministry-owned company SRC International Sdn Bhd, as well as the RM2.6 billion political donation into Najib's personal bank accounts.
Its findings presented to Attorney-General (A-G) Tan Sri Mohamed Apandi Ali over the donation to Najib and SRC International were deemed as insufficient evidence, and the investigation papers were ordered closed.
Pressure is mounting on the anti-graft body to make public its findings and recommendations, while its oversight panels have advised it to continue engaging the A-G.
It is now left to be seen whether MACC, under its vocal chief commissioner Tan Sri Abu Kassim Mohamed and deputy Datuk Seri Mohd Shukri Abdull, can fully repair its image.
The Malaysian Insider traces MACC's journey from its lowest depths to its recent high points.
Low points
MACC has been hogging the limelight for all the wrong reasons since the death of Teoh, a political aide with DAP, at the agency's Shah Alam office on July 16, 2009.
From then on, MACC had been cast as the villian in a script that went on until the anti-graft body finally admitted negligence which caused Teoh's death, and agreed to pay his family RM600,000 in damages and RM60,000 in costs in May last year.
In between, on April 6, 2011, Customs officer Ahmad Sarbaini Mohamed was also found dead, this time at MACC's office in Kuala Lumpur.
His family is suing the agency and the federal government over his death for RM8 million.
Another low point for MACC has been the perceived inability to bring about charges against former Sarawak chief minister Tun Abdul Taib Mahmud for corruption and abuse of power in the state, mainly over claims that he exploited the state's natural resources for personal gain.
The death of its former prosecutor, Datuk Kevin Anthony Morais, who served with the anti-graft commission for 10 years until July 2014, also hit MACC hard, especially with talk that his murder was linked to a charge sheet Morais had been preparing against a "high-ranking government official".
Six men have been charged with his murder, while pathologist Dr R. Kunasegaran has been charged with abetment.
During his service with MACC, Morais prosecuted the case involving Kunasegaran, a military doctor attached with the Tuanku Mizan Military Hospital's pathology lab, who was charged with unlawful trade in December 2013.
Successes
MACC's image in the eyes of the public, however, improved in August last year, when it was at the receiving end of police action over allegations of leaked information pertaining to probes into 1MDB, and over massive sums of money transferred to the prime minister's private bank accounts.
Several MACC officers were questioned by the police over the leaks, following The Wall Street Journal's report citing "Malaysian investigators" that some US$700 million (RM2.6 billion) had flowed into Najib's accounts.
Police also raided the offices of an MACC deputy public prosecutor and its special operations division.
Its officials struck back, issuing statements that saw two officers abruptly transferred out. The move was rescinded after an outcry.
The agency had also declared that the RM2.6 billion had come from a donor in the Middle East and was not from 1MDB.
It made good on its promise to pursue the matter by meeting the prime minister on Dec 5 to record his statement on SRC International and the RM2.6 billion.
And on December 31, it handed over its investigation papers on the two probes to the A-G, who then requested for more information.
It resubmitted the investigation papers on Jan 18, but these were subsequently returned and declared closed after Apandi said there was not enough evidence to charge Najib.
Apart from the RM2.6 billion and 1MDB issues, MACC also regained some of its lost standing when in May last year it froze the accounts of 500 companies and individuals, which amounted to some RM700 million, as part of an operation against illegal timber logging in Sarawak.
In January, it started to actively investigate corruption linked to bauxite mining in Kuantan, arresting officers in the Pahang Land and Mines Office (PTG), with some of them later charged with graft.
At the height of the controversy surrounding Morais's death, MACC also managed to get a conviction for former Selangor menteri besar Dr Mohamad Khir Toyo, who ?was sentenced by the Federal Court to 12 months' jail for abusing his power while in office to purchase a land and a bungalow in 2007.
Walking a tightrope
Under Abu Kassim, MACC appears to be resisting pressure to go soft on the corruption scandals that have rocked Malaysia and placed it in the international spotlight.
Abu Kassim has many times defended his officers' integrity and vowed not to step down amid talk of moves to replace him.
He appears to be walking a tightrope in balancing the public trust to fulfill the agency's mandate, while fending off attacks to sow discord among his men.
Abu Kassim took pains recently to state that MACC's referral of its investigation papers, which the A-G rejected, to its oversight panel, was not to dispute the public prosecutor's decision.
Sources close to the RM2.6 billion probe had told The Malaysian Insider that MACC had recommended charges of criminal misappropriation against Najib, but Apandi had said there was insufficient evidence.
Abu Kassim has never confirmed that, but the absence of denial indicates the seriousness with which MACC has carried out its task.
With lawyers and even former A-G Tan Sri Abu Talib Othman saying Apandi has no right to order the commission to close its investigations, it remains to be seen how long MACC can hold out and what its next moves will be.