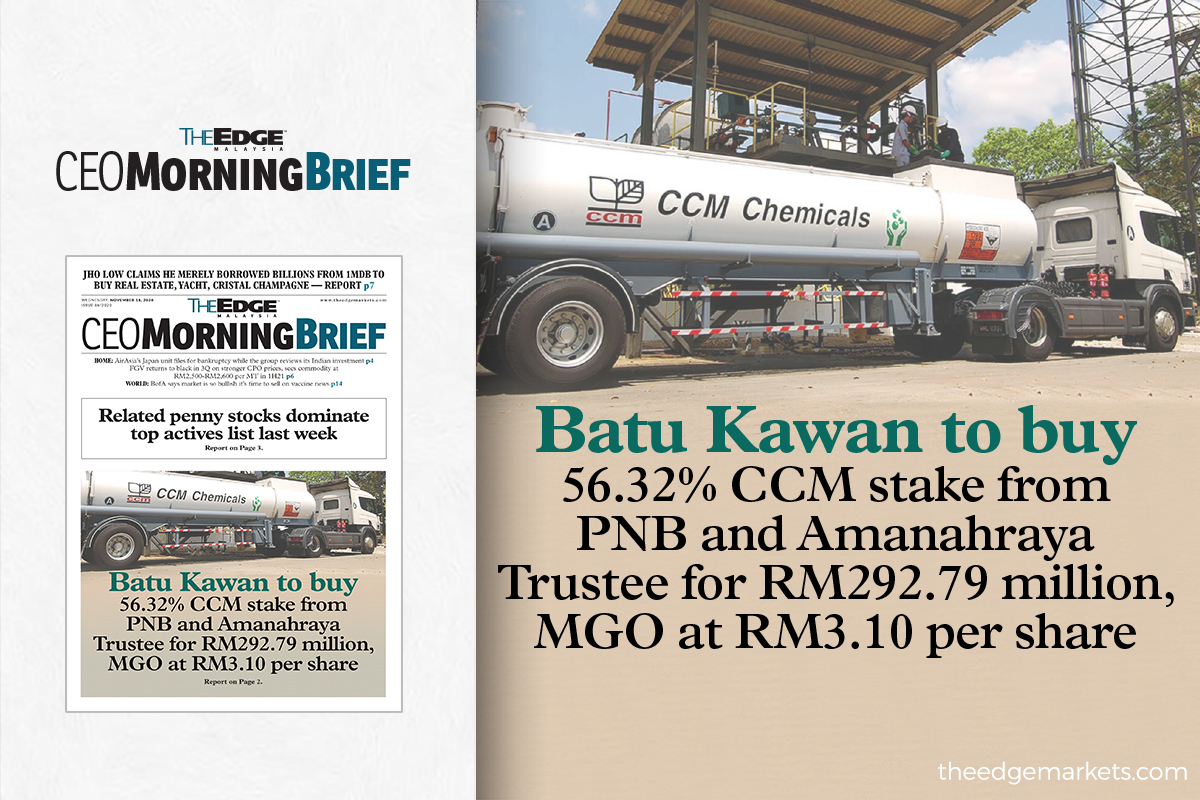 KUALA LUMPUR (Nov 17): Batu Kawan Bhd, which controls Kuala Lumpur Kepong Bhd, has proposed to buy a 56.32% stake in Chemical Company of Malaysia Bhd (CCM) from Permodalan Nasional Bhd (PNB) for RM292.97 million cash, or RM3.10 per share.
Subsequently, Batu Kawan will make a mandatory general offer at RM3.10 per share to buy all the remaining shares in CCM.
Batu Kawan said it intends to maintain the listing status of CCM on Bursa Malaysia subsequent to the MGO.
The transaction price of RM3.10 represents a premium of 11.11% over CCM's closing price of RM2.79 today — the highest level in 12 years.
In a filing with Bursa Malaysia, Batu Kawan said it had entered into a conditional share purchase agreement with PNB and Amanahraya Trustees Bhd (ART), both collectively holding 56.32% stake in CCM.
ART is a trustee for Amanah Saham Malaysia, Amanah Saham Bumiputera and Amanah Saham Bumiputera 3-Didik unit trust funds for the proposed transaction.
At RM3.10 apiece, the purchase consideration represents a premium over the last transacted price and volume weighted average market price (VWAMP) of CCM shares up to and including Nov 16.
It said the premium was between 27.52% and 107.43% for five-day and one-year's VWAMP of CCM shares of RM2.43 and RM1.49 respectively.
The proposed acquisition will be funded via internal funds whereas the proposed offer will be funded via internal funds and/or bank borrowings.
Batu Kawan said the acquisition will increase the group's market presence as a chlor-alkali chemicals manufacturer as well as to unlock value through the realisation of operational efficiencies in logistics, distribution and procurement.
CCM saw a steep climb on its share price since mid-October on news that PNB was mulling over divesting its stake in CCM.
CCM is principally an investment holding and management company whilst its subsidiaries are engaged in the manufacturing and marketing of chlor-alkali chemicals and polymers products and services. Caustic soda is the group's core product.
CCM has a three-year supply contract with Petroliam Nasional Bhd (Petronas) to supply 351,000 tonnes of caustic soda for Refinery and Petrochemical Integrated Development (Rapid) Project in Pengerang, Johor. The contract commenced in April last year.
CCM's polymer division's products are being used by the glove industry, and good demand is expected to continue for the remainder of 2020.
The proposed acquisition is subject to the consent of a lender bank in respect of the banking facilities provided to the CCM group for the transfer of the sale shares. However, the proposals are not subject to approval of the shareholders of the company.
Subject to the fulfilment of the condition precedent, the proposals are expected to be completed by the first quarter of 2021.