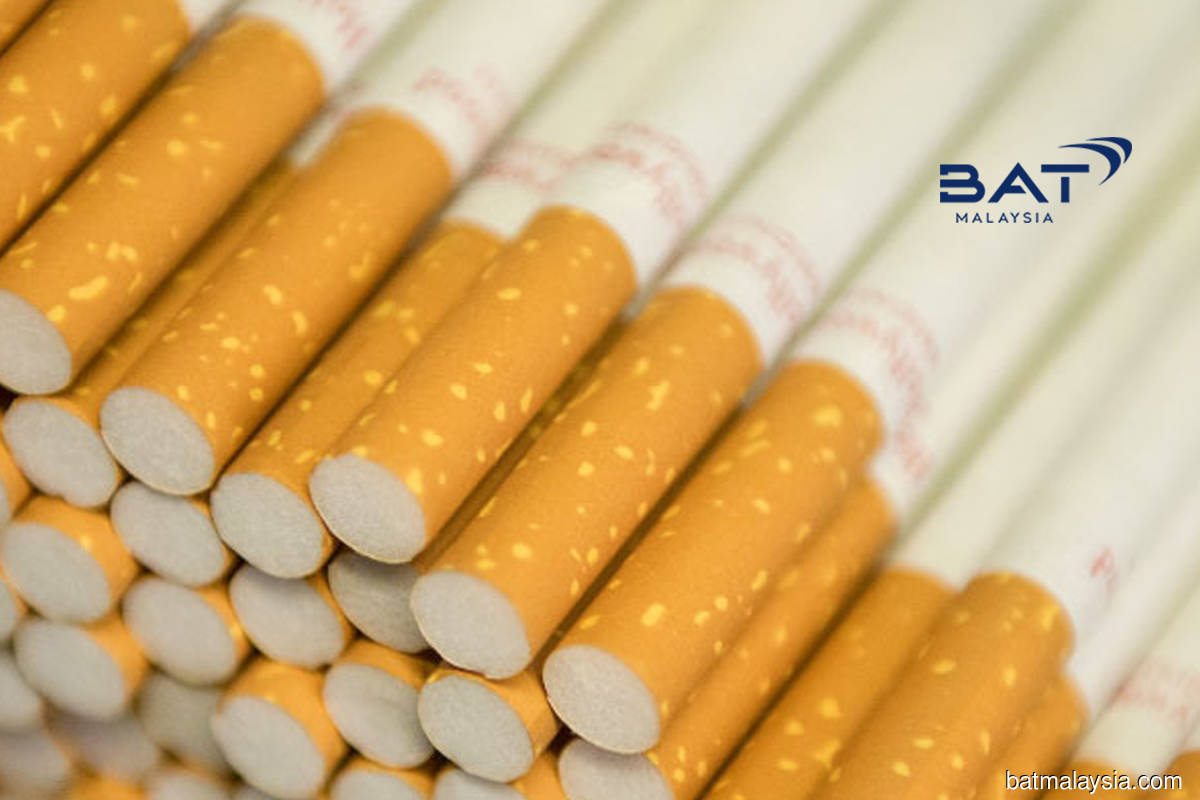 KUALA LUMPUR (Feb 11): Shares in British American Tobacco (Malaysia) Bhd's (BAT Malaysia) rose to a one-month high this morning following a target price (TP) upgrade and revised earnings forecasts, as well as its declared dividend.
At 10.56am, BAT Malaysia had risen 2.43% or 32 sen to RM13.48, valuing it at RM3.85 billion.
Hong Leong Investment Bank (HLIB) Research upgraded its TP for BAT Malaysia to RM11.75 (from RM9), and raised its earnings forecasts by 14.6%/22.4% for the financial year ending Dec 31, 2022 (FY22)/FY23 respectively due to an increase in value-for-money (VFM) brand sales.
In a note today, HLIB's Gan Huan Wen said BAT Malaysia's core profit after tax (PAT) of RM77.6 million for the fourth quarter ended Dec 31, 2020 (4QFY20) (quarter-on-quarter [q-o-q]: +16%; year-on-year [y-o-y]: -31.4%) brought the full-year FY20 sum to RM260.7 million (-27.8% y-o-y), which was above the house and consensus expectations at 108.4% and 108.2% of the full-year forecasts respectively.
He added that the positive results surprise was due to a better-than-expected legal market volume.
Meanwhile, BAT Malaysia declared a dividend per share of 27 sen (entitlement date: Feb 26, 2021), bringing the FY20 dividend amount to 83 sen (4QFY19: 33 sen; FY19: RM1.18).
On a q-o-q basis, illicit market share declined to 64%, which resulted in BAT Malaysia's volume and sales increasing by 3% and 5.2% respectively.
"We understand that this is predominantly due to an increase in VFM brand sales, which cost the same to produce but are sold at a significantly cheaper price (Rothmans and KYO: RM12.40/pack) than premium brand Dunhill (RM17.40/pack)," said Gan.
He added: "We suspect the big three are vying for market share in the VFM category by launching new brands at lower price points, followed by subsequently raising the prices."
According to Gan, after BAT Malaysia launched KYO at RM11.50/pack in July 2020, while PMI (Philip Morris International) also launched Bond Street in October 2020 at a lower price point of RM10.90/pack, the prices of KYO and Bond Street were raised to RM12.40 and RM12 respectively.
Moving forward, Gan anticipates that consumers will continue to down-trade to VFM brands, which grew from 14% of the total legal market in FY18 to an estimated 30% in 4QFY20.
On a y-o-y basis, the group's core PAT shrank by 31.4% despite flat sales (-0.3%) due to growth in VFM brands (with significantly lower shelf prices and hence slimmer margins) at the expense of the premium segment.
Meanwhile, on a year-to-date (YTD) basis, BAT Malaysia's sales decline of 7.7% was due to an 8% sales volume decline (-3% after excluding the Covid-19 impact on duty-free sales) as legal market contracted due to higher illicit activity, consumers down-trading to VFM brands and a lack of duty-free sales as a result of the Covid-19 impact on international travel.
The research house noted that BAT Malaysia's overall market share of the smaller legal market pie was up by 1.1 percentage points (ppts) to 51.7% versus FY19 due to premium brand Dunhill and VFM brand KYO, which grew 2ppts and 5.3ppts respectively.
Therefore, Gan maintained his "hold" rating of the stock at RM13.16, with a TP of RM11.75, based on the discounted cash flow (DCF) valuation methodology (with an unchanged weighted average cost of capital [WACC] of 9.5%; TG: 2.5%).