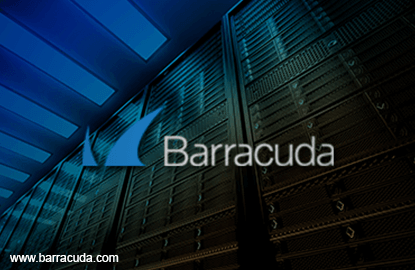 KUALA LUMPUR (Dec 19): Cloud-connected security and storage solutions provider Barracuda Networks Inc today announced that its NextGen Firewall is now available for customers using Google Cloud Platform and can be purchased from Barracuda via the BYOL model.
In a statement today, the company said Barracuda NextGen Firewall was developed for highly distributed networks with advanced security and management capabilities that are required for cloud and hybrid environments.
It said Barracuda NextGen Firewall — which is available directly on AWS Marketplace, Microsoft Azure, and now Google Cloud Platform — provides flexible remote access, application visibility, user awareness and highly granular security policy management to customers looking to securely leverage cloud platforms.
Barracuda in Malaysia regional manager Thiban Darmalingam said with the launch of the Barracuda NextGen Firewall for Google Cloud Platform, the company was broadening access to its security innovations built for cloud environments.
"The cloud brings about many benefits to organisations looking to efficiently scale their workloads and applications, and Google is without a doubt a key driver in this trend.
"We are excited to bring the Barracuda NextGen Firewall to Google Cloud Platform customers, helping them maximise their cloud investments securely and affordably," said Dharmalingam.
He explained that traditional next-generation firewalls are designed to be deployed at the gateway in backhauled network environments, which is not sufficient for today's cloud and hybrid environments.
"Barracuda NextGen Firewall was designed for the cloud era, with features that enable direct access to cloud applications in dispersed networks where quality of service, network reliability, and secure connectivity are required at every location," he said.
Dharmalingam said Barracuda NextGen Firewall combines the full security feature stack expected from a top-of-the-line next-generation firewall with full SD-WAN capabilities for cloud access optimisation at every location in an organisation's network.
"Barracuda's fully integrated central management, which is scalable from a few dozen to thousands of remote locations, helps improve security, compliance, and network connectivity at every location without the need to backhaul traffic," he said.
Meanwhile, Google director of strategic technology partners Adam Massey said: "Google Cloud Platform helps customers spend less time managing infrastructure, provisioning servers and configuring networks and more time focusing on their own core businesses."
Massey said Barracuda operates with a philosophy to simplify IT for customers, and they bring a valuable security contribution to Google Cloud Platform.
"The Barracuda NextGen Firewall on Google Cloud Platform helped us to secure remote connectivity in Google Cloud — helping our business to stay protected, while still taking advantage of the flexibility and agility of using a public cloud infrastructure for our distributed networks," explained SAG Cloud GmbH network architect Timo Schilling. SAG Cloud is a subsidiary of Software AG, an early customer of the Barracuda NextGen Firewall on Google Cloud Platform.