This article first appeared in The Edge Malaysia Weekly, on March 18, 2019 - March 24, 2019.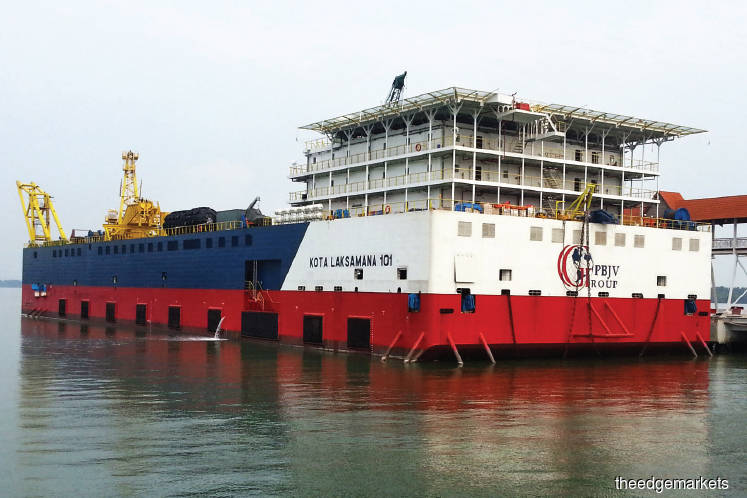 THE proposed restructuring scheme of ailing Barakah Offshore Petroleum Bhd and its main units, PBJV Group Sdn Bhd and Kota Laksamana 101 Ltd, seeks to address as much as RM726.53 million in debt, sources familiar with the matter tell The Edge.
While Barakah's total debt was RM38.66 million, its wholly-owned unit, PBJV, has amassed RM401.01 million in debt, and PBJV's wholly-owned Kota Laksamana 101 had RM286.86 million in debt.
Of the RM726.53 million, RM341.94 million was owed to financial institutions (FIs) and RM384.59 million to unsecured creditors as at June 30, 2018.
Export-Import Bank of Malaysia Bhd (EXIM Bank) has the highest exposure among the FIs, amounting to RM295.69 million — RM38.3 million in unsecured loans to Barakah, RM85.12 million unsecured loans to PBJV and a RM172.27 million secured facility extended to Kota Laksamana 101, a company that owns a pipe-laying barge.
Other affected FIs include Malayan Banking Bhd, which had given out an RM38.61 million secured facility to PBJV.
It is also understood that a chunk of Barakah's liabilities is off-balance sheet transactions. In early December last year, Barakah changed its financial year end to June 30 from Dec 30.
For the first four quarters ended Dec 31, 2018, Barakah suffered a net loss of RM61.58 million from RM243.25 million in revenue. As at end-December, the company had cash and bank balances of RM44. 97 million and fixed deposits with licensed banks amounting to RM85.71 million while on the other side of the balance sheet, it had long-term borrowings of RM172.02 million and short-term debt obligations of RM2.21 million.
It is worth noting that the debt obligations of Barakah stated in its restructuring plan are almost four times that stated in its latest balance sheet.
The restructuring plan
The restructuring plan has two parts. The first addresses PBJV while the second involves Barakah and entails a share premium consolidation, capital reduction, private placement of irredeemable convertible loan stocks (ICULS) and issuance of redeemable convertible unsecured loan stocks (RCULS), among others.
PBJV's secured FI creditors are owed RM45.79 million and its unsecured FI creditors, RM85.58 million, bringing its total debt commitment to RM131.37 million. A chunk of its unsecured debt — RM85.12 million — is owed to EXIM Bank while the balance is with SME Bank.
Secured lenders of PBJV include Affin Bank Bhd, Maybank, Public Bank Bhd and CIMB Bank Bhd.
It seems that PBJV's unsecured creditors, which are the FIs, are likely to be compensated by Barakah's placement of ICULS and issue of RCULS.
Unsecured creditors, meanwhile, fall into several categories, with some being settled in the ordinary course of business while others will have to take a 45% haircut.
As for Barakah, according to the sources, the main tenets of the restructuring will see the secured FI creditors paid in the ordinary course of business as they are fully secured against fixed deposits pledged under lien.
Meanwhile, all secured creditors of PBJV shall be secured up to the amount of their security value as at the cut-off date — June 30, 2018 — and any outstanding amount net of the security will be classified as an unsecured FI creditor and settled pursuant to the proposed debt restructuring scheme of PBJV.
The secured creditor of Kota Laksamana 101 — EXIM Bank, which is owed RM172.3 million — will be secured up to RM87.15 million, which is equivalent to the forced sale value of its pipe-laying barge. Other details include the RM87.15 million being paid over a seven-year period, pegged with an interest rate of 5% per annum.
The balance RM85.12 million owed is to be ranked as an unsecured FI creditor and settled as per a proposed debt restructuring scheme of PBJV and restructuring of Barakah.
Meanwhile, RM17.24 million owed by Kota Laksamana 101 is slated to be waived.
Barakah is seeking to place its unsecured creditors (RM384.59 million) in several categories, with some, such as essential creditors, to be settled in full while others could see a waiver of as much as 45% of the debt.
Barakah's restructuring plan requires approval from Bursa Malaysia, the Securities Commission Malaysia, the High Court and all its creditors — secured and unsecured — as well as at the Barakah, PBJV and Kota Laksamana 101 levels and shareholders at an extraordinary general meeting.
Barakah's woes
Like other oil and gas players, Barakah had been severely hit by the downturn as crude oil prices fell sharply in 2014 and remained volatile since.
Its largest shareholders are CEO Nik Hamdan Daud, with 35.65% equity interest, and Tan Sri Yaw Teck Seng of the Samling group fame, with an 8.97% stake. The Federal Land Development Authority ceased to be a substantial shareholder last June.
According to exchange filings, MIDF Amanah Investment Bank Bhd is assisting Barakah in its restructuring.
Earlier this month, Barakah announced that a restraining order (RO) against its creditors had been extended for another 90 days, commencing on Jan 14. It was granted the RO on Oct 12 last year.
The RO is for Barakah to manage the debt levels of the company and PBJV. It also allows Barakah and its units to negotiate terms with its lenders and creditors without having the threat of any proceedings and actions being brought against the company.
In January, Petroliam Nasional Bhd (Petronas), in a letter — sighted by The Edge — cautioned that PBJV had been suspended by the national oil company since last June due to non-performance. The letter was addressed to several oil and gas players.
Petronas also highlighted that there had been complaints about PBJV being financially distressed and not paying its subcontractors. It suggested that a risk assessment and due diligence be undertaken before any jobs are awarded to PBJV.
Last August, Barakah bagged a pan-Malaysian maintenance, construction and modification (MCM) contract for a five-year tenure from Sapura Energy Bhd. While the value of the contract was not disclosed, it is understood to exceed RM1 billion.
Back then, when Barakah was awarded the contract, Nik Hamdan was reported to have said, "We are pleased to have secured the MCM contract. It is expected to contribute positively to the group's bottom line and replenish our order book while keeping us occupied for the next five years. Moving forward, we believe 2019 will be an exciting year for us as more oil and gas projects are expected to come onstream following a recovery in the sector."
Barakah closed last Friday at 12.5 sen, giving the company a market capitalisation of RM104.47 million.
Save by subscribing to us for your print and/or digital copy.
P/S: The Edge is also available on Apple's AppStore and Androids' Google Play.