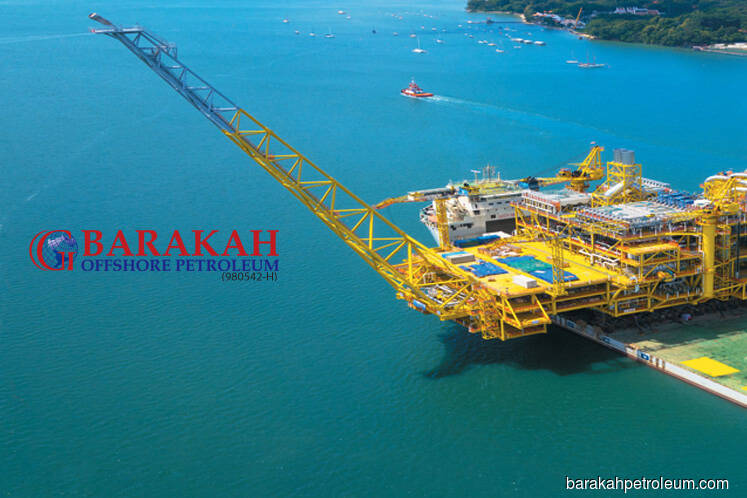 KUALA LUMPUR (Jan 16): Barakah Offshore Petroleum Bhd said today it has issued a statutory notice against its client Petronas Carigali Sdn Bhd to claim RM477,467.37, in relation to work done under a contract awarded to Barakah's unit in August 2016.
The contract entails the provision of underwater services to Petronas Carigali, Petroliam Nasional Bhd's (Petronas') exploration arm, by Barakah's wholly-owned PBJV Group Sdn Bhd.
The statutory notice, said Barakah in a filing today, was issued on Jan 16, under Section 465 and 466 of the Companies Act 2016, which deal with circumstances by which a company may be wound up, and the definition of a company unable to pay its debt, respectively.
"The above said statutory notice stated that the amount of RM118,193.52 has remained outstanding despite Petronas Carigali having issued the procedural confirmation and acknowledgement to pay the said sum.
"Pursuant to the said notice further, Petronas Carigali has been given 21 days from the receipt of the statutory notice to fully settle the said sum, failing which Petronas Carigali shall be deemed to be unable to pay the debt and appropriate action will be taken to wind up PCSB," said Barakah.
The development comes on the heels of a RM1.02 billion demand filed by Barakah against Petronas Carigali in August 2019, after Petronas Carigali suspended Barakah's licence in July that year over an alleged non-performance of a contract. Barakah argued the suspension was unwarranted and had resulted in a loss of the company's reputation and market capitalisation, and would affect its future profits.
Barakah is also seeking RM179.84 million from another Petronas unit, Petronas Gas Bhd, in relation to the procurement, construction and commissioning of Pengerang Gas Pipeline Project (formerly RGT2 Pipeline project).
In its demand notice issued last October, Barakah said the sum claimed is for, among others, loss and expenses incurred due to time extensions under the project, as well for revenue loss in connection with the suspension of PBJV's licence from Petronas.