This article first appeared in The Edge Malaysia Weekly, on March 23, 2020 - March 29, 2020.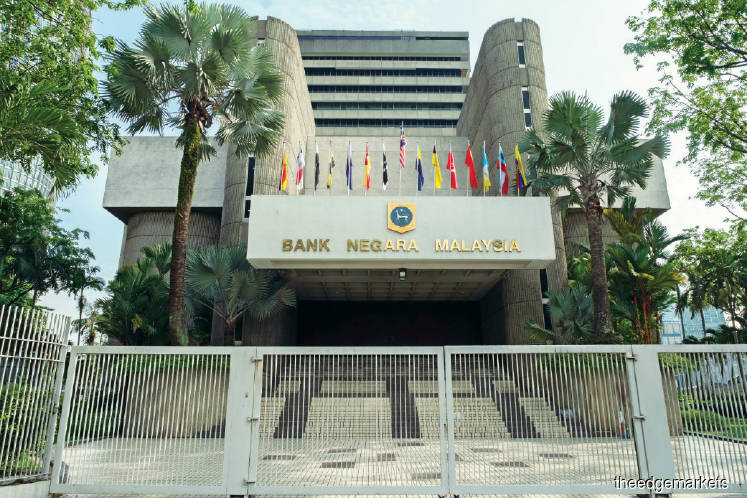 (This article was published prior to the announcement of the automatic loan moratorium for eligible individuals and small and medium-sized enterprises announced by Bank Negara Malaysia)
BANKS, worried there could be a spike in provisions as more loans turn sour from the deepening impact of the Covid-19 outbreak, have asked Bank Negara Malaysia about getting temporary exemption from the MFRS 9 accounting standard, industry sources say.
"Some banks have raised the prospect with Bank Negara after seeing that European banks have lobbied regulators for the same. It's not like the banks wrote in to ask … it's more of an informal request," a source familiar with the matter tells The Edge.
MFRS 9, the Malaysian equivalent of International Financial Reporting Standard 9 (IFRS 9), requires banks to make provisions in anticipation of a loan turning bad, instead of the previous practice of making provisions only when the loan has soured.
As such, banks face the prospect of having to make much higher provisions this year as they take into account loans that could potentially go bad amid the current turmoil caused by the Covid-19 pandemic.
Under MFRS 9, performing loans that banks anticipate may go bad — this is done via an expected credit loss model based on various macroeconomic factors,  including GDP growth and stock market index performance — will see the banks having to make provisions over the expected lifetime of the loan. Given that their economic and stock market forecasts would be very much lower now compared with that last December, there is little doubt among analysts that provisions will go up.
"Yes, there will likely be a significant uptick in provisions this year, which will ultimately hurt the banks' earnings," a banking analyst from a local brokerage says.
Be that as it may, those in the accounting industry think it is unlikely that the banks here will be given a reprieve from MFRS 9.
"My view is, it will be difficult [to allow exemptions] as you also have to deal with the Malaysian Accounting Standards Board and so on. You also have to remember that it is not just banks that have to apply MFRS 9 ... there are also other corporates, public-listed companies, so, you cannot have one segment that is exempted while another has to apply," says Elaine Ng, a partner and leading expert on MFRS9 at PwC Malaysia, when reached for comment.
She points out that IFRS 9 was in the first place designed to address the "too little too late" criticism following the 2008/09 global financial crisis that banks were not able to account for losses until they were incurred when it was apparent that they were coming. "So, this is actually a moment of test for the industry," she says.
Additionally, she says, Bank Negara has already extended various other flexibilities for banks in recent months, including for restructured or rescheduled loans to not be classified as "Stage 3 impaired loans".
The banking analyst says there is no point in banks asking for relief from the accounting standard as they may just be "prolonging the inevitable".
"I see the logic for it, but I would rather they just take the hit. Because, if this [Covid-19 outbreak] prolongs, then you're just sweeping the issue under the carpet for now, which I would rather the banks don't do. Also, Malaysian banks' capital levels are much higher than that of European banks, so I think they can weather this," he opines.
Nevertheless, all eyes will be on whether European regulators give in to the banks there, which have only just started to recover from the last global crisis.  Last Friday, the Bank of England said it would cancel this year's stress testing of eight major banks and, as for IFRS 9, it expects to "provide further guidance to firms" regarding its approach this week.
Deep impact
Fears over Covid-19 have roiled financial markets and economic activity, and are expected to take a toll on not just businesses but also individuals. The ongoing two-week Movement Control Order (MCO) is not expected to help matters, and there is likely to be an increase in the number of borrowers who will find it difficult to service their loans.
Analysts point out that the impact of the pandemic goes beyond the obvious sectors like travel and tourism. It has also indirectly affected many other sectors, particularly oil and gas (O&G) because of the slump in oil prices, and property because of the ensuing slowdown.
"At this moment, who is going to buy a car? Or property? As it is, the property sector is already suffering. The impact of the coronavirus outbreak is far-reaching, and this is what is worrying the banks in terms of what it could mean for provisions," an industry source says.
To be fair, while the banks are worried, they are also allowing some flexibility for borrowers.
Last week, a flurry of lenders — from big ones such as Malayan Banking Bhd and HSBC to small ones like Affin Bank Bhd — came out to announce more relief measures such as a moratorium of up to six months for loan repayments to clients hit hard by the pandemic and/or a restructuring and rescheduling of loans for viable businesses and individuals.
These come during a difficult time for banks — as reflected in their battered share prices — with a widely expected third cut in the overnight policy rate looming this year that is expected to hurt lenders' net interest margin further. The Financial Index has shed 23.6% this year, compared with the 18% drop in the FBM KLCI.
AMMB Holdings Bhd told analysts last week that the MCO will delay some of its loan disbursements, but it expects the loss of income to be minimal. It said it has so far received moratorium applications for loans worth RM450 million, or 0.4% of its loan base.
"Based on our understanding, for now, AMMB does not have to classify the loans that are given the six-month moratorium as impaired. As such, no provisioning is needed for these loans. However, if the Covid-19 outbreak prolongs, we believe some of these loans could eventually turn into impaired loans," says CGS-CIMB Research in a report.
RHB Bank Bhd says it has so far received 119 applications from customers for its financial relief programme, involving total financing of about RM1.15 billion.
Analysts are also concerned about the potential impact of souring O&G loans on bigger banks like Maybank and CIMB, with O&G loans accounting for 2.8% and 2.3% of their total loans respectively as at end-2019.
"Banks within our coverage have total O&G loans of about RM30 billion, by our estimates, representing about 1.8% of their outstanding loans. The exposure is particularly small for banks such as Alliance Bank, Hong Leong Bank and Public Bank," says Maybank Investment Bank Research.