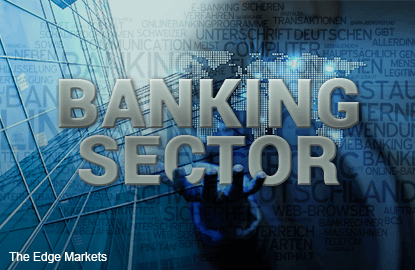 KUALA LUMPUR (June 24): The ongoing vote count of the British referendum on whether to remain in the European Union (EU) that has spooked global markets took a toll on index-linked banking stocks at Bursa Malaysia.
This is despite Bank Negara Malaysia (BNM) stressing that the local market is well-positioned to face any major volatility over UK's membership in the EU.
At the point of writing, Hong Leong Bank Bhd led the decliners, shedding 30 sen or 2.26% to trade at RM12.98 after 44,500 shares changed hands, while its holding company — Hong Leong Financial Group Bhd — came in at the second spot, declining 16 sen or 1.13% to its three-month low of RM13.94, with 106,000 shares traded.
This is followed by the country's biggest lender Malayan Banking Bhd's nine sen or 1.1% decline to RM8.11, with 3.82 million shares transacted.
AMMB Holdings Bhd, the holding company of AmBank (M) Bhd and AmBank Islamic Bhd, dropped nine sen or 2.04% to RM4.33 after 332,900 shares were traded.
CIMB Group Holdings Bhd, the country's second largest lender, also retreated eight sen or 1.84% to RM4.26 in active trades. The stock saw 4.5 million shares changed hands.
Public Bank Bhd declined six sen or 0.31% to RM19.20, with 981,300 shares traded.
Affin Holdings Bhd and Alliance Financial Group Bhd both fell by two sen to RM2.12 and RM4.07 respectively.
In a statement yesterday (June 23), the central bank's Financial Market Committee (FMC) said it remains vigilant to potential spillover effects of the UK's referendum today on whether to leave the EU.
"The UK's referendum on their EU membership is taking place on June 23, 2016, with the results expected on the afternoon of Friday, June 24, 2016, between 2pm [and] 4pm local time. Given the significance of the event, the impact and volatility could spill over onto financial markets.
"BNM, together with the Malaysian financial market participants, are monitoring and will remain vigilant to any potential emerging risks and challenges to the domestic financial markets," said the committee in a statement.
The FMC also assured that there is ample liquidity in the domestic market, adding the markets are well-positioned to face any major volatility.
"The FMC also would like to inform that its members will continue to provide the liquidity to the financial markets as required.
"On Friday, June 24, 2016, the market players will commence the operating hours early and trading will be extended to 6pm to facilitate market transactions for all market participants," it added.
According to Reuters, bankers' early confidence that Britain would remain within the EU quickly evaporated after vote counts suggested the "leave" camp had the upper hand, sending sterling plummeting and heart rates racing on trading floors from London to Hong Kong.
Results from Sunderland and Newcastle, two north-eastern cities in England, were interpreted by investors as harbingers of a possible victory for Brexit and they moved swiftly to sell sterling, after earlier pushing it to a 2016 high on hopes that the "remain" side would swoop to victory, it added.