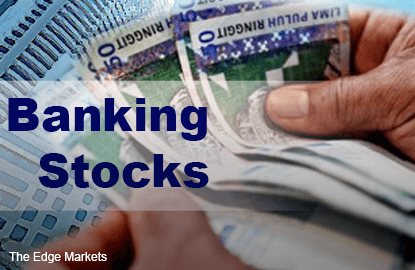 KUALA LUMPUR (July 14): Most banking stocks fell today after the surprise decision by Bank Negara Malaysia (BNM) to cut the overnight policy rate (OPR) by 25 basis points (bps) to 3%.
This is despite the fact that analysts have largely kept their rating on the sector unchanged saying the impact will vary from bank to bank.
Alliance Financial Group Bhd shares fell the most. The stock dropped nine sen or 2.18% at RM4.04 just after trading resumed in the afternoon, with 325,600 shares traded.
CIMB Group Holdings Bhd regained part of its earlier losses to trade at RM4.32, still down eight sen or 1.85% from yesterday on a volume of 6.65 million shares.
Malayan Banking Bhd was down five sen or 0.62% at RM8.07, after touching a low of RM8.06 earlier. It saw 5.76 million shares transacted.
Public Bank Bhd fell four sen or 0.21% to RM19.36 with 2.94 million shares changing hands.
AMMB Holdings Bhd slipped two sen or 0.45% to RM4.42, with volume totalling 1.33 million shares.
Hong Leong Investment Bank Research said the OPR cut is generally negative for the banking sector.
"Based on our estimates, the 25 bps cut in OPR will be negative to Public Bank, Maybank, RHB and Affin Holdings Bhd due to negative balance sheet gap, measured by asset minus liability.
"But (it is) positive to AMMB Holdings Bhd (Ambank) and Alliance due to positive balance sheet gap," said HLIB Research analyst Chye Wen Fei.
Kenanga Research said the development is negative in the short term to Malaysian banks as net interest margin (NIM) will compress following the almost immediate re-pricing downwards of floating-rated loans and the lag in the re-pricing of fixed-rated deposits.
According to the firm, Maybank could be the least affected as about 31% of its loans are fix-rated and 32% of its deposits are in the form of current account savings account (CASA), resulting in less margin compression.
Its analyst Ahmad Ramzani Ramli said it may not be all gloom for the banking sector, noting that the OPR cut resulted in lower lending rates, which may bolster credit demand and hence loans growth.
"Besides, the trend could lead to a higher pool of borrowers, causing demand to intensify and average lending rates to go up," he noted.
Hence, he explained any short-term compression in NIMs may potentially be lowered if not wiped out.
However, he noted that lower interest rates will also likely result in lower credit costs as non-performing loans decrease.
"This, in turn, may result in banks lowering their credit scoring and approval criteria, which will give much-needed impetus on loans growth," he said.
Affin Hwang Capital Research said the OPR cut represents a positive signal that BNM is ready to step in, whenever necessary, to maintain an accommodative monetary condition for economic growth.
The research firm said the rate cut could provide a temporary boost to economic demand and loan growth, in particular business loans, which has been growing slower than expected for the first five months of 2016.
"We also believe that pressure on NIMs could be more of a short-term timing effect as funding cost would be expected to ease as well," Affin Hwang said.
Besides, yield-sensitive financial assets in the banks' books should see an increase in value while the hedging instruments employed for interest rate risk management would also help to cushion any impact on NIMs and net profits of the banks, it said.