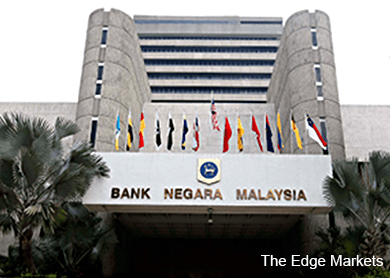 KUALA LUMPUR (June 18): The Bank Negara Malaysia reiterated that the current movement of the Ringgit are affected by both global and domestic economic developments.
In a statement, the central bank highlights its political neutral stance, noting it "has never been and will not be drawn into any political agenda".
"The central bank wishes to reiterate that the current movements of the ringgit are affected by both global and domestic developments.
"Global developments would include the investor expectations relating to monetary policies of major central banks and the trends in crude oil and gas prices. Domestic factors include concerns about government linked entities and ratings related issues," said Bank Negara the statement today.
The central bank said that uncertainty on any of these issues, contributes to the volatility of the currency.   
"While external developments are beyond the control of any open economy, every effort needs to be undertaken to bring about resolution to the domestic issues that confront our economy.
"Once these issues are resolved, the performance of the currency is expected to be consistent with our sound economic fundamentals and growth prospects," it said.                                                                                                                     
The statement titled "Misreporting on ringgit" comes hot on the heel of Deputy Finance Minister Datuk Ahmad Maslan's claim that Bank Negara had listed former Prime Minister Tun Dr Mahathir Mohamad as one of three key reasons for the depreciation of the ringgit.
The ringgit weakened against the US dollar by 1.29% to trade at 3.7090 today. Year to date, the ringgit has weakened 6.08%.
Bank Negara said it remains focused on its role and mandate in maintaining monetary and financial stability and to support sustainable economic growth.
"The Central Bank has never been and will not be drawn into any political agenda, but will remain accountable for delivering its mandates to the people of this country," it said.