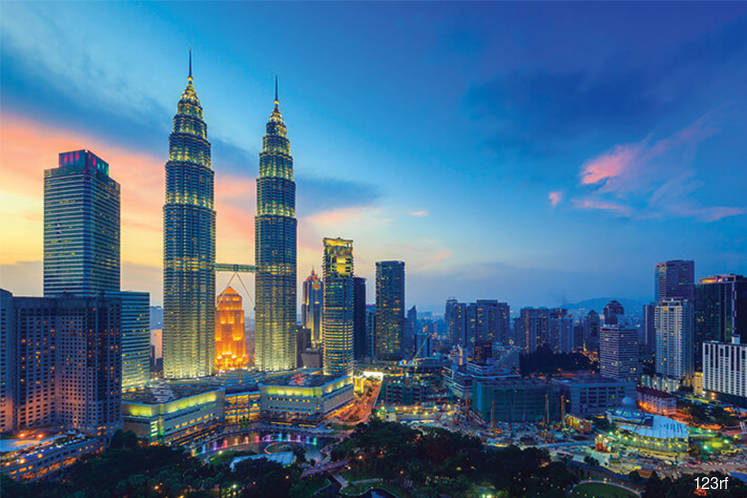 KUALA LUMPUR (Feb 14): The Malaysian economy, as measured by gross domestic product (GDP), expanded 5.9% in the fourth quarter of 2017 (4Q17) from a year earlier, driven mainly by private sector demand with support from the external sector.
In a statement today, Bank Negara Malaysia said 2017 full-year GDP grew 5.9% on year compared with the 4.2% expansion in 2016.
"(In 4Q17) From the supply side, all economic sectors continued to expand, except for the mining sector. On a quarter-on-quarter seasonally-adjusted basis, the economy grew by 0.9% (3Q17: 1.8%). Growth is expected to remain favourable in 2018, with domestic demand continuing to be the key driver of growth. The expected faster expansion in global growth would continue to benefit Malaysia's exports, with positive spill-overs to the domestic economic activity," Bank Negara said.
Bank Negara said the nation's 4Q17 inflation moderated. According to the central bank, headline inflation moderated to 3.5% in 4Q17 compared to 3.6% in the previous quarter (3Q17) mainly due to lower inflation in the housing, water, electricity and gas besides transport categories. Full-year 2017 headline inflation averaged at 3.7% compared with 2.1% in 2016, the central bank said.
"Headline inflation is expected to moderate in 2018, reflecting a smaller contribution from global cost factors and a stronger ringgit compared to 2017. Upward pressures from the robust demand condition will be contained by continued spare capacity in the labour market and ongoing investment for capacity expansion. The trajectory for headline inflation, however, will remain dependent on the trend of global oil prices, which remains highly uncertain," Bank Negara said.